Lesli Kay
By Luke Kerr on July 28, 2008
The Bold and the Beautiful has a new contest running on their blog where you, the fans, can ask your favorite "B&B" star a question.
There are a bunch of great stars who are participating in the contest. They include Texas Battle, Brandon Beemer, Leslie-Ann Down, Winsor Harmon, Leslie Kay, Robin Riker, Hunter Tylo, Jacqueline MacInnes Woods and John McCook.
If you submit a question that is used you will win a prize (see prizes below). For the full rules click on the contest rules link below.

Contest Rules
Prizes: Each eligible participant in the contest shall receive a one time only entry prize of a B&B wallpaper for use on their computer. Each winner shall receive one autographed headshot photo of the actor for whom they asked the question which was chosen as the winner. At the end of the Entry Period, there shall be a Grand Prize Drawing in which all of all the winner's names shall be entered and from which a Grand Prize winner shall be randomly selected. The Grand Prize winner shall receive the book "In Celebration of Twenty Years on Television" autographed by the cast. Prizes must be accepted as awarded, have no cash equivalent and are not transferable..
By Mike Jubinville on July 22, 2008
Los Angeles is the epicenter of the latest corporate battle. Forrester Creations is under the gun and Eric is out of commision. He is sidelined with what we at DC call "a progressive coma". On the surface, the battle is a potential powerhouse of drama, but Ridge and Donna squaring off against each other misses the mark. Daytime Confidential's Jamey stated that he thought the better set up would involve Eric's children from his different marriages.
Ridge has been groomed to take over Forrester since he was young. Perpetual second fiddle Thorne should be battle ready, but he's trash talking Donna instead of fighting for what could be HIS destiny. Felicia is too busy crying on her father's chest to do any good, and Stephanie is sitting in the dark with her jammies on. With all the relationships that are connected to Ridge, Donna's is the weakest. Since she has become Eric's wife, her station has been elevated to Mrs. Forrester Creations whether she is qualified for the job or not. Brooke's loyalty should be tested. In the end, she should choose Donna over Ridge. If for no other reason, it will pit her against the Forrester family. Throw Rick into the mix and there could be a big old hatefest going on. READ MORE
By Daytime Confidential on July 21, 2008
On today's episode Daytime Confidential begins the first of eight episodes focusing on The Top 10 Ways to Improve Your Favorite Soaps.
Join Luke, Mike and Jamey as the discuss and debate The Top 10 Ways to Improve The Bold and the Beautiful.
In each of The Top 10 Ways to Improve Your Favorite Soaps the Daytime Confidential gang will discuss some of the common issues facing the soaps as well as some of the unique problems facing each show.
This along with your comments on the blog and on the Daytime Confidential Comment Line makes for an entertaining discussion on the ills facing The Bold and the Beautiful and its fans.
Have a question or comment for the Daytime Confidential podcast? Leave us a voicemail by calling (917) 677-9757.

Listen to Daytime Confidential by clicking on the Daytime Confidential Player at the bottom of this post or Download us for FREE via iTunes. Vote for us on Podcast Alley. Add us as a Friend on MySpace. Drop by our sister site TV Fan Online and visit with other soap fans in the TV Fan Online Forums.

By Jamey Giddens on July 17, 2008
While such developments as Katie Logan performing the wedding ceremony for her niece/romantic rival and the man she loves has me scratching out my wig, one thing can definitely be said about
The Bold and The Beautiful,
they know how to pair devastatingly sexsational people up in storylines.
Lesli Kay (Felicia) and Brandon Beemer (Owen) are so hot in scenes together they should require a Parental Advisorary Warning. And they haven't even hit the sheets yet! For more of my take on B&B's hottest (non) couple check out my blog here on the Official B&B Website. While you're at it, check out my fellow blogger and DC regular Darren Lomas aka Marone Macaroni!

By Brian Peel on July 15, 2008
I really hope that mental asylum Bridget is headed for is big enough for two. I think Stephanie Forrester is headed straight for the four rubber walls as well. Rocking in a chair? In the dark? Depressed? Glaring at family photos like it's all about to come to an end? What is going on?
We didn't even see Eric pay her a visit-a promise he made to Felicia. Eric even had the key to the beach house. Where are Bold and the Beautiful going with this? A little creepy? Maybe. Especially since Susan Flannery's portrayal as Laura Horton on Days of Our Lives many moons ago had her end up in a loony bin. Is this depression starting to surface or is there something more to what we are witnessing? It's confirmed, Felicia Forrester is the best possible stand in to help bring her mother back from the brink or take over the complete dynasty.
As always in true soap fashion a wedding is held up because there is a need for another member of an opposing family wishing to confess their undying love for the groom. Was anyone else' guts turning when Nick told Stephen Logan that it was 'something the Logan woman do for him'? What's with that? It's like saying – I've had your daughter, her daughter and I want your other daughter. Come off it! READ MORE
By Luke Kerr on July 14, 2008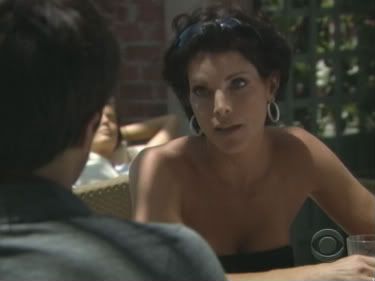 In a time when legends of the past are fading away. In an age where Logans rule the land with an oppressive hand. There comes one woman, one Forrester, to the defense of viewer kind. Her quest? To save her father and fandom from the treachery of Logan's spawn and break the evil spell of Donna Logan that covers the land. She is
Felicia Forrester
!
Thank you for making it possible for me to keep watching The Bold and the Beautiful. You are truly your mother's daughter. Without you B&B would be as desolate as the Sahara and as painful to watch as Gloria's tainted cream.
Thank you for having the balls to do what no one else in your family does. Thank you for going after what you want. Thank you for seeing the opportunity of Owen's arrival. Who knows, maybe you'll get a little somethin somethin from Owen while you're at it.
Your quest is not without peril. Your challenges great. Hold fast to the knowledge that better times are possible. Without you all is lost.