Lindsay Lohan
By Luke Kerr on May 25, 2012
The question of who will play Richard Burton in Lifetime's upcoming biopic Liz & Dick has finally been answered. According to Deadline, Trueblood star Grant Bowler has been cast in the pivotal role opposite of Lindsay Lohan, who portrays Elizabeth Taylor. Reportedly,
Bowler wowed them with his tape. "Grant will add gravitas to our couple and bring to life one of the greatest actors who has ever lived," Thompson said.
By Luke Kerr on April 26, 2012
Rosie O'Donnell's debut in the "Today's Professionals" segment on The Today Show drew headlines for her less than complimentary comments about Lindsay Lohan and for calling Donny Deutsch a "crackhead."
In an Access Hollywood exclusive, Lohan responded to O'Donnell's comments on Wednesday saying,
"It's funny that someone you don't know at all can say something so intrusive and so knowing,"
Lohan also shared with Access Hollywood how O'Donnell was one of her first interviews as a child actress.
"You know, I did one of my first interviews with her when I was little. I was so excited," Lindsay told Shaun.

"Does this kind of change your feelings about her?" Shaun asked?

"She should base her opinions when she meets someone," Lindsay said.
On Thursday, O'Donnell appeared on Today and further explained her initial comments, by comparing Lohan to Whitney Houston. Access Hollywood transcribed excerpts from the appearance. READ MORE
By Daytime Confidential on September 27, 2010
On today's Daytime Confidential podcast the DC gang drops in on The Morning Jolt with Larry Flick to discuss the latest in daytime and pop culture news, including:
The end of As the World Turns. Do soap's executives and writers hurt their show's ratings by punishing characters for actor's behavior. The Denver Post is reporting that One Life to Live will be picked up for two more years. Does Brian Frons manufacture it so that General Hospital and All My Children always win? Larry questions why soap fans should tune into OLTL. Is the Days of our Lives brand strong enough to jump to cable?
We then dive into the new and returning primetime shows of the season and the latest gossip. Can Lone Star make it? Larry then asks Jamey why fans should care about a new Dallas series. Will No Ordinary Family be as good as Luke hopes? Is The Middle better than Modern Family? The gang weighs in on the return of Glee for its second season, but will it suffer from a sophomore slump? Larry then puts Jamey on the spot and has him belt out several popular songs. Are we beginning to get Betty White fatigue? Was the Katy Perry and Elmo segment on Sesame Street inappropriate for children? Can Lindsay Lohan make a comeback or is she destined to be a "has been?" READ MORE
By Regan Cellura on April 20, 2009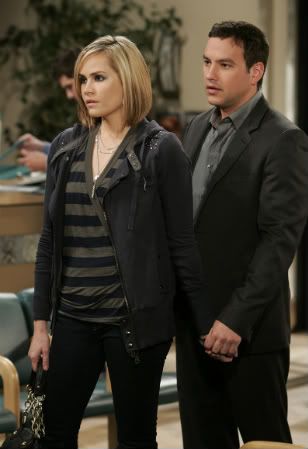 Here's the Scoop! 04.20.09
Who thinks there's some scrambling going on at GH? The ratings suck, the storylines aren't much better and fans are probably the most unhappy they've been in a very long time. Is any of this registering with TPTB? Some are saying it is and re-writes are in the works but my question is: Will the re-writes be in the right direction? GH, Guza, Frons, Jill… do they know what the right direction is? Past experiences tell me that they got off track a long time ago.
What's going on with NotEmily? Some say she was never supposed to be the RealEmily and that this Rebecca character was meant to stick. Stick to what? Will this be a re-write? There's some Rebecca – Lucky stuff RUMORED to be coming with those Nikolas-Elizabeth RUMORS mixed in. HERE'S WHAT YOU DO… Make the decision to have NotEmily be the RealEmily. Helena's in town, use her to your advantage. Have Hells play a role in Emily's death, explain away Diego admitting to killing her and spin the story in the brainwash direction. I know I never endorse the recycling of old storylines, but in this case, it's your only option. Do I want a quad with the four musketeers? Not really but I'd be all for a triangle with Lucky-Emily-Nikolas. READ MORE
By Luke Kerr on April 14, 2009
Lindsay Lohan
(ex-Alli Fowler,
Another World)
may not be so lucky in love at the moment, but that isn't preventing her from searching for it. Lindsay and the laughtastic folks at
Funny or Die
put their brains together and created an eHarmony profile video for her. It is hilarious! Could this be the beginning of a comeback for Lohan?
By Regan Cellura on October 23, 2008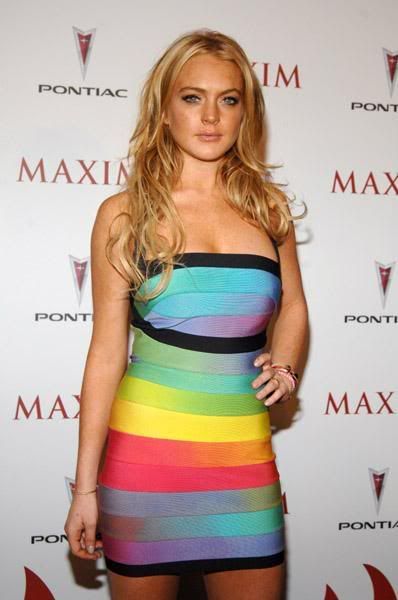 It looks like Lohan's stay on
Ugly Betty
has been cut short. Cut by two episodes in fact. According to Kristin at
E! Online
,
Lindsay Lohan
's recurring role is dunzo. The actress was scheduled to appear in six episodes of the ABC show and now will only appear in a total of four.
As with any Lohan news, there seems to be lots of drama and speculation as to why the actress' stint has ended. Interested in more of the gossip? Check out Perez Hilton.
More drama being reported... is it possible that Lindsay Lohan's remaining appearances will not air?