Louise Sorel
By Luke Kerr on November 09, 2009
Joseph Mascolo and Crystal Chappell
Days of our Lives
pulled out all the stops once again for the Day of Days event at Universal Studios Hollywood this past weekend. Fan's favorite stars, including:
Alison Sweeney
,
Arianne Zucker
,
Billy Hayes
,
Bryan Dattilo
,
Casey Deidrick
,
Crystal Chappell
,
Dylan Patton
,
Eric Martsolf
,
Galen Gering
,
James Scott
,
Jay Kenneth Johnson
,
James Reynolds
,
Joseph Mascolo
,
Lauren Koslow
,
Lindsay Hartley
,
Louise Sorel
,
Mark Hapka
,
Molly Burnett
,
Nadia Bjorlin
,
Peggy McCay
,
Peter Reckell
,
Renee Jones
,
Shelley Hennig
,
Susan Seaforth Hayes
,
Suzanne Rogers
,
Taylor Spreitler
and
Terrell Ransom Jr
. turned out for the event.
I don't know about you, but that picture of Joseph Mascolo, holding the young child, may be one of the most adorable pictures I've seen. See more photos from the event after the jump. READ MORE
By Daytime Confidential on November 06, 2009
On today's CBS and Days of our Lives episode of Daytime Confidential Luke, Jillian, Mike and Melodie discuss the latest As the World Turns, The Bold and the Beautiful, Days of our Lives and The Young and the Restless news and storylines for the week of October 26, including:
As the World Turns is making a comeback in quality. Brad's death rocked Oakdale as the cast delivered outstanding performances. Luke and Noah's relationship is going nowhere. Can it be rebuilt? One minute Lily is in love with Holden and the next she's in love with Damian. Is this a hot mess or is ATWT just taking a page from B&B's Ridge and Brooke?
Katie is running Forrester Creations, but how long will it be before she screws things up? Is Ridge hiding behind Brooke's skirts? Can the Forrester family get Forrester Creations back from Bill Spencer? Donna and Pam do the Catwalk show. Will Sarah Brown bring the heat to The Bold and the Beautiful?
Louise Sorel returns to Days of our Lives as Vivian Alamain. What will happen to Carly? Will Bo coming to her defense save her? Rafe returns to Salem. Will he get Sami's baby back for her and what will Sami do to Nicole when she finds out her child is alive? Luke admits likeing a character this past week he doesn't usually care for.
Billy rips into Victor with Restless style on The Young and the Restless. Victor makes his farewell tour of Genoa City amid a bunch of great flashbacks. Victor and Nikki reunite before leaving which has Jillian and Melodie in a very happy place. What is Ryder's secret and how will it impact Kevin?
Help support and improve the Daytime Confidential podcast: Take a few minutes to fill out the two Daytime Confidential listener surveys: Listener Survey A l
Be sure to leave your comments on all the latest goings on in the world of soaps by calling the Daytime Confidential comment line by calling 917-677-9757.
Listen to Daytime Confidential by clicking on the Daytime Confidential Player at the bottom of this post or Download us for FREE via iTunes. Vote for us on Podcast Alley. Add us as a Friend on MySpace and Facebook.

READ MORE
By Luke Kerr on October 30, 2009
One of my all-time favorite
Days of Our Lives'
characters, Vivian Alamain (
Louise Sorel
), returned today. What are your First Impressions?
By Jillian Bowe on October 20, 2009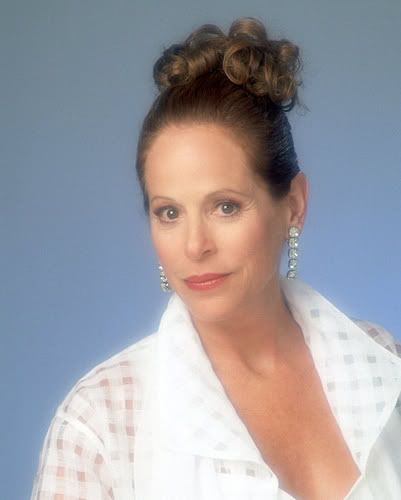 Hell hath no fury like Vivian Alamain will unleash over the death of her beloved nephew Lawrence (
Michael Sabatino
).
Louise Sorel
reveals to
TV Guide Magazine
what to expect when her alter ego heads back to fair Salem Oct. 30.
Can we safely assume Vivian is back with revenge in mind? That's the plan. Carly has rudely stabbed Lawrence with a knife. I'm not sure why. He had some sort of illness or he turned into another person…I don't quite understand the plot but it's something like that. Carly will get caught in the murder but Vivian has her exonerated by having someone else confess to the crime.Vivian wants to be the one who tortures Carly.
Uh oh, it sounds like Carly (Crystal Chappell) had better gear up to be placed back in that coffin again!
By Brian Peel on October 18, 2009
Well we all know it's official,
Louise Sorel
is returning to
Days of Our Lives
to play the naughty but nice Vivian Alamain. It's been a wee bit too long since we saw her last in Salem. She has been responsible for some harsh activity in town, including, but not limited to: burying Carly Manning alive, parading around under another identity and just plain stealing men from right underneath her enemies' noses. In this flashback video, we see the year 1995, when Vivian was doing her best to attract the Greek boss Victor Kiriakis. It seems whatever Vivian wanted, Vivian got and there was nothing that was going to stand in her way – not even the wealthy Kate Roberts.
READ MORE
By Jillian Bowe on October 01, 2009
In part two of her interview with
US Townhall's
Scott K
.,
Days Of Our Lives
star
Crystal Chappell
gives a little taste of what viewers can expect with her alter ego's Carly and arch rival Vivian (
Louise Sorel
).
USTH: During your original stint on DAYS, probably the thing that most fans would remember is that your character was buried alive by Louise Sorel's character. Can we assume that Carly won't let bygones be bygones? Do fans have good old-fashioned soap fireworks to look forward to between these two ladies?

CC: Absolutely. Both women are strong, smart, clever and unwilling to back down. So yes, you are going to see a lot of fireworks, and it is like the old-fashioned soaps.