Marcy Rylan
By J Bernard Jones on September 16, 2009
The third in a highly personal, non-objective series highlighting various aspects of the last episodes of Guiding Light, which will end its 72 year run on September 18th.
The third from the last episode of Guiding Light was all about reactions and coming to grips with the demise of Alan Spaulding, mirroring the mixed emotions of the show's fans as the series takes its final bows.
As news of Alan Spaulding's (Ron Raines) death rippled through town, we were treated to one of the most honest portrayals of how people react in such circumstances as has ever been seen on daytime. Over the last 30 years, Alan had committed any number of heinous crimes against most of the citizens of Springfield and yet his passing left many stunned (Ashlee, Blake, Reva, Jonathan, Frank), some confused (grandson Rafe), and others shocked & saddened (Lillian, Buzz).
When all is said and done, today's episode was rocked by Grant Aleksander (Phillip), Zack Conroy (James), and Marj Dusay (Alexandra). READ MORE
By J Bernard Jones on September 15, 2009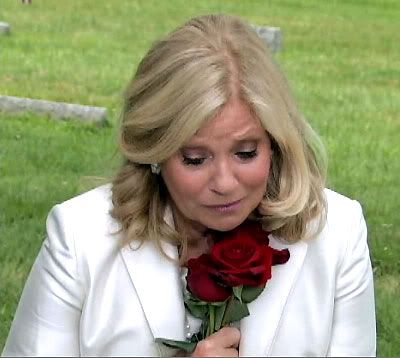 The first in a highly personal, non-objective series highlighting various aspects of the last episodes of Guiding Light, which will end its 72 year run on September 18th.
These final weeks of Guiding Light have been pure torture to watch. I don't mean "the new production model" (a phrase I never hope to hear again in my lifetime) or Bonnie Dennison's (Daisy) futile attempts to remember her lines. No, what has been extraordinarily difficult for me as a viewer — who vividly remembers when Roger (Michael Zaslow) kidnapped Holly (Maureen Garrett) in the Caribbean and Ed (then Mart Hulswit) threw him off a cliff — is watching the series' stories come to their inevitable conclusions. READ MORE
By Jillian Bowe on September 14, 2009

Damn it! This just makes me teary eyed – and pissed at a certain executive producer... Thanks to beautreal for the tip and tvobsessive2008 for the clip!
By Luke Kerr on September 01, 2009
The 36th Annual Daytime Emmy red carpet was awash in different hughes of red, orange, tan and brown. All My Children's Susan Lucci chose a orange gown. See which gowns Guiding Light's Gina Tognoni and Marcy Rylan, As the World Turns' Colleen Zenk Pinter, Meredith Hagner, Marie Wilson and Ewa Da Cruz, General Hospital's Lexie Ainsworth, One Life to Live's Melissa Archer and The Young and the Restless' Adrienne Frantz, Tonya Lee Williams and Victoria Rowell chose after the jump. Which did you like best and which did you like the least? See the dresses HERE. READ MORE
By Luke Kerr on July 28, 2009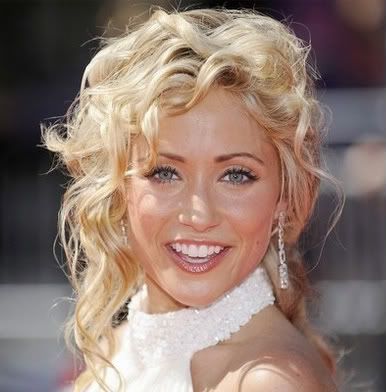 Guiding Light
star
Marcy Rylan
is engaged to boyfriend
Don Money
. According to
Soap Opera Digest,
Money proposed to Rylan at her baby shower on July 25.
RELATED: Marcy Rylan Pregnant | Bill and Lizzie's Wedding on GL (Images) | Who's Rockin' Those Shades Best?
By J Bernard Jones on July 15, 2009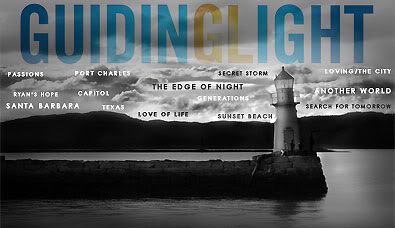 One of the hardest tasks in all of television must be bringing a daytime drama to a close. In other realms of entertainment, plays and musicals can be resurrected through countless revivals. Primetime TV shows can come and go, yet have the potential to be re-imagined or rebooted for the small or big screen. The biggest box office disasters can live on via countless direct-to-DVD sequels. Radio hosts and their dubiously talented sidekicks can be fired for the most hateful commentary, yet live on with the same formats other stations to be spiteful for another day.
With the exception of Dark Shadows, once a soap opera is canceled it is gone forever. During my time I've watched some of my favorites disappear: The City, Port Charles, Generations, Texas, and — in my opinion — two of the genre's titans, Santa Barbara and The Edge of Night. Many of you are still missing your own beloved shows over the last three decades as well. Fans of Capitol, Love of Life, Sunset Beach, Passions, Search for Tomorrow, and the still mourned Another World among others express their loss as if there yet remains a certain kind of grief that has not yet abated after all these years. Soon we will lose another giant among soaps: in less than ten short weeks, Guiding Light will shine for the last time on CBS. READ MORE