Mario Van Peebles
By Daytime Confidential on February 04, 2013
Redaric Williams and Angell Conwell may play siblings Tyler and Leslie Michaelson on The Young and the Restless, but they sizzled together at the 22th NAACP Image Awards on February 1. Former All My Children star Mario Van Peebles, Y&R's Tatyana Ali, The Bold and the Beautiful's Aaron D. Spears and Kristolyn Lloyd joined their primetime and film counterparts on the Shrine Auditorium's red carpet. See more photos from the 44th NAACP Image Awards after the jump!
By Daytime Confidential on October 22, 2012
General Hospital star Ingo Rademacher was all smiles at the premiere of Alex Cross on October 16. Tyler Perry (pictured above) portrays the self-titled character in the film, based on James Patterson's popular literary hero. Rademacher plays Officer Sacks in the flick. READ MORE
By Daytime Confidential on February 10, 2011
Where was the hottest place to find former soap stars and current hosts of The Talk on February 9? The Los Angeles premiere of the Justin Bieber documentary Justin Bieber: Never Say Never. From The Talks' Holly Robinson Peete (pictured above with husband Rodney Peete and their children) to former Days of Our Lives star Taylor Spreilter, the premiere party was quite the draw. See more photos of current and former daytime stars after the jump, and be sure to check out more Justin Bieber: Never Say Never premiere photos on Pop Confidential.
By Luke Kerr on August 22, 2008
Mario Van Peebles may not be wearing Boxers or Briefs for Obama but the All My Children and Damages star is showing his support for the Presidential candidate in his own way. Check out The Insider to watch the clip.
By Daytime Confidential on July 19, 2008
On today's ABC edition of Daytime Confidential Luke, Tina, Belinda and Danielle are discussing the latest on All My Children, One Life to Live, and General Hospital including...
Psycho Annie Lavery: Do we love this storyline or do we even care? Is there anyone out there who truly wants Rylee 3.0?
Carlo Hesser's Return: What does One Life to Live's Carlo Hesser have in store for Talia, Tina, Sarah and the Vega boys? He's up to something but how many people will get hurt before he's through?
Genie Francis' Return: General Hospital announced it's bringing pop culture icon Genie Francis back to Port Charles for a short stint as part of Lulu's storyline. The Daytime Confidential gang discusses the pros and cons of her return and whether or not we're looking forward to it and if we want her to stay around longer.
Have a question or comment for the Daytime Confidential podcast? Leave us a voicemail by calling (917) 677-9757.

Listen to Daytime Confidential by clicking on the Daytime Confidential Player at the bottom of this post or Download us for FREE via iTunes. Vote for us on Podcast Alley. Add us as a Friend on MySpace. Drop by our sister site TV Fan Online and visit with other soap fans in the TV Fan Online Forums.

By Luke Kerr on July 14, 2008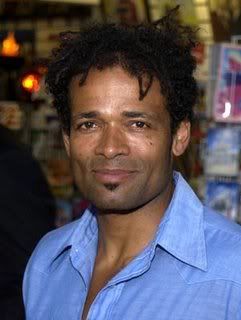 TV Guide is reporting that All My Children's Mario Van Peebles will be returning to FX's Damages as Agent Harrison.
Word has it that his return to the cable legal conspiracy drama will be for six episodes.
Recently Van Peebles' All My Children character Samuel Woods and Susan Lucci's Erica Kane kissed. Though fan reaction the pairing has been about as exciting as milk and toast it will be interesting to see whether or not "The Powers That Be" will continue with the "relationship" once Chuck Pratt takes over later this summer.
Damages returns for a second season on FX in April, 2009.