Mark Pinter
By Jamey Giddens on December 28, 2012
In the January 7 issue of
Soap Opera Digest
, veteran daytime actor
Mark Pinter
details how his friendship with showrunner
Jill Farren Phelps
helped him snag a recurring spot on
The Young and the Restless
. Said Pinter:
"You get jobs generally because of where you've been and if you're a director or producer, you want to work with people you've worked with before," Pinter notes. "I'm very appreciative of Jill. She's a woman who has a great allegiance to people and I don't know anybody who has worked with Jill who doesn't have great allegiance to her as well."
By Jillian Bowe on December 05, 2012
Veteran soap star
Mark Pinter
is heading to Genoa City.
TV Guide's
Michael Logan
is reporting Pinter, best known as Grant Harrison on NBC's defunct soap
Another World
, has landed a juicy role on
The Young and the Restless
. According to the magazine, Pinter will play Marcus Wheeler, who is described as:
a powerful and sophisticated congressman involved with Victor [Eric Braeden] and Jack [Peter Bergman], who will go to any lengths to protect his image and career. READ MORE
By Daytime Confidential on November 10, 2012
No. 10: EJ DiMera, Days of Our Lives

He may have played dirty to beat incumbent Mayor of Salem, U.S.A. Abe Carver (James Reynolds), but the filthier EJ DiMera (James Scott) gets on Days of Our Lives, the more we like him! Besides, "Honest" Abe and his campaign manager Jennifer Horton Deveraux (Melissa Reeves) ended up playing just as many foul tricks as Elvis and his PR-flack-with-benefits Nicole Walker (Arianne Zucker) did during the nasty political battle.
What's that they say, if you can't beat 'em, cheat 'em? Jennifer Rose, your donut-making Gran would be appalled!

By Regan Cellura on January 07, 2010
Agent Rayner is making his return to Port Charles!
Soap Opera Digest
reports
Mark Pinter
will reprise his role as the FBI agent on January 26th. Does his return have to do with Franco, or the town's resident mobsters Sonny and Jason? With
Bob Guza
at the helm you never know.
By Daytime Confidential on October 26, 2009
For almost 32 years, she's dazzled As The World Turns audiences as the unforgettable Barbara Ryan. On this episode of the Daytime Confidential podcast, it's Luke and Jamey, Colleen Zenk Pinter has under her spell. The soap superstar joins the guys to talk about her amazing daytime career, working opposite the likes of Anthony Herrera (ex-James) and the late Benjamin Hendrickson (ex-Hal), and how she balances it all with her real life love affair with husband and fellow soap veteran Mark Pinter.
Zenk Pinter also talks about what it's been like to finally have Babs back front and center, in a steamy, comic, cougar storyline with Trent Dawson's Henry and Lynn Herring's Audrey. She also shares how her oral cancer diagnosis has changed the way she looks at her life and career. It's an interview Oakdale lovers won't wanna miss!
Help support and improve the Daytime Confidential podcast: Take a few minutes to fill out the two Daytime Confidential listener surveys: Listener Survey A l
Be sure to leave your comments on all the latest goings on in the world of soaps by calling the Daytime Confidential comment line by calling 917-677-9757.
Listen to Daytime Confidential by clicking on the Daytime Confidential Player at the bottom of this post or Download us for FREE via iTunes. Vote for us on Podcast Alley. Add us as a Friend on MySpace and Facebook.

READ MORE
By J Bernard Jones on March 25, 2009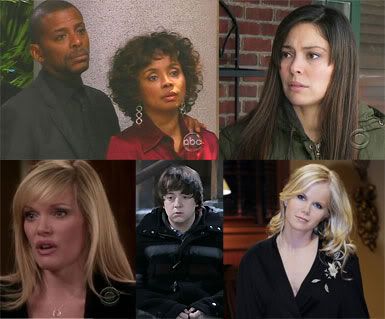 I'm back, gentle readers, and not a moment too soon. Since we were last together, real life has provided more plot twists than an episode of
Lost
, but I've still managed to faithfully watch the stories day in and day out. While there are a few larger topics that I'll be addressing in the next few days and weeks, it turns out a little time and distance provides the opportunity for a bit of clarity and perspective on issues that one might have been previously too close to appreciate. In that spirit, here are a few completely random observations about the five soaps I normally watch that I've noticed in the little over a month since I last posted. These observations generally are not a part of the usual list of talking points, but just a number of things that have popped in my head. Without further ado...
READ MORE