Mark Pinter
By Regan Cellura on December 03, 2008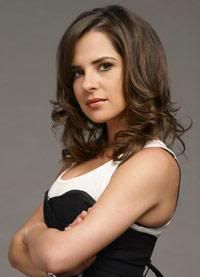 Here's the Scoop! 12.03.08
Sam saves Jake... Is this redemption for all that's happened in the past? It looks like that's the intent as Jason puts his son in further danger with guns blazin' and causing the cabin where Jake is being held to explode. When he thinks his son is caught in the burning building, here comes Sam with Jake safe in her arms.
Jason tells Elizabeth all the gory details. He wants her to know just how close they came to losing their son. The feds interview the foursome regarding all the mobtacular activity that surrounded Jake's kidnapping. Elizabeth and Jason call it quits. Jason tells Spinelli he's lost everything. RUMORS say he tells the Jackal he lost the only family he ever wanted.
The feds... aka Mark Pinter when he checks in as Agent Rayner have questions and Sam tries to take the heat off of Jason. She's not lying, she tells the truth that she worked for Karpov and the Russians could have been/were looking for her. READ MORE
By Jillian Bowe on November 29, 2008
Seems like
Colleen Zenk Pinter
and her better half
Mark Pinter
have an additional role to play this spring, grandparents! Their daughter is expecting her first child with late night talk show host and former
MTV
VJ
Carson Daly
.
Daytime Confidential would like to send congratulations to the Pinter and Daly family!
By Regan Cellura on November 24, 2008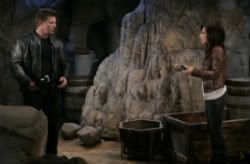 Here's the Scoop! 11.24.08
Elizabeth and Sam under fire... Jake is kidnapped... Jason in handcuffs. Elizabeth and Sam handle themselves with Elizabeth killing a Russian. Jake is taken and thanks to the Jackal, Jason is free as a bird. He's too late to save Jake from being grabbed but he is on the hunt with Sam sitting co-pilot to save his son.
Again, the question remains... Who finds Jake and how long is he gone? Still not sure but there are a few things that MAY help us solve the case! Mark Pinter has been cast as Agent Rayner. We've been talking about this possibility in the comments and SPOILER blogs. Agent Rayner is said to have scenes with Jason where they talk business. Who's business? Rayner's or Jason's? There was TALK that Agent Rayner comes in to assist in the kidnapping investigation. He'll first appear on December 11th. So if the RUMORS are correct and he's brought in because of Jake's kidnapping, we must ASSUME that Jake is still missing as of the 11th. NOW, it's highly possible that Agent Rayner comes to town because of the escalated mob violence and not necessarily because of the kidnapping. READ MORE
By Regan Cellura on November 21, 2008
Mark Pinter
(Roger Smythe,
All My Children
; Grant Harrison,
Another World
) has been cast as Agent Rayner on
General Hospital
. We've talked about the possible casting in the
Spoilers
and
Nelson Branco
has Pinter debuting on December 11th in today's
Suds Report
.
According to the RUMOR MILL, Pinter's character is an FBI Agent brought in to help in the kidnapping investigation of little Jacob Martin Spencer, er Morgan. Agent Rayner will take an obvious interest in the mob element in town as it was the Russian Mob who took Jake and Jason Morgan's interest in the missing tot will also have the agent going hmmmmm.
By Regan Cellura on November 19, 2008
Here's the Scoop! 11.19.08
Another Re-Opening? Shouldn't Luke be more concerned about Kelly's getting torched and trashed? I would think so BUT nope, he and Johnny discuss getting the Haunted Star back up and running today.
Speaking of Luke... what's going on with his marriage? RUMORS say Tracy files for divorce. Will Guza break the Q's out for a scene? It looks like Tracy's divorce has Monica and Edward getting dusted off and they SHOULD be guests at Robin and Patrick's Christmas Wedding.
Who else is getting dusted off? Alexis! She'll have scenes when Jason is arrested and RUMORS say her airtime will pick up next month. Will we ever see a reaction to Jerry's death?
More on the kidnapping... Jason SHOULD try to ease Elizabeth's fears but he'll of course have to leave. Both parents feel responsible for Jake's latest crisis. Will this have Elizabeth walking away from Jason? It's out there Liason fans. READ MORE
By Luke Kerr on June 16, 2008