Michael Ausiello
By Regan Cellura on June 09, 2010
EW.com's
Michael Ausiello
just dropped this
tweet
,
Breaking: Comedy Central announces next roasting victim: David Hasselhoff! Airdate 8/15.
From tabloid headlines to The Young and the Restless, let the roasting begin!
By Jillian Bowe on January 27, 2010
Photo by ABC
According to Entertainment Weekly's Michael Ausiello, Ugly Betty is getting the axe. Ausiello reports, the show's current season, its fourth, will be its last. Additionally, ABC has cut the current 22 episodes down to just 20. In a joint statement to EW, Betty's showrunner Silvio Horta and ABC president Steve McPherson state,
We've mutually come to the difficult decision to make this Ugly Betty's final season, and are announcing now as we want to allow the show ample time to write a satisfying conclusion. We are extremely proud of this groundbreaking series, and felt it was important to give the fans a proper farewell.

By Jillian Bowe on December 08, 2009
Entertainment Weekly's Michael Ausiello spoke out on the news of As The World Turns' cancellation. Ausiello, a former writer for Soaps In Depth, and the now defunct Soap Opera Update said,
ATWT's demise wasn't unexpected, but it still stings. As you probably know, I got my start covering soaps. In fact, my first college internship was at ATWT. To watch the once-mighty industry wither away like this is beyond depressing.
By Regan Cellura on June 17, 2009
Michael Ausiello has a pair
of
Grey's Anatomy
scoop!
TR Knight
is officially out as Dr. George O'Malley and
Jessica Capshaw
is a series regular as Dr. Arizona Robbins. Knight may even have another gig already lined up.
Fall's still months away, but one of last season's bigger Grey's Anatomy cliffhangers has already been resolved: Sources confirm to me exclusively that T.R. Knight's wish to be released from his contract has been granted. The official decision, I'm told, came down in the past few days, just as many of his castmates began receiving their formal pickup letters from ABC.

Fans of Grey's know that there has been plenty of speculation over TR Knight's status with the show when the news hit the net that he wanted out of his contract three years premature. As for Capshaw, it looks like Callie's (Sara Ramirez) love interest and love life are still going strong with Capshaw signing on as a series regular.
By Regan Cellura on May 12, 2009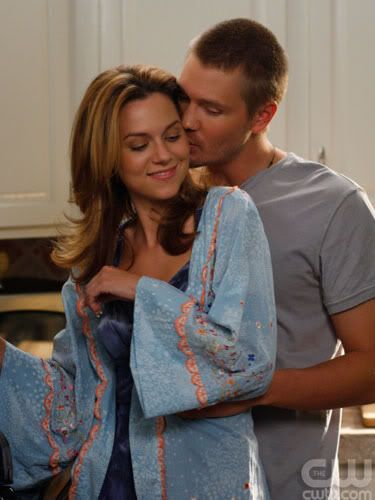 Michael Ausiello
is reporting the
exclusive news at EW.com
. Lucas Scott (
Chad Michael Murray
) and Peyton Sawyer (
Hilarie Burton
) are leaving Tree Hill behind.
One Tree Hill
was picked up for a seventh season without the show's two leads signed on. At that time, the rumor mill was buzzing that Murray was definitely not returning.
Sources confirm to me exclusively that Chad Michael Murray and Hilarie Burton, whose characters tied the knot in last night's penultimate episode, will not be returning for the show's seventh season next fall. The CW is expected to formally announce their departures next Thursday at its "upfront" presentation.

Murray and Burton have been engaged in rather high profile contract negotiations for the past several months. Ultimately, a deal couldn't be worked out and both actors will make their final appearances in next Monday's season finale. READ MORE

To fill the void next season, a Tree Hill insider tells me that two new characters will be introduced. Additionally, Austin Nichols (Julian) is being promoted to a series regular.

By Jillian Bowe on April 29, 2009
General Hospital
alum
Rick Srpingfield
(Noah Drake) has been tapped to star in the Showtime original series,
Californication
. According to
Entertainment Weekly's
Michael Ausiello,
the actor/singer has signed on to star in four episodes. The role calls for Springfield to play himself, but with a slight twist.
Springfield will play an former 80's heartthrob, whose career has fizzled out, and is now working as a waiter. Get ready to take out your heart meds Noah Drake lovers, because Springfield has agreed to showing 'tasteful nudity" for the cable drama's love scenes. No word yet on when the episodes will air.