Michelle Obama
By Jenna Dorsi on April 18, 2014
On Monday, April 21 Live! With Kelly and Michael will broadcast from our nation's capital. Michael Strahan will be attending the White House's Annual Easter Egg Roll, and later sit down with First Lady Michelle Obama to chat.
READ MORE
By Jamey Giddens on September 28, 2012
If this doesn't make
Elisabeth Hasselbeck
vote for
Barack Obama
, nothing will. According to
The Hollywood Reporter
, the recent appearance of the President and First Lady
Michelle Obama
was watched by 4.3 million viewers. The installment netted the ABC Daytime talk show a four-month ratings high. Yes they can — cause Nielsen spikes!
By Jamey Giddens on September 25, 2012
For the first time ever, President
Barack Obama
and his wife
Michelle Obama
visited ABC Daytime's
The View
for a joint interview today. The POTUS and First Lady fielded questions about what would happen to the country if Republican nominee
Mitt Romney
were elected, as well as if Mrs. Obama has any aspirations toward public office of her own.
Check out snippets from the interview posted by our pals at Zap2it, or watch the entire episode once it's posted at ABC.com!
Photo credit: ABC
By Luke Kerr on January 22, 2011
Oprah has granted a lot of wishes and helped a lot of people over the years, but Monday January 24 she's going to reveal her own personal "miracle of all miracles." In the promo for the upcoming episode, the Might O reveals she "was keeping a family secret for months" and that she was "given news that shook me to the core." As news spread of Oprah's upcoming big secret Twitter exploded with speculation. AOL has compiled some of the hilarious tweets. Whatever Oprah's secret is, the way it is being described sounds an awful lot like something we might see on a soap. READ MORE
By Jillian Bowe on June 10, 2009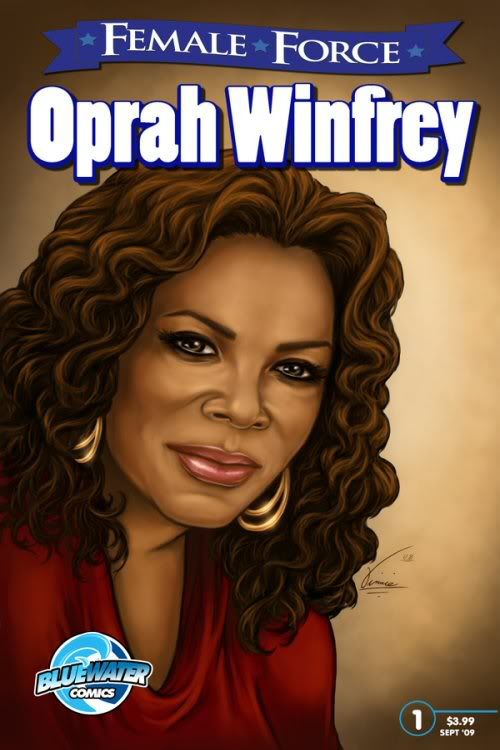 Up in the sky, it's a bird, it's a plane...it's
Oprah
? The Mighty O will be immortalized in the latest installment of the comic book series,
Female Force
by
Bluewater

Productions
.
Female Force
are biographical comics based on the lives of influential women and so far have already featured First Lady
Michelle Obama
, Secretary of State
Hillary Clinton
,
Caroline Kennedy
and Alaska Gov.
Sarah

Palin
.
READ MORE