Mick Hazen
By J Bernard Jones on July 14, 2009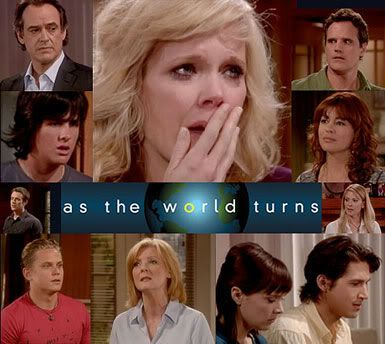 As the World Turns
gets little critical love these days, at least from me. Executive producer
Chris Goutman
and head writer
Jean Passanante
are roundly criticized for revolving door castings that last between three to six weeks per actor while a number of popular veterans remain stranded on the sidelines, nine month story lines compressed into 45 minutes of screen time, and obviously declining production values due to draconian budget cuts not of their making or within their control. Watching ATWT lately has been as often a test of endurance as much as one of patience. Unfortunately, many viewers have been able to pass neither challenge as the show's declining Nielsen ratings attest.
Nonetheless, I am careful to try to give credit where credit is due and today's episode did something very smart for the first time in a long time: human emotions took center stage. The writers shoved janky plot mechanics aside and instead focused on characters trying to relate to each other through adverse circumstances. Yes, ATWT's usual maddening problem of compressing events that should have played out over days and weeks into a single show managed to compromise a bit of my enjoyment, but I have to say I thought as a whole they hit it out of the park today. READ MORE
By Mark on July 13, 2009
A promo with a first look at Forbes March's character Mason Jarvis.
By Mark on July 06, 2009
They tried to make her go to rehab, but she said no, no, no...
By Nicki on April 13, 2009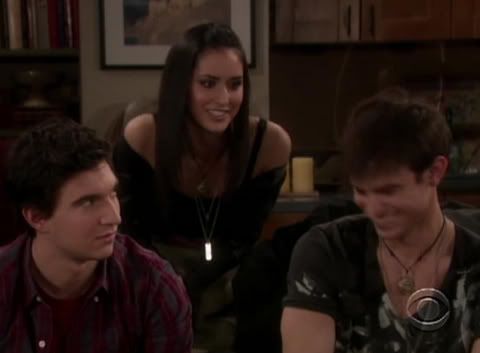 Bits of annoying banter started off this week for
As the World Turns....
let's just hope it doesn't dominate the week.
First off lets start with the couple who are definitely not going to make it long term, Parker Munson and Liberty Ciccone. Liberty is far beyond Parker in maturity and you can already tell she wants out. However for now she seems to be letting him get his way as she agreed to turn down the internship of a lifetime. Meanwhile Parker is acting more like a 5 year old then a teen with his pouting and temper tantrums. And I don't care who you are you never speak to your mother the way he spoke to his mom Carly Tenney today, even if he did have a point on the drinking issue. READ MORE
By Mark on April 13, 2009