Natalia Livingston
By Regan Cellura on January 12, 2009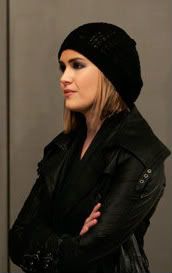 Here's the Scoop! 01.12.08
It's Natty Week! Natalia Livingston returns to General Hospital this week as a new character, Rebecca. I know I am not the only fan hoping that Rebecca turns out to be a very much alive Emily Quartermaine but so far, she's just Rebecca who has something to do with this crisis about to hit GH. Rebecca MAY be sharing some time with other male residents of PC but Nikolas will be drawn to her and one RUMOR has her helping Nikolas save Nadine. What about Matt? Rebecca and Dr. Hunter share a scene and some are SPECULATING that they have a past.
Speaking of Nadine... Many fans are worried that Natalia's return means Claire Coffee's exit. While it is most likely the end of Nikadine, it APPEARS Claire is safe, for now.
Sonny and Jason... It's war between the former friends and partners. Sonny's latest bride does not help matters. There is still a POSSIBILITY that when all the smoke clears, Sonny and Jason COULD be revealed to be working together. READ MORE
By Regan Cellura on January 08, 2009
Here's the Scoop! 01.08.09
ABC's official word on the stunt hitting GH:
NO ONE IS SAFE... THE CLOCK IS TICKING... A DISASTROUS CRISIS HITS ABC'S "GENERAL HOSPITAL"
Viewers Will Need to Watch Each Episode as Clues Are Revealed After Time Is Turned Back; Storyline Will Coincide with the Return of Emmy® Winner Natalia Livingston to Port Charles
On the Thursday, January 15 episode of ABC's award-winning "General Hospital," Dr. Patrick Drake (Jason Thompson) will rush into the operating room yelling to colleagues Dr. Monica Quartermaine, Dr. Matt Hunter, Nurse Elizabeth Webber and Nurse Epiphany Johnson, among others, to stop a pending surgery with a mysterious patient. Without giving away much else, the clock will be turned back nine hours and each subsequent episode for the next nine days will begin with scenes that will reveal more clues to what is about to happen in the hospital. On Wednesday, January 28, the reason for Dr. Drake's ultimatum to his staff will be revealed and, from this point through February, medical staff, patients and visitors will be affected as a major disaster will strike the corridors of the hospital and make its way throughout Port Charles. In addition, this medical crisis storyline will coincide with the anticipated return of Emmy® winner Natalia Livingston as Rebecca, an entirely new role, on January 15. Both announcements were made by Brian Frons, president, Daytime, Disney-ABC Television Group. READ MORE
By Regan Cellura on January 05, 2009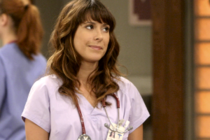 Here's the Scoop! 01.05.08

Faulty meds or drugs that have harmful effects? During the great drug caper it was all about drugs that weren't working. Remember Sam's pain medication wasn't taking away her pain. The LATEST on the hospital crisis kicking off sometime next week is that the medication given to the victims is more than just ineffective; it could do some serious harm.
How are the guests at the benefit hurt? Like I mentioned last week, what's a General Hospital stunt without a shootout or an explosion. This time around, Guza is going with the explosion which injures many of the guests at the benefit as well as involving most of the staff at GH. Gee, who would have thought, a storyline that revolves around the hospital. Sorry, I'm still in shock. And what's most shocking is why it took Bobby boy so long to come up with this one.
So who's the hero this time? Jason is the obvious answer and there are RUMORS of he and Sam teaming up to stop whatever is happening but the heroes this time SHOULD be the doctors and nurses at GH, minus Robin who's Post Partum Depression has the new mom handing out the bad meds without checking them. Is Rebecca the hero? IF the RUMORS are correct and Rebecca is a doctor / medical chemist, she COULD be the one to figure out the problem. Patrick and Matt have also been out there as heroes. READ MORE
By Regan Cellura on January 02, 2009
Happy New Year! Here's the Scoop! 01.02.09
We mentioned The Jackal getting busted and Jason finally turning on Sonny to save Spinelli's behind. What about Winnie? Is she Spinelli's new love interest or will TPTB give the fans what they want, a true Spixie pairing! RUMOR has it, Winnie plants a smooch on our favorite computer genius. Is this the reason for Maxie's jealousy? Maxie has a feeling that all is not right with the female version of Spinelli and she's right! Winnifred is working for the Feds and has turned over the stolen computer files to Agent Rayner. Will Winnie regret it when she gets to know the endearing Damien Spinelli? If you haven't seen Senta Moses (Winnie) in action, she's great! Back to my girl Maxie though... she MAY be jealous and she MAY be throwing herself at Spinelli in hopes of steering him away from Winnie BUT, when Maxie tells Spinelli Winnie has a hidden agenda will there be trouble in Spixie land? Yep! Spinelli is hurt that Maxie can't believe someone would be interested in him.
Is Robin going to add troubles to the hospital crisis? Her Post Partum Depression has her making some mistakes as we mentioned earlier this week. She MAY be giving some patients medication that has not been screened properly and of course the meds Robin hands out are faulty. What else is happening at GH? Injuries, fatalities... good old General Hospital! At least this time it's hospital based and not mobtacular. Who is among the injured? Mixed reports are out there however, here are a few of the names I've seen: Tracy, Nadine, Ric, Olivia, Lulu and Spinelli. What's Lulu doing at GH? She's SUPPOSED to be attending the fundraiser at Nikolas' request but Johnny is RUMORED to not be with her as he will be outside GH desperate to get in and save his girl. How very Jason Morgan of him. READ MORE
By Regan Cellura on December 30, 2008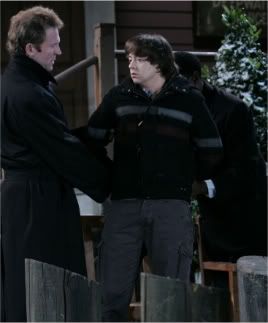 Miss Me? Here's the Scoop! 12.30.08
The Jackal gets busted! Spinelli finds himself the subject of a federal investigation and Agent Rayner has Jason's sidekick put behind bars. Is this all just part of Rayner's plan to bring down Sonny Corinthos? Seems to be the case as SPOILERS say Jason must choose, Spinelli or Sonny. Pick Spinelli Jason! And Stone Cold just MAY be choosing to turn against his former friend to save Spin's butt. The Feds want dirt on Sonny and Jason SHOULD be willing to talk to get Spinelli released.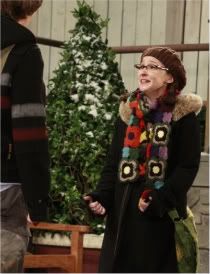 Meet Winnie... the Jackal's should be nemesis and Maxie's reason for getting jealous. Winnie and Spinelli have a lot in common but will he learn she's working for the feds? Will Maxie get a feeling that there is more to this female version of the Jackal? That Maxie is one smart cookie!
Will Maxie finally admit her feelings for Spinelli? That's a RUMOR out there. Is it because of the above mentioned jealousy or the real deal? Maxie and Spinelli kiss!
Robin's Post Partum Depression storyline has not been dropped. It SHOULD be picked back up when the newlyweds return to work. Patrick will be worried about his wife as the newly married docs must learn to balance work and family. Remember that new house they were supposed to be getting? Well it MAY be happening in the new year. Look for Robin to have problems, one where she'll leave Emma with Elizabeth and when patients start kicking the bucket, Patrick is surely going to have his hands full. READ MORE
By Regan Cellura on December 19, 2008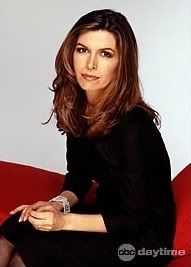 Here's the Scoop! 12.19.08
Scrubs Wedding... Anna is the Maid of Honor. Good, soapy, romantic wedding. Emma is not there to see her parents get married.
Spinelli is Santa's helper when Kris Kringle loses his list. Monica is reunited with Alan and Robin is a mother who can calm her own child.
Christmas Eve Repeat... It's last year's Christmas episode.
Push and Pull, Push and Pull... Can the CarJax fans take much more? The pair will be caught under the mistletoe and Jax will be there for Carly on Michael's birthday.
Is Winifred going to be a love interest for Spinelli? The computer geeks SHOULD be at odds as it MAY be Wini who swiped Spin's files but SHOULD they hit it off, I wouldn't be surprised to see Winifred sticking around Port Charles.
Natalia... We mentioned her new character, Rebecca, possibly being a model for Crimson. The LATEST RUMOR out there is that Natty's first scenes back are with her former co-star Tyler Christopher and Kirsten Storms. READ MORE