Nazanin Boniandi
By Regan Cellura on January 29, 2009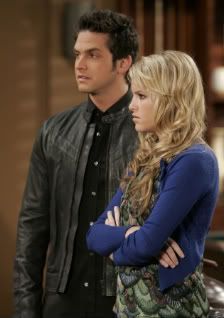 I got a snow day yesterday! I dropped some SCOOP in Tuesday's comments. Here they are in case you missed them:
Lulu and Sonny MAY be missing and POSSIBLY presumed dead. Johnny feels guilty. Kate goes off on Olivia and Carly of course doesn't believe he's dead. RUMORS have Claudia being the one to save Sonny. Could this be how Claudia's life is spared? Still hearing that Claudia's role is getting revealed and it COULD cause problems for JoLu. Remember, there are those RUMORS that Maxie and Johnny are getting a chem test. COULD this be FANFIC?
Winnie and Spin find out something ain't right with the FBI agents... not sure if this is something about Rayner or someone else. COULD this be how Winnie and Spin get chem tested?
Nazanin confirmed Leyla's death.
Trevor... still RUMORED to be kicking the bucket and admitting things as he goes. Will he and Anthony have one last talk that answers some of the unanswered? Johnny has been long RUMORED to really be Trevor's boy. But Trevor already has a son who pretty much hates his guts. Will Ric and Trevor find some peace before dear old dad departs?
Multiple explosions? Its GH ... one crisis is not enough.
RUMORS of Matt and Maxie scenes. More chem testing? They are really trying to see what sticks. READ MORE
By Regan Cellura on January 05, 2009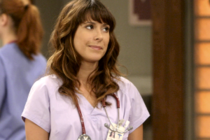 Here's the Scoop! 01.05.08

Faulty meds or drugs that have harmful effects? During the great drug caper it was all about drugs that weren't working. Remember Sam's pain medication wasn't taking away her pain. The LATEST on the hospital crisis kicking off sometime next week is that the medication given to the victims is more than just ineffective; it could do some serious harm.
How are the guests at the benefit hurt? Like I mentioned last week, what's a General Hospital stunt without a shootout or an explosion. This time around, Guza is going with the explosion which injures many of the guests at the benefit as well as involving most of the staff at GH. Gee, who would have thought, a storyline that revolves around the hospital. Sorry, I'm still in shock. And what's most shocking is why it took Bobby boy so long to come up with this one.
So who's the hero this time? Jason is the obvious answer and there are RUMORS of he and Sam teaming up to stop whatever is happening but the heroes this time SHOULD be the doctors and nurses at GH, minus Robin who's Post Partum Depression has the new mom handing out the bad meds without checking them. Is Rebecca the hero? IF the RUMORS are correct and Rebecca is a doctor / medical chemist, she COULD be the one to figure out the problem. Patrick and Matt have also been out there as heroes. READ MORE
By Regan Cellura on September 22, 2008
Here's the Scoop! 09.22.08

It's SUPPOSED to be a good week for the Liason Fans and this week ends with Sonny and Kate walking down the aisle. Jason is there with Carly, but it's before the wedding that SHOULD have Liason Fans very happy.
Leading up to the nups...nuptials that is. Spixie puts in some extra effort to get Jason to go to the wedding. Jason has a surprise up his sleeve for Elizabeth. Kate comes face to face with Olivia. What's Olivia's secret? Who's shooting while the bride is walking down the aisle? Kate is hit and Sonny wants his enemies to pay. This will bring Sonny back into the mob. It's still a little unclear if Sonny and Kate are Husband and Wife before she's taken to GH.
It's my Birthday week... so it's going to be a Liason overload week. Sorry to the non-fans, but its a little b-day present to myself! Jason has his surprise working and he goes to Elizabeth and lays his feelings for her out on the table.
Jason and Karpov... Jason has a warning for the Russian mobster. READ MORE
By Luke Kerr on January 09, 2008
The NAACP Announced their 38th Annual NAACP Award Nominations yesterday including their nominees for the TV Daytime Drama categories. The awards show will air on February 14th on FOX.
This year's nominees are as follows:
Outstanding Actress in a Daytime Drama Series
• Nazanin Boniadi – General Hospital
• Christel Khalil – The Young And The Restless
• Brook Kerr – Passions
• Tracey Ross – Passions
• Tika Sumpter – One Life to Live

Outstanding Actor in a Daytime Drama Series
• Kamar de los Reyes – One Life to Live
• Kristoff St. John – The Young And The Restless
• Bryton McClure – The Young And The Restless
• Mykel Shannon Jenkins – The Bold and the Beautiful
• Tobias Truvillion – One Life to Live