Noelle Beck
By Jillian Bowe on March 18, 2013
CBS Soaps In Depth is reporting As The World Turns' Noelle Beck has snagged a recurring role on The CW freshman drama The Carrie Diaries. According to the magazine's site, Beck will play Sebastian's (Austin Butler) mother, Ginny, starting tonight. Beck joked:
My character is crazy!" Beck laughs. "I would never talk to my kids this way. So funny! It's all about Ginny.

The Carrie Diaries airs Mondays at 8 PM EST on The CW.
By Luke Kerr on February 27, 2013
As the World Turns alum Noelle Beck (ex-Lily Snyder) has been cast as Sebastian's (Austin Butler) mother Ginny on The Carrie Diaries, according to TVLine. Reportedly, the character is a "sometimes absentee mother Ginny, a woman who flits in and out of her son's life and isn't afraid to share the intimate details of her romantic life with him."
Beck played Br. Big's (Chris Noth) first wife Barbara on Sex and the City.
By Luke Kerr on February 14, 2011
Have you missed Noelle Beck since As the World Turns went off the air? If you have, there is good news. CBS Soaps in Depth is reporting Beck has joined the Tom Selleck cop drama Blue Bloods in a recurring role. Reportedly, her character Sue Connors will work with Selleck's Frank Reagan as a Deputy Press Secretary.
By Mark on September 19, 2010
As the World Turns has released a video with deleted scenes from the show's final episode. You can watch it after the jump. READ MORE
By J Bernard Jones on September 16, 2010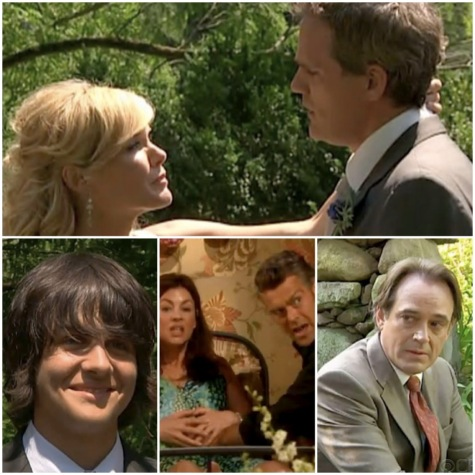 Several days ago, I posted an entry about the fallout from the death of Dr. Reid Oliver (Eric Sheffer Stevens) on As The World Turns. There were three central ideas in that piece. First, despite the very legitimate complaints that any given fan might have, ATWT is providing great human drama here at the end of its run. Second, Reid's tragic passing and donation of his heart to Chris (Daniel Cosgrove) encapsulated that goal mainly by thrusting the Hughes'— the show's core family since its very debut— front and center toward its conclusion. Third, given the soap opera wrapped production months ago, the idea of kicking a dead horse with unrelenting criticism isn't going to make it win the Kentucky Derby.
I have not budged one iota from any of those positions and I am about to incur the wrath of a whole lot more of you by making what I know will be a very controversial statement to many: I believe that in these final days, executive producer Christopher Goutman has made mostly the right decisions.
By Mark on September 09, 2010
After 54 seasons and one unforgettable journey As the World Turns comes to an end. Watch the series finale promo after the jump.