Peggy McCay
By Luke Kerr on October 30, 2012

Bo (Peter Reckell) dropped by Victor's (John Aniston) to leave some of his daughter's belongings, since she'd be spending more time there now. When Victor and Maggie (Suzanne Rogers) inquired about Caroline (Peggy McCay), Bo shared the possibility of an Alzheimer's diagnosis. It was nice to see Bo have such a normal conversation about family problems with Victor and Maggie. READ MORE
By Jillian Bowe on September 09, 2011
We Love Soaps is reporting The Bay star and producer Mary Beth Evans is heading back to Days Of Our Lives. According to the site, Evans resumes taping on DAYS Sept. 23 and her episode will air Dec. 15. Evans' character Kayla returns to Salem with her little boy Joey and will help out mom Caroline (Peggy McCay) at the The Brady Pub.
By Brian Peel on May 14, 2011

Ten powerful minutes of daytime television from Days of Our Lives sensations (Patsy Pease) and (Charles Shaughnessy), also known as 80's super-couple Shane Donovan and Kimberly Brady. It was the year 1988, Shane's daughter Eve Donovan, played by the popular (Charlotte Ross), was in Salem and mixing it in with the wrong crowds. Eve played the streets as a hideaway prostitute who became involved with Pimp Nick Corelli (Conrad Dunn) who was eventually murdered in one of Salem's biggest whodunit mysteries.

"Happy Anniversary Kim and Shane!" were the words Patricia Pease posted to her Facebook profile on May 5, commemorating the union of ISA Agent Shane Donovan and the girl from the Brady Fish Market, Kimberly Brady. Here, you'll see one of Shane and Kimberly's most powerful scenes. A very pregnant Kimberly follows Eve to a rundown hotel room where she is being roughed up by one of her 'Johns'. Kimberly sneaks her way into the room and manages to smooth talk 'The John' to leave the hotel for a few minutes. Meanwhile at a restaurant in Washington, Shane away on ISA duties dines with Gabrielle who is unbeknownst to the drama about to unfold in Salem. When 'The John' arrives back to the room to find Eve trying to escape through a window and Kimberly close by, he rushes forward and lunges at a pregnant Kimberly throwing her across the room and over a side table, hitting her head and knocking her unconscious to the ground. Cue dramatic music!
READ MORE
By Daytime Confidential on April 30, 2010
Alison Sweeney and Kristian Alfonso (pictured above) were among the many Days of our Lives stars who lit up the red carpet at the book launch for Ken Corday's new book, The Days of our Lives: The True Story of One Family's Dream and the Untold History of Days of our Lives. See photos of your favorite Salemites after the jump, and go pick up your copy of Corday's book, which hits bookstores today!
By Luke Kerr on February 18, 2010
Sunday, Feb. 21 Days of Our Lives star Peggy McCay appears on the CBS crime series Cold Case as a knife throwing circus performer. In an interview with We Love Soaps' Damon Jacobs she discusses the role.

We Love Soaps: It is so wonderful to speak with you again. Let's talk first about your appearance on the CBS show COLD CASE, on Sunday, February 21st.

Peggy McCay: I was so delighted because she's such a colorful character, and such a change of pace from Caroline Brady. The people were absolutely great to work with, they were so friendly and open. The character was quite unique. She is "Zelda, Queen Of The Night," a circus performer. She has a bad temper and said that accounted for three our of her four divorces. She's a knife thrower in the circus, and obviously she came too close when she threw the knife at her husbands. This episode is titled, "Metamorphosis," based on the act of a butterfly, and an accident which is found out to be a murder. I am one of the performers in the circus at the time this happened. COLD CASE as you know goes back to the incident, and then comes forward 40 years or so the solving of the case. She is quite funny. The first thing she says to the cop is, "Geez, if I knew you were this handsome I would have sprinted all the way from Atlantic City." She's pretty outspoken.
By J Bernard Jones on July 25, 2009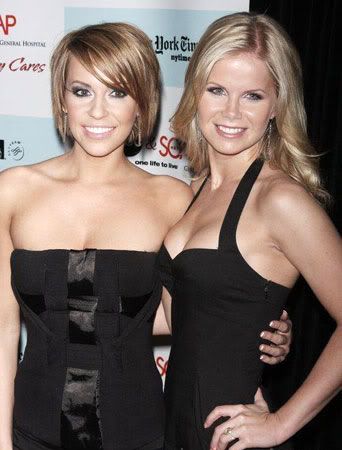 Dear Mr. Valentini,
I love One Life to Live, I really do. I haven't written much recently about your show on Daytime Confidential because there is so much going on at any given time that it can be hard to get a handle on which areas to focus. This is not a bad thing. You and your head writer Ron Carlivati have fashioned a fast moving, entertaining, and thoroughly engaging hour of daytime television that has catapulted it to the top of ABC's afternoon lineup. Bravo! There is far more good than bad on OLTL and in this case, no news can usually be good news. There is, however, one little thing that bugs me and it occurs to me that you — and only you — can fix it:
For the love of Harding Lemay, please put a merciful end to the disastrously choreographed fights between Gigi & Stacy! READ MORE