Peter Simon
By J Bernard Jones on September 17, 2009
The fourth in a highly personal, non-objective series highlighting various aspects of the last episodes of Guiding Light, which will end its 72 year run on September 18th
The penultimate episode of Guiding Light was light on story, but extraordinarily high in emotion and closure — and there was one bit of ridiculousness about which, at this late date, I could ultimately only laugh.
Jill Lorie Hurst & Ellen Wheeler threw in so many twists, turns and delightful surprises that it was hard to keep up! Danny (Paul Anthony Stewart), Michelle (Nancy St. Alban) and Robbie moved back to Springfield! Remy (Lawrence Saint-Victor) found out that he and Christina (Karla Mosely) really weren't married — again, only to be informed by the not-Mrs. Boudreaux that she is pregnant! Mel (Yvonna Wright) & Cryus (Murray Bartlett) burned up the well-worn sheets at the Beacon! Even Daisy (Bonnie Dennison) got accepted to college, which was a delightful shock, given that not only did I have no idea she had applied to a university, but was more shocked that she actually could read!
In some ways these developments were mere appetizers for two of the biggest, most emotionally satisfying payoffs Guiding Light could have ever delivered for its long time, faithful fans! READ MORE
By J Bernard Jones on September 13, 2009
On Sunday evening, 60 Minutes paid magnificent tribute to Guiding Light.
Viewers were treated to a retrospective segment featuring brief interviews with Tina Sloan, Frank Dicopolous, Ron Raines, Grant Aleksander, Michael O'Leary, Peter Simon, Beth Chamberlin, and of course, Robert Newman & Kim Zimmer. There was also a sure-to-be lambasted short sit down with Ellen Wheeler and GL's last de facto headwriter Jill Lorie Hurst, which will probably send ex-headwriter David Kriezman (now at As the World Turns) into a soap-style catatonic state. READ MORE
By J Bernard Jones on July 15, 2009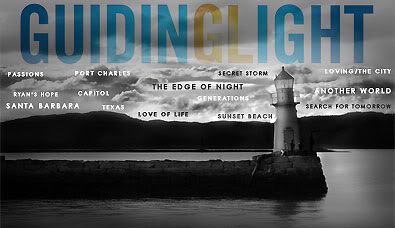 One of the hardest tasks in all of television must be bringing a daytime drama to a close. In other realms of entertainment, plays and musicals can be resurrected through countless revivals. Primetime TV shows can come and go, yet have the potential to be re-imagined or rebooted for the small or big screen. The biggest box office disasters can live on via countless direct-to-DVD sequels. Radio hosts and their dubiously talented sidekicks can be fired for the most hateful commentary, yet live on with the same formats other stations to be spiteful for another day.
With the exception of Dark Shadows, once a soap opera is canceled it is gone forever. During my time I've watched some of my favorites disappear: The City, Port Charles, Generations, Texas, and — in my opinion — two of the genre's titans, Santa Barbara and The Edge of Night. Many of you are still missing your own beloved shows over the last three decades as well. Fans of Capitol, Love of Life, Sunset Beach, Passions, Search for Tomorrow, and the still mourned Another World among others express their loss as if there yet remains a certain kind of grief that has not yet abated after all these years. Soon we will lose another giant among soaps: in less than ten short weeks, Guiding Light will shine for the last time on CBS. READ MORE
By Jamey Giddens on May 16, 2009
DC's
Melodie Aikels
was
right again
.
Guiding Light
is now
confirming
that
Peter Simon
is returing to the soap opera this June 23. Mel also reported that her sources told her
Rick Hearst
and
Maureen Garrett
could be reprising their roles as Alan-Michael Spaulding and Holly Lindsay respectively, however Hearst has since
booked The Bold and the Beautiful
. The actor admitted at a recent fan event that he and GL had been in talks, however a deal couldn't be reached. Still no official word on Garrett, but don't be shocked if some soap magazine or website that doesn't like to credit us "breaks" that soon.
READ MORE
By Melodie on April 28, 2009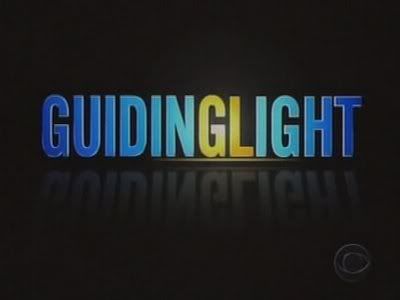 With Guiding Light ending its run on CBS in September, it appears the show is pulling out all the stops in the casting department. Setside sources have revealed to Daytime Confidential that three iconic Guiding Light characters may be making their return to the show in the near future.
"
Peter Simon
,
Maureen Garrett
, and
Rick Hearst
have all been in talks with
Guiding Light
for a return. Peter will more than likely be back for a huge Bauer Barbecue bash the show is planning. Maureen's story is unknown at the moment, but she is more than willing to return. Negotiations with Rick Hearst are "damn good" and his character will have an impact on the Spaulding family."
The returns of Ed Bauer, Holly Reade, and Alan-Michael Spaulding will no doubt fill the hearts of fans and shake things up in Springfield. Hopefully, things will work out and three of our favorites will return home. Keep checking back to Daytime Confidential for updates on this developing story.
A TeleNext spokesperson was unable to confirm the returns, however stated, "With the show coming to an end on CBS, it isn't unexpected that some returns will happen."