Phil Carey
By Regan Cellura on February 19, 2009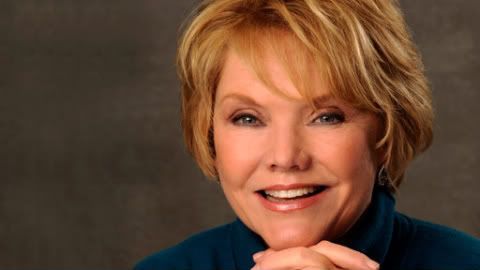 Erika Slezak
's (Viki,
One Life to Live
)
February newsletter
has the Emmy winner's memories of her late co-stars,
Clint Richie
and
Phil Carey
.
What memories of Clint come to mind? You know at this point, you only remember funny and good things. We had a good time – we worked for 20 years and he was a very funny guy. We laughed a lot. He could be rude, he could be delightful, he could be obnoxious – you know, all of the things that all of us are. But I remember him being funny, and he was very warm. He was so good with the kids (Joey and Kevin). We started with John Paul Learn, and Ryan Janis – and he used to call them his little cowboys. And I had a lovely email from Erin Torpey [ex-Jessica] where she said he was a very warm and loving man – that's what she remembers very fondly. READ MORE
By Daytime Confidential on February 13, 2009
On today's ABC Daytime Confidential episode Luke, Jamey, Tina and Regan take some time to look back on One Life to Live's Buchanan family and specifically the impact of Phil Carey's Asa Buchanan and Clint Ritchie's Clint Buchanan. They share their their favorite Buchanan family memories and discuss the impact of both actor's death would have had if both were still on the show.
Regan shares some of the latest General Hospital spoilers and the conversation gets side sidetracked by a discussion about JoMax vs. Spixie.
All this and much more on today's ABC episode of Daytime Confidential.
Help support and improve the Daytime Confidential podcast: Take a few minutes to fill out the two Daytime Confidential listener surveys: Listener Survey A l
Be sure to leave your comments on all the latest goings on in the world of soaps by calling the Daytime Confidential comment line by calling 917-677-9757.
Listen to Daytime Confidential by clicking on the Daytime Confidential Player at the bottom of this post or Download us for FREE via iTunes. Vote for us on Podcast Alley. Add us as a Friend on MySpace and Facebook.

READ MORE
By Jamey Giddens on February 07, 2009


Here's a clip of Asa's funeral on One Life to Live created by AlexisDavisFan. Set to The Fray's powerful "How To Save A Life", this clip summarizes how OLTL's cast, crew and legions of fans are feeling this morning.
By Jamey Giddens on February 07, 2009
My viewing experience of the late
Phil Carey
as the cantankerous Asa Buchanan on
One Life to Live
was limited, having only started watching the soap in 2004, however his many storied soap weddings were that of legend. Here's a humorous clip of Asa's many weddings by
ackgh73994.
By Jamey Giddens on February 07, 2009
We have sad news to report. On the heels of the passing of
One Life to Live
's
Clint Ritchie
(ex-Clint) comes
confirmation
that
Phil Carey
(ex-Asa) has also died. He was 83.
By Luke Kerr on November 14, 2008
Carolyn Hinsey
is reporting at the
New York Daily News
that
Phil Carey
"will make one more pivotal appearance as Asa."