Rachel Melvin
By Luke Kerr on February 18, 2008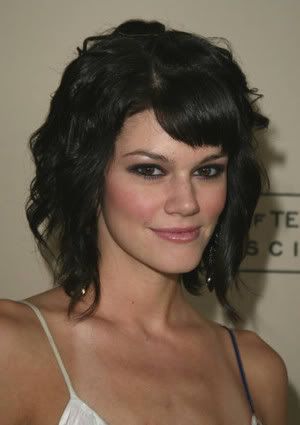 Hey Rachel Melvin fans! The Days of Our Lives star blogged about what she's been up to and what her character Chelsea has in store. Here's an excerpt but you'll want to check out the whole thing
HERE
.
I feel extremely privileged and honored that the writers and producers of DAYS have entrusted myself and my character to experience what is to come. It is possibly one of the hardest acting challenges I am going to face, and definitely the most worthwhile. I can't wait to tape them and even more so, have them air. The current storylines and pace in which they are unraveling, I believe, are really going to take us back to the DAYS that we all so know and love. I will be extremely surprised if our ratings don't skyrocket during such an intense situation.
By Kelly on February 10, 2008
I hope ya'll got some answers because let me tell you! Have I got some questions!!!
When did Epcot Ireland become 1982 Slums of Dublin Ireland?
When did Grandpa Shawn become a simpleton? He reminds me of Lennie from Of Mice And Men….
Why is John tasting his own tear?
Why are Phillip and Chloe in Ireland?
Why is this Chloe's only expression? Isn't she a little young for the botox?
Why are Sami and EJ still in vacation in the nearby and oh-so-safe mountains of Salem?
Why isn't EJ a real person so he can do this and be the father of my children?
Why does Belle look like Chloe accused her of farting?

Why did I crack up laughing at Colleen and Santo meeting again in the afterlife?
Why is everyone so upset about Colleen dying? They only knew her for 12 hours and she stole Claire.
Why are they touching the ashes with their bare hands? That doesn't look safe.
How does one get cremated overnight and have their ashes delivered the next day? Does Epcot Ireland have special services we don't have anywhere else in the world?

Who decided a surprise party in a park in subzero weather would be a good idea?

Why is this the funniest screencap ever?
Why does Kayla have the best hair ever in the history of Salem??
And finally, why can't I stop watching this video I found on you tube???

(Thanks to ChitChatHaven and Days of our Lives 2 for the screencaps!)
By Lisa on January 03, 2008
Top 10 Most Improved
1. Austin Peck, As the World Turns
2. Farah Fath, One Life to Live
3. Kirsten Storms, General Hospital
4. Caitlin Van Zandt, Guiding Light
5. Melissa Archer, One Life to Live
6. Greg Vaughn, General Hospital
7. Shelley Hennig, Days of Our Lives
8. Rachel Melvin, Days of Our Lives
9. Ewa de Cruz, As the World Turns
10. Eddie Alderson, One Life to Live
Austin Peck, ATWT (Brad Snyder) – could anyone else have topped this list? Who knew the beautiful Mr. Peck had acting chops? He's given Brad not only his bite, but layers of insecurity and vulnerability never seen from character or actor before. Bravo.
Farah Fath, OLTL (Gigi Morasco) – Farah shines as the plucky single mother helping to hide Marcie on the run. She's sassy, smart and soulful. Who knew? Yes, I know Luke- you.
Kirsten Storms, GH (Maxie Jones) - Ok, what did Days do to these actors to hide their ability? Third alumni in a row- and what a change a show and the writing makes. From average hssy to sharp tongued vixen, we've loved Kirsten performances over and over.
Caitlin Van Zandt, GL (Ashlee Wolfe) – Precariously close to becoming a caricature, Ashlee was shrill and annoying until GL's writers saw Caitlin's talents and let her give the audience a real treat. A REAL girl with REAL problems. We love her.
Melissa Archer, OLTL (Natalie Buchanan) – Thank you soap gods for Ron Carlivati! He's given us sassy yet vulnerable Natalie back!
Greg Vaughn, GH (Lucky Spencer) – The gorgeous Mr. Vaughn plays angry and sexy very well. Thank goodness we're getting to see it.
Shelley Hennig, Days (Stephanie Johnson) – Shame on Days for having the talented Ms. Henning play the airhead Stephanie too long. It took a secret rape for her talent to shine.
Rachel Melvin, Days (Chelsea Brady) – Who knew a year ago that Chelsea would be as liked as much as she used to be hated? Melvin gave Chelsea layers of guilt, remorse and sincerity we hadn't seen before.
Ewa de Cruz, ATWT (Vienna Hyatt) - much like GL's Ashlee, Vienna could have easily been a cliche. The gorgeous and talented Ms. Cruz showed what she was made of in her comedic and sometimes wistful turn as the heiress in love for the first time.
Eddie Alderson, OLTL (Matthew Buchanan) - Eddie is perfect reflection of what Bo and Nora's kid should be. Inquisitive, sarcastic yet sweet.