Rebecca Budig
By Luke Kerr on April 09, 2009
In March Jamey first
reported
that
Rebecca Budig
(ex-Greenlee,
All My Children
) would be making a guest appearance on the hit CBS comedy
How I Met Your Mother
. Now Budig has revealed on her
MySpace
blog that the episode will air on April 27th.
By Jamey Giddens on March 20, 2009
Fans hoping to get a chance to meet
Rebecca Budig
on this weekend's Rock the Soap Cruise are in for a bit of a let down. The recently-departed
All My Children
star couldn't make her hubby
Bob Guiney
's cruise because she landed a guest gig on the hit CBS comedy
How I Met Your Mother
, according to cruise-side sources.
"Rebecca feels bad about missing the cruise, but this is a great gig for her," says the source.
Budig will reportedly be playing a love interest for the show's lead character.
By Luke Kerr on February 18, 2009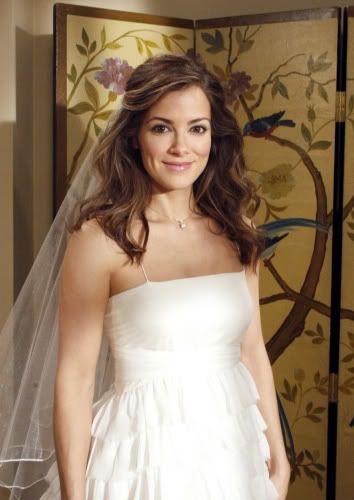 The demise of Greenlee "The Wedding Bride Biker Chick" Smythe (Rebecca Budig) on All My Children has inspired some great reaction from Fancast's Sara Bibel and Serial Drama's Mallory. Be sure to check out both of their columns.

Sara Bibel: Literal Cliffhangers
Rebecca Budig told the show months ago that she planned to leave at the end of her contract. Yet her final scenes seemed like a silly attempt to land another clip from the show on The Soup. The shot of Greenlee, still in her wedding dress, riding a motorcycle over a cliff seemed like a parody of soap operas. It was also illogical.
Mallory at Serial Drama: Confrontations & Contrivance
In the wake of Greenlee diving off of a cliff, I am left with several questions (Much like the latest non-sweeps non-crisis on General Hospital has me so confused that I can't finish a question without interrupting myself with a new one, I spend most of AMC boggled. What does it say about me that I can't follow soap opera plots? Nothing good, that's for sure):

Why, when the writers need to write someone in Greenlee's circle off the show do they automatically think FALL OFF OF A CLIFF? Leo, Vanessa, Ryan (regrettably, that one didn't take) and now Greenlee herself. It's bizarre, lazy, unrealistic and...yeah, completely up AMC's alley.

By Jamey Giddens on February 12, 2009
No need to start any Wishful Castings about
Rebecca Budig
heading to any CBS or NBC soaps, at least not for a while. Sources say Budig's "Get Out of Pine Valley Free At The One Year Mark" contract with
All My Children
included a non-compete clause. Since Budig decided to exercise her out at the year-mark, she is reportedly prohibited from taking any other non-ABC soap roles. No word yet on the length of the restriction.
By Jamey Giddens on February 06, 2009
In her exit interview with
Soap Opera Digest
(on newstands now),
Rebecca Budig
shares that she felt something was missing during her second stint as
All My Children'
s Greenlee Smythe.
I felt like the character was sort of lost; at least I couldn't really find her legs again."
I hate it when that happens. When I wake up and someone has moved one of my legs in the middle of the night it makes me want to act a PLUM fool! Budig goes on to tell the magazine that whenever she shared scenes with La Lucci—like yesterday's hilarious catfight where sixtysomething Erica Kane WHUPPED Greenlee's ass—she managed to find those pesky legs. Godspeed Becky, may you and your gams find much success back out in SoCal!
By Jamey Giddens on December 29, 2008
All My Kids has finally figured out how they are going to write off the popular character of Greenlee Smythe (
Rebecca Budig
). Remember when I teased you with this
blind item
?
The upcoming exit of a popular soap character and the actress who plays her could result in a.) the character's iconic former love returning to escort her off the canvas. b.) the character being presumed dead in a very deja vu manner or c.) the character being killed off for real.
Well, it appears they're going with option b. TV Guide Canada's Nelson Branco is reporting that AMC may have Greenlee die by falling off the very same cliff her one and only love Leo Dupres (Josh Duhamel) fell from all those years ago. Somebody has got to tell these soap divas to stay away from cliffs.