Ricky Paull Goldin
By Jamey Giddens on December 09, 2010
All My Children
has released its second webisoap revolving around the new character of Griffin Castillo (
Jordi Vilasuso
), and all I gotta say is, can producer
Enza Dolce Nini
and
Sara Saedi,
writer of the fun clips, just take over the hour-long, daily show already? These spots have more sex, humor and action in them than during the last six months worth of AMC air shows, even if the story does sorta rip off the Dr. McDreamy vs. Dr. McSteamy feud from a few years back on
Grey's Anatomy
. Check out
Griffin The Backstory Pt. II: Drinking Buddies
, featuring
Ricky Paull Goldin
as Dr. Jake Martin and
Tessa Munro
as fiery journalista Tanya, after the jump!
READ MORE
By Regan Cellura on November 03, 2010
Here's the Scoop!

I know I've been down on
All My Children
lately. Calling it a snooze-fest, even enlisting Jillian and her sound effects on a recent podcast to show just how bored I've been lately. So how about we dish on some scoop along with what I like about All My Kids and a little of what puts me to sleep mixed in.
Asher… While I agree there are plenty of characters in the history books to bring back, I do like Asher. If anything, he makes me want to like Caleb and he gives a decent reason for Caleb to be around. A good father – son battle is classic soap and classic soap goodness is what I am all about. How will Asher react when Colby tells him Caleb knows the truth? Caleb believes Asher was out to hurt him, well duh, aren't you a smart one Caleb. JR uses his close ties with Asher as a way to get under Caleb's skin. What will a long, lost father do when his son tells him his goal is to make dear old dad's life hell? Despite Asher telling Colby he knows JR was using him, he still calls his boss out. Will Colby tell Damon about locking lips with Asher? Caleb is not a proud papa when Asher takes his anger to the boob tube. READ MORE
By J Bernard Jones on August 25, 2010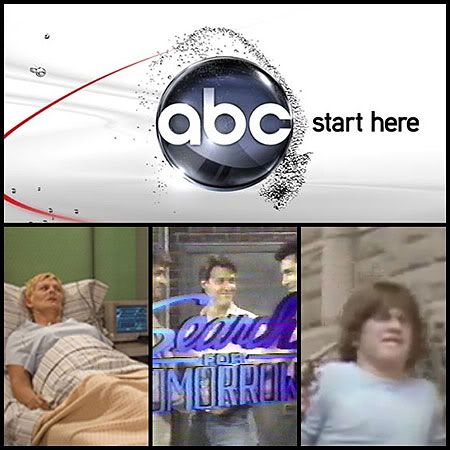 Watching the ABC daytime lineup lately has been a little déjà vu for this old time soap viewer. Perhaps "copying" is too strong a term. Maybe "homage" would be a better word or, perhaps, "sticky fingers." On the other hand, the stories in question here are different from either classic soap opera tropes (boy/girl-meets-hates-falls-in-love-with-girl/boy stuff) or classic soap cliches (supervillain-returns-from-the-dead-with-an-evil-twin shenanigans) because of their very specificity.
All three of the ABC's daytime dramas currently are airing stories or arcs that have been a little too close to the mark of several cancelled Proctor & Gamble shows, begging the question "Does Brian Frons really admire those old, now defunct serials as much as he loves pilfering CBS soap stars?" Let us count the ways: READ MORE
By Luke Kerr on June 10, 2010
ABC is giving Pine Valley lovers the chance to go behind-the-scenes at Jake (Ricky Paull Goldin) and Amanda's (Chrishell Stause) wedding on All My Children this week. Watch the clip, featuring singer/songwriter Dave Barnes, after the jump! READ MORE
By Daytime Confidential on May 06, 2010
Former Guiding Light star Jessica Leccia and One Life to Live's Gina Tognoni turned out for Ricky Paull Goldin's Seeing vs. Believing viewing party at Stanton Public in NYC. The TLC special aired on May 2, but if you missed it, you can find out more at its official website. See more photos from the viewing party after the jump.
By Luke Kerr on April 22, 2010
Ricky Paull Goldin's (Jake Martin, All My Children) new TLC special Seeing vs. Believing special premieres on Sunday May 2 at 8 pm. In the special, Goldin and co-host Jeff Gurtman attempt to explain the unexplainable and let viewers decide if each case is truth or fiction. In an interview with TV Guide Magazine Goldin talks about the upcoming special and balancing it with his day job at AMC.
If Seeing Vs. Believing sells as a series, won't this really shake up your life?

And I'm ready! This is no reflection on my day job. I love All My Children but this is something I really need to do. I'm extremely excited about where this journey might take us. I consider my life and career to be like a golf game and I'm at the halfway house having a burger and a shake. Now I'm ready to do the back nine! I hope the folks watch and support this, because we promise to bring all the great stories to the forefront. I'm not into crazy sensationalism. I like relationship-type shows, shows that have the real human touch, and that's what this is. A whole lot of people in this world have had paranormal or psychic experiences. We all have the same questions. We wonder what happens to us after we die. We look up into the night sky and wonder what else is out there. And this has gone on in every culture for millenniums. Surely, there must be something to some of this. It can't all be a big nothing.
Watch the Seeing Vs. Believing trailer after the jump. Follow it on Twitter and add them as a friend on Facebook. Also, visit the Seeing Vs.Believing official website for more information.