Ricky Paull Goldin
By Jamey Giddens on May 26, 2009
Daytime Confidential has received a clearer picture of
Chrishell Stause
's (Amanda) decision to once again
extend her contract
with
All My Children.
According to sources, Stause only re-upped through September.
"The show was prepared to recast if she didn't re-sign," says one mole.
Whether or not the beauty will stay after the Fall is anyone's guess, but considering the Jake (Ricky Paull Goldin) and Amanda pairing are one of the few things AMC is doing right these day, I'm crossing my fingers.
By Jamey Giddens on May 19, 2009
We're beginning to hear rumblings that
All My Children
starlet
Chrishell Stause
might be sticking around Pine Valley after all. According to sources, Stause so impressed AMC excutive producer
Julie Hanan Carruthers
with the upcoming scenes where Amanda gives birth and decides to give her baby up for adoption that the exec stepped up her efforts to get Stause to re-sign around for another year. What? An executive actually valuing a star who is popular with the fans? As Daytime Confidential
previously reported
, Stause had allegedly been intimating that she planned to leave the show this summer, however recent developments could lead to a change of heart.
"Chrishell kicked the scenes out of the park," says one mole. "They were amazing, MUST SEE. Plus Jake and Amanda are a big hit with the fans." READ MORE
By J Bernard Jones on May 11, 2009
Regular Daytime Confidential readers and aficionados may have noticed that this lovely website has added daily recaps of most of the soaps on the air, in addition to Perkie's longtime (and often hilarious) observations about General Hospital. Conspicuously absent from the recaps — at least as of this writing — has been what might be considered the quintessential forerunner of the modern soap opera, All My Children.
Not too long ago, our fearless leader, Luke, asked if I would be able to write a daily recap of the show since I've been watching it; I regrettably informed him that because of a currently unpredictable schedule (hence, why there are long lags between my posts these days) I would be unable to do so. Instead, I suggested that I would divert my recent attentions from Guiding Light to AMC a bit more closely and blog about life in Pine Valley more regularly. Since then I've mightily tried to get a grip on the show, but unfortunately watching All My Children is not unlike walking on pine cones barefoot: it's not the worst feeling in the world, but it is still pretty painful. READ MORE
By Jamey Giddens on May 01, 2009
Ruh roh.
Jean Pass-The-Salami
(Jillian is Love!) better sit her behind down somewhere and try to write something resembling a decent storyline for
Van Hansis
.
The Suds Report
is saying the actor is busy trying to book new gigs!
Should Nuke fans be worried about losing Luke Snyder? Van Hansis (Luke) recently told The Suds Report he's been busy auditioning for roles in independent films and nighttime shows. "I was even up for roles on Gossip Girl and [new NBC series] Kings," reveals the Daytime Emmy-nominated superstar. "But I'm not planning on leaving World Turns just yet. It's good to keep your options open. I have outs in my contract." Very smart, Van, considering World Turns may only be spinning for one more year."
By Nicki on January 14, 2009
Want to meet your favorite soap stars? Well now's your chance as the Soap Opera Mania on Tour could be coming your way soon!!
Stars from all your favorite soaps are starting a tour around the country next month and they could be right in your neck of the woods. They will be adding more locations as they go and as they do I will update you with those additions. But as for what they have so far here is the upcoming schedule of where, when, and who will be there....
Saturday 02/07/09 in Macon, GA at the Anderson Conference Center:

Christian LeBlanc (Michael Baldwin - The Young and the Restless)
Austin Peck (Brad Snyder - As the World Turns)
Brandon Beemer (Owen Knight - The Bold and the Beautiful)
Murray Bartlett (Cyrus Foley - Guiding Light)
Gina Tognoni (Dinah Marler - Guiding Light)
Winsor Harmon (Thorne Forrester - The Bold and the Beautiful)
Julie Pinson (Janet Snyder - As the World Turns)
Don Diamont (Brad READ MORE
By J Bernard Jones on December 11, 2008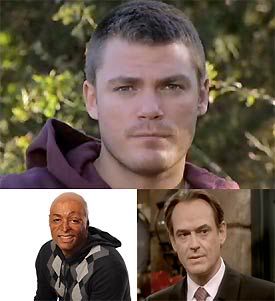 Despite gloom and doom about the state of daytime in almost all of its aspects, fans have been treated to some good soap opera lately.
The Young and the Restless
is the Must See Soap right now.
One Life to Live
has regained it's glory and
Guiding Light
is steadily improving. Some of daytime's best actors are giving some of the performances of their lives. With that in mind, there are three performers new to their respective shows deserving of special mention who I think are doing a bang up job.
JR MARTINEZ (Brot Monroe, All My Children)
Introduced amid a publicity blitz, JR Martinez came aboard AMC with a fascinating, real life backstory: an Iraq War veteran seriously injured and disfigured by explosives, eventually becoming a noted inspirational speaker for and on behalf of veterans coping with their life altering injuries. His addition to AMC's canvas was purposeful and deliberate. The show wanted a real life injured vet to play Brot, former love of newcomer Taylor (Beth Ehlers).
AMC has received much justly deserved praise for casting Martinez, but make no mistake, this was as much a bit of stunt casting as it was groundbreaking decision. READ MORE