Robert Newman
By Mark on January 12, 2009
This week's promo for As the World Turns and Guiding Light.
By J Bernard Jones on December 11, 2008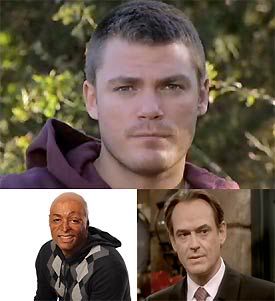 Despite gloom and doom about the state of daytime in almost all of its aspects, fans have been treated to some good soap opera lately.
The Young and the Restless
is the Must See Soap right now.
One Life to Live
has regained it's glory and
Guiding Light
is steadily improving. Some of daytime's best actors are giving some of the performances of their lives. With that in mind, there are three performers new to their respective shows deserving of special mention who I think are doing a bang up job.
JR MARTINEZ (Brot Monroe, All My Children)
Introduced amid a publicity blitz, JR Martinez came aboard AMC with a fascinating, real life backstory: an Iraq War veteran seriously injured and disfigured by explosives, eventually becoming a noted inspirational speaker for and on behalf of veterans coping with their life altering injuries. His addition to AMC's canvas was purposeful and deliberate. The show wanted a real life injured vet to play Brot, former love of newcomer Taylor (Beth Ehlers).
AMC has received much justly deserved praise for casting Martinez, but make no mistake, this was as much a bit of stunt casting as it was groundbreaking decision. READ MORE
By Jamey Giddens on July 18, 2008
Always and Forever! It's the week Josh and Reva (I refuse to call this legacy couple Jeva) fans have been waiting for, next week on Guiding Light!
This week's Soap Opera Weekly, on newstands now, is reporting Josh will finally come to his senses and ditch Cassie for Reva. All I can say is its about damn time BUD!
While I realize interlopers separating our favorite soap couples is a necessary plot device, I have never, ever, EVER bought that the Cassie Lane Winslow I came to love when Laura Wright held the part would do that to her sister. Sure the Sisters Shayne, er Lane, er Shayne-Lane fought over Richard, but Cassie knew all-too-well who Reva's true love was and she never would have gone there.
This storyline was allegedly one of the reasons why Wright proved herself to be the Courtney Thorne-Smith (who left Melrose Place and Ally McBeal just before both shows started their downward spirals) of daytime when she smartly decided to jump ship to General Hospital.
Kudos to Wright's long-suffering replacement Nicole Forester, who is a strong actress in her own right, for being saddled this storyline stinker and finally KUDOS to TPTB at Guiding Light for finally LISTENING to the fans and bringing it to an end!

By Mike Jubinville on July 16, 2008
Is there a light at the end of the endless tunnel? Have the four headwriters awakened from hibernation and put one wayward story on the right course? Who knows, but unless you're a Reva and Jeffrey fan, this week's kiss between longtime loves Reva and Josh was nothing short of a breath of fresh air. I'm not ready to scream from the rooftops that Guiding Light is on the rebound to greatness, but I'll take what I can get.

Kim Zimmer and Robert Newman can sit in room without speaking and make magic, so imagine how magical a forbidden kiss can be. Their kiss this week puts Josh into a tailspin, and Jeffrey on guard. Reva, the ever honest gal that she is, confessed her indescretion to her current beau. Will the flames of desire be fanned as their legendary Cross Creek wedding is filmed for "Always"? Hopefully, the kiss will put Reva and Josh on the road to a long awaited reunion.
By Regan Cellura on June 27, 2008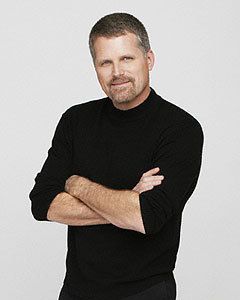 DaytimeConfidential wishes Robert Newman (Josh, Guiding Light) a very Happy Birthday! Robert is celebrating a big birthday today, his 50th!
By Melodie on June 24, 2008
Soap Opera Digest online recently caught up with Guiding Light's Robert Newman to discuss what's going on with his character, Joshua Lewis. In the interview, Robert speaks about his lack of airtime, Josh's marriage to Cassie, and his feelings about Reva and Jeffrey's relationship. He has some interesting things to say about Reva's movie. Here is a little piece of what he had say about that, but be sure to check out the entire interview.
Weekly: Will the movie ultimately pull Josh and Reva back together?
Newman: It's the same thing we've done many times before, where something continues to bond Josh and Reva, whether they are interested in being bonded or not.