Robert S. Woods
By Jillian Bowe on July 15, 2008

One Life to Live
are pimping and pimping hard. Last week they had Andrea Evans (Tina) out and about and now Robert S. Woods (Bo) and Erika Slezak (Viki) are among the latest cast members to appear on
The View.
Tomorrow the actors will appear on the popular gabfest to promote OLTL's 40th anniversary that will air later on this month.
Be sure to tune in and show the love!
By Jillian Bowe on June 16, 2008
Talk about bring your family to work day! One Life to Life star Robert S. Woods (Bo) is going to have doubled the fun when the 40th anniversary episode of the show tapes, due to his wife and son making an onscreen appearance.
Entertainment Weekly online reports that Woods's real life wife and son will be seen on your tubes starting July 21 during a storyline that centers on Bo and Rex (John-Paul Lavoisier). Woods's wife Loyita who longtime OLTL fans may remember played Blaze when the show did a stint of a Wild Wild West storyline that was set in 1888 and also as Dallas, girlfriend of elder brother Clint. Now Mrs. Woods's slated to play Dallas and Renee, who happens to be the deceased Asa's (Phil Carey) wife while the junior Woods Tanner, will play a younger Bo at the end of the story.
*Whew!* Lot to take in huh?
"I'm sentimental about it all. I think he's going to wear my old uniform. My old beret,'' says Woods — a Vietnam vet and former Green Beret. ''If I can dig it out. And if the moth holes don't read on camera.''

Word is that Bo and little buddy Rex are are struck by lightning and wake up in 1968, coincidentally that happens to be the year OLTL was first broadcasted. went on the air. Bo comes to and finds that he's actually his Pa, while Rex ends up being Bo.

''I don't have to mimic Philly or try to be him,'' Woods says of his former on-screen dad. ''Everybody sees me as Asa except the audience and J.P., so we have asides to one another.''
As a re-converted fan of OLTL, I can't wait to see how this plays out!
By Luke Kerr on April 30, 2008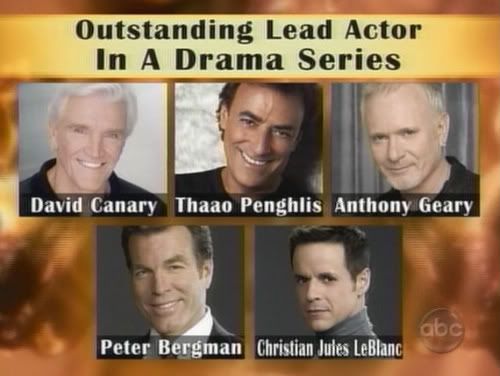 Congrats to David Canary, Thaao Penghlis, Anthony Geary, Peter Bergman and Chistian Jules LeBlanc. May the best actor out of this talented category win.
I'm not sure if there's to much to say about these nominees other than how great it is for Days of Our Lives to have a lead actor nomination for Thaao Penghlis. I am a bit surprised that As the World Turns' Michael Park didn't receive a nomination this year. He's had some great work. Many had said that this was As the World Turns' Jon Hensley's best year in years so it wouldn't have surprised me if he got a nomination. Unfortunately for him he didn't.
What is there to say about General Hospital's Tyler Christopher. He had the best work of his career last year and after having spent years in the Supporting Actor category it is understandable that he would want to try and break into the Lead Actor category with his best work. Unfortunately for Christopher breaking into the Lead Actor category isn't easy. The last actor to successfully make the transition from Supporting Actor to Lead Actor was the Young & Restless' Christian LeBlanc who won his first Lead Actor award in 2005 and then again last year. LeBlanc is nominated this year.
After the death of Asa on One Life to Live I fully expected Robert S. Woods to get a nomination. His scenes with that cowboy hat in the barn were heart wrenching and should have made him a shoe in for a nomination.
Looking at the prenominations list below and comparing it to the nominees above is there anyone who you feel is missing from this list or who should be on it instead of someone else?
Outstanding Lead Actor Pre-Nominees
AMC: David Canary, Thorsten Kaye, and Michael E. Knight
ATWT: Scott Bryce , Jon Hensley , and Michael Park
B&B: John McCook, Ronn Moss, and Jack Wagner
DAYS; Stephen Nichols, James Scott , Thaao Penghlis, and Peter Reckell
GH: Steve Burton, Tyler Christopher,and Anthony Geary
GL: Ricky Paull Goldin, Robert Newman, and Ron Raines
OLTL: Michael Easton, Robert S. Woods, and Jerry verDorn
Y&R: Peter Bergman, Eric Braeden, and Christian LeBlanc
By Tina on February 05, 2008
One Life to Live is going all out for sweeps with the Go Red for Women Ball hosted by Viki and Dorian. So, let's check out some early pictures from the ball!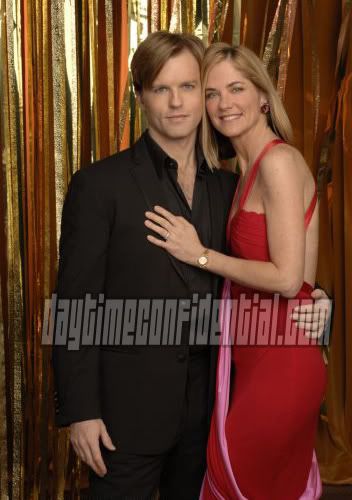 Todd and Blair look great for the ball, and that's a good thing since there seems to be a lull in the spoilers for them. Considering they just came off a huge story, I guess that is a good thing. Rumors have Todd dealing with Gigi, Ramsey and the fallout from Texas. Blair may be getting a backstory about her father after all these years which should be interesting!
Bo and Lindsey on the other hand have their story heating up. They look like they are having a lot of fun here, but by the end of the ball will things be so happy? Rumor has it that Lindsey, or someone who writes it for her, submits her secret about faking her breakdown to the "Get it off you Chest" box. Nora is desprate to get into the box to find Lindsey's secret but will she find Bo's instead? Rumor has it that Bo's secret is that he still loves Nora. Also, will Bo find himself on the unemployment line by the end of the ball? What else gets put into the box?
By Luke Kerr on January 27, 2008
In an episode of Daytime Confidential to air this week Foxy, Jay and I were discussing General Hospital in comparison to All My Children and One Life to Live when it comes to using their veterans. The discussion got me to thinking.
General Hospital is, without question, the #1 ABC soap in terms of ratings. It has the nicest sets. It has the biggest sweeps stunts in daytime. It seems to be nominated for Emmys more than the One Life to Live or All My Children. However, even with this going for it, proportionately speaking it has the fewest veteran actors in front burner storylines. Why is this and does this seem odd to anyone else?
Take for example All My Children and One Life to Live.

All My Children's ratings have been in the toilet by comparison. Fans are crucifying it because the writing has been horrible and many of the characters are being written out of character. But even with all this going against it, it has brought back the veteran/heritage characters portrayed by Debbie Morgan (Angie) and Darnell Williams (Jesse) and still features Susan Lucci (Erica Kane), David Canary (Adam Chandler), Michael E. Knight (Tad Martin), and Walt Willey (Jackson Montgomery) prominently in its storylines.
Over on One Life to Live, which is by far the best written soap in daytime but whose ratings have yet to reflect its quality, it is jammed packed with veteran/heritage actors/characters. Erika Slezak (Victoria), Robin Strausser (Dorian), Robert S. Woods (Bo), Hillary B. Smith (Nora), Patricia Mauceri (Carlotta), Catherine Hickland (Lindsey), Kassie DePaiva (Blair), Patricia Elliot (Renee), Trevor St. John (Todd), and Timothy Stickney (RG).
General Hospital on the other hand.
Unlike All My Children or One Life to Live, General Hospital suffers from a bad case of anti veteran actor/heritage characteritis. Sure it has John Ingle (Edward), Leslie Charleson (Monica) Jane Elliot (Tracey), Anthony Geary (Luke), Jackie Zeman (Bobbie), John J. York (Mac), Kin Shriner (Scotty) and now Kristina Wagner (Felicia) but does General Hospital use them? Let's take a look.
Anthony Geary of course gets pretty much as much airtime as he wants but unfortunately for us there seems to be a direct correlation between when Anthony Geary goes on vacation and when Jane Elliot's screen time evaporates.
Then we have John Ingle and Leslie Charleson who have been relegated to deaths, funerals, and hostage situations. Sure we've been told for years that Leslie will get a major storyline and it appears that the drinking storyline may be the storyline we've been promised but will TPTB go through with it and not drop it? Only time will tell.
Over at the Scorpio household John J. York must be getting dust bunnies in his ears as little he is used. How is it that with all the crime in Port Charles that the Chief of Police is rarely seen? I'll tell you. It's more glamorous to have dark and brooding "heroes" take care of the bad, bad, bad men of Port Charles than to actually have an effective police force. Now we have Kristina Wagner back as Felicia to investigate Georgie's death but will we actually get a good investigation or will we just see her once or twice a week and then she'll disappear faster than Helena in the Wyndamere tunnels?
Talk about potential. Kin Shriner returns to the role of the ever-popular Scotty and wham bam bang he has a son he never knew of. Should be a good right? Apparently, wrong. Instead of building up the Luke vs. Scotty rivalry over their children, Shriner has languished in the land of back burner actors while his character's son has gone from being the man of choice for Lulu to the underdog in a romantic triangle.
Lastly we have Jackie Zeman. Poor Jackie Zeman. The actual General Hospital, you know the one that the show is named after, is finally getting almost equal airtime as the mob related storylines and Bobbie is no where to be found. We had a glimmer of hope after Zeman was dropped to recurring and a week later Luke was in the hospital and we saw Bobbie more in two weeks than we had the entire previous year. I don't know about the rest of you but I had hoped that Zeman would have been lucky enough to be one of those recurring actresses who the moment they were dropped to recurring we saw them almost every day. No such luck.
Adding insult to injury, one can count on two hands the number of times Bobbie has had scenes with her daughter Carly (and "star" of the show) since Laura Wright has taken over the role. We won't mention the fact that we have yet to have a scene between Bobbie and Sebastian Roche's Jerry. So what that he held her daughter hostage. So what that he was once a man that Lucas looked up to. So what that Jerry and Bobbie were once engaged. Seriously, shouldn't we have had some sort of face off between these two over everything that has happened since Jerry's return almost a year ago? One would think so. Or at least I do.
Which leads me to my biggest problem.
How is it that all All My Children and One Life to Live can have so many veteran actors/heritage characters front and center when apparently General Hospital, with all it has going for it, can't "afford" to throw its veteran actors/heritage characters a bone in the form of meaty storylines? How is it that Genie Francis can't get a contract that would bring her back to the show and the fans that adore her?
Could it be the fact that General Hospital (the show) seems to be spending a fortune on a long line of characters that we as fans have no connection to a core or heritage family?
Why do we keep getting new doctors and nurses (no offense to the actors) up the whazoo when Monica isn't fighting for chief of staff or Bobbie isn't giving Epiphany a run for her money as head nurse?
Why is John J. York's Mac Scorpio portrayed as a bumbling idiot with little airtime when his police force either A) rarely works as in the case of Lucky and the now departed Coop or B) a long line of basically nameless detectives who we either don't care about or are used instead of Mac? On top of all this doesn't it seem a bit odd that Spinelli does more investigating than the cops? Mac would get more airtime if he quite the force and started a detective agency with Spinelli than he's getting now.
I don't want anyone to interpret my thoughts as bashing the talented and not so talented (depending on how the various fan bases view them) actors and actresses who were lucky enough to land a contract and get airtime. That isn't what this is about.
What this is about.
What this is about is that in a time when both All My Children and One Life to Live are using there veterans in larger numbers. We now have, at minimum, nineteen characters on contract with General Hospital that arrived within the last three years that are not connected to a core or heritage family. Of those nineteen characters at least ten of them (possibly more) appeared on our screens this past Friday.
With such a large number of new characters circulating on a show on a daily basis, is it to much to ask that say three or four of these ten (or more) characters don't appear on any given day in order to give a veteran or two an opportunity to have some screen time and an actual storyline? There has to be a way to balance all the new character while also featuring veteran actors/heritage characters isn't there?
I certainly hope so.
By Lisa on January 02, 2008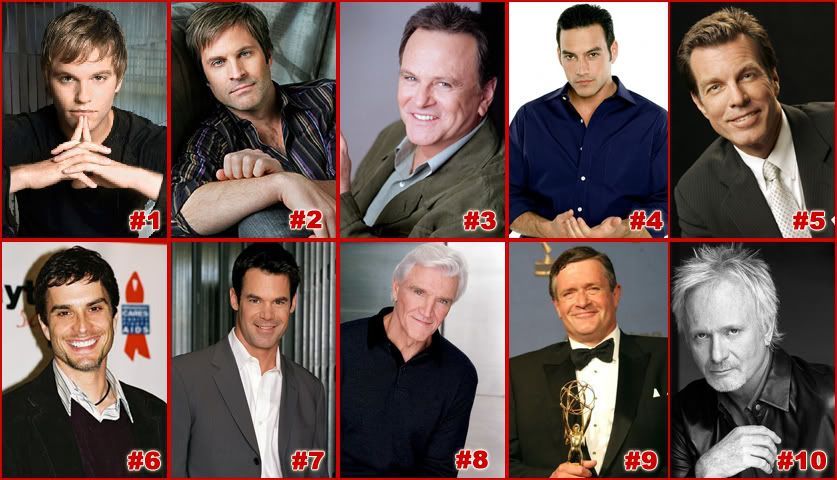 Top 10 Actors
1. Van Hansis
2. Jon Hensley
3. Robert S. Woods
4. Tyler Christopher
5. Peter Bergman
6. Rick Hearst
7. Tuc Watkins
8 David Canary
9. Jordon Clarke
10. Anthony Geary
Van Hansis, ATWT (Luke Snyder)- what do you say about his amazing young man? He can do it all- anger, vulnerability, weeping, physical pain and love. Why can't all the soaps have ATWT's cast director?
Jon Hensley, ATWT (Holden Snyder) – Yes, I know- 2 ATWT actors topping the list. Sue me.
Going back to the beginning of the year, his performance as a man who felt abandoned and felt guilty about it during his wife's coma was outstanding. He is a staunch supporter of his gay son and can switch from angry to vulnerable on a dime. Watch for Hensley at Emmy time.

Robert S. Woods, OLTL (Bo Buchanan) - was there a better single performance this year than Bo grieving his father in the family barn? I don't think so.
Tyler Christopher, GH (Nikolas Cassadine)- if anyone can tell me that they didn't feel every bit of Nik's grief when Emily died, I will eat this laptop. Excellent Emmy reel for the talented Mr. Christopher.
Peter Bergman, Y&R (Jack Abbott) - He's consistently awesome.
Rick Hearst, GH (Ric Lansing) - see #5.
Tuc Watkins, OLTL (David Vickers) - Get this man on contract. NOW.
David Canary, AMC (Adam and Stuart Chandler)- much like Alicia Minshew, poor David was given so many horrible scenarios to play this year and still infused Adam and Stuart with lvitality, vulnerability and bite.
Jordan Clarke, GL (Billy Lewis) - watching his tearing grief at Reva's bedside to his continuing struggle against alcoholism, Billy is always fascinating because Jordan always hits the right notes.
Anthony Geary, GH (Luke Spencer)- Because he's Anthony Freaking Geary. Enough said. No? How about he shines with Kin Shiner and Jane Elliott? No? He can do it all and when he's gone you want him back? Yes, that's it.