Ron Carlivati
By Jamey Giddens on December 21, 2009
Congratulations to our
recent podcast guest
,
Ron Carlivati
and the three actors who bring his red hot gay love triangle to life on
One Life to Live—
Scott Evans
(Fish),
Brett Claywell
(Kyle) and
Nick Rodriguez
(Nick). The fab foursome have been named Men of the Year, as a part of
After Elton's 2009 Visability Awards
. Ron C. and the Boys beat out the likes of
Adam Lambert
and
Neil Patrick Harris
for this honor! WALK IT LIKE A DAWG! Here's a snippet of what the site had to say about Carlivati and crew:
READ MORE
By Daytime Confidential on December 18, 2009
In honor of the Daytime Confidential podcast's 500th episode (okay, this is actually 497 but who's counting?), Luke and Jamey chat with One Live to Live head writer extraordinaire, Ron Carlivati. In his first podcast interview, the George Washington University graduate, who left a career in law to pursue his dreams of writing for his favorite soap opera, shares with Luke and Jamey how his then-employer, former attorney David Baldacci selling his first novel, Absolute Power, inspired Carlivati to move to New York and follow his true passion.
Carlivati talks in depth about what it was like to go from being Dorian (Robin Strasser) and Viki's (Erika Slezak) biggest fan, to creating their storylines day in and day out. He shares what it meant to him to see the first confrontation he ever penned for the legendary duo air on television.
Carlivati also reveals why it was so important for him to restore Llanview's rich history and how he managed to return the soap opera to the diverse landscape creator Agnes Nixon first envisioned over four decades ago.
The talented scribe also explains in great deal why he felt the payoff of having Todd Manning (Trevor St. John) romance his amnesiac, one-time rape victim Marty Saybrooke (Susan Haskell) made the controversial story worth it in the end. He also shared how it made him feel to see Haskell win her second Emmy earlier this year for the storyline's climax, and explains why he feels two smart, flawed women like Tea Delgado (Florencia Lozano) and Blair Cramer (Kassie DePaiva) are drawn to Todd.
Carlivati also talks about his love for great sitcoms growing up and how that influences his storytelling. He then provides Daytime Confidential listeners with a sneak peek of what's next for his soap's top couples like Bo and Nora, Rex and Gigi and of course Kish. Will daytime's most realistically-drawn gay couple get a real love scene? You'll have to listen to this episode to find out. It's an interview you don't wanna miss!
Hang out in the Daytime Confidential Forums and discuss your favorite soaps, primetime TV series and movies.

Help support and improve the Daytime Confidential podcast: Take a few minutes to fill out the two Daytime Confidential listener surveys: Listener Survey A l
Be sure to leave your comments on all the latest goings on in the world of soaps by calling the Daytime Confidential comment line by calling 917-677-9757.
Listen to Daytime Confidential by clicking on the Daytime Confidential Player at the bottom of this post or Download us for FREE via iTunes. Vote for us on Podcast Alley. Add us as a Friend on MySpace and Facebook.

READ MORE
By Luke Kerr on November 16, 2009
One Life to Live's
head writer
Ron Carlivati
visited with
After Elton's
Anthony Langford
about the popular Kish pairing and revealed that Stacy and her baby are about to become a big part of their storyline.
AE: Will there be other bigger stories for them?

RC: Oh yeah, absolutely. The other story that's going on with them at the same time is that from his one night stand with Stacy there's a pregnant girl out there that's carrying his baby. As their relationship moves forward, you know that complication is lying out there. Obviously I'm farther ahead with the writing, but what you're seeing now is just playing out the romance and the love story without the obstacles at the moment. Down the road, the baby story will become a big part of their relationship.

By J Bernard Jones on July 25, 2009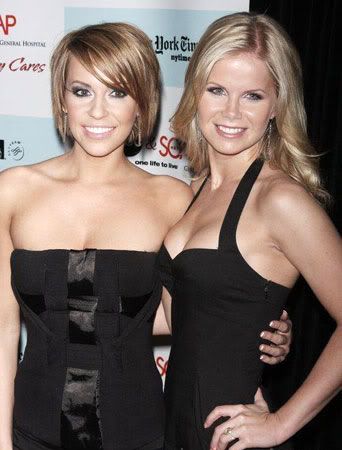 Dear Mr. Valentini,
I love One Life to Live, I really do. I haven't written much recently about your show on Daytime Confidential because there is so much going on at any given time that it can be hard to get a handle on which areas to focus. This is not a bad thing. You and your head writer Ron Carlivati have fashioned a fast moving, entertaining, and thoroughly engaging hour of daytime television that has catapulted it to the top of ABC's afternoon lineup. Bravo! There is far more good than bad on OLTL and in this case, no news can usually be good news. There is, however, one little thing that bugs me and it occurs to me that you — and only you — can fix it:
For the love of Harding Lemay, please put a merciful end to the disastrously choreographed fights between Gigi & Stacy! READ MORE
By J Bernard Jones on May 30, 2009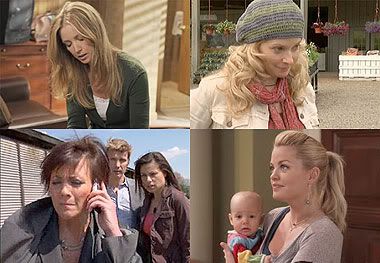 AUTHOR'S DISCLAIMER: The title of this blog entry is solely a reference to the writing styles of the shows mentioned and nothing more.
"The effect of drinking a Pan Galactic Gargle Blaster is like having your brains smashed out with a slice of lemon wrapped round a large gold brick." — The Hitchhiker's Guide to the Galaxy, Douglas Adams
That description of what is known as the best fictional alcoholic drink in the known universe is exactly how I feel watching a few of my favorite daytime dramas these days. Unlike that improbable drinky drink, this is hardly a compliment. There is something really odd going on all over the soap dial with the ham fisted lack of subtlety and general narrative blundering going on.
In a couple of recent entries, I pointed out how All My Children's "Who Killed Stuart (Not Adam) Chandler?" murder mystery has been marred by a lack of, well, mystery. As I said, what had the potential to be a great whodunit has been turned into the soap opera equivalent of Clue, one which is losing my interest very rapidly, especially when compared to increasingly delicious and twisted "Who Killed Edmund Winslow?" whodunit concurrently airing on Guiding Light. The latter show is peeling back layers and layers of motive and opportunity, while the former is peeling like an onion: it is making me cry. As it happens, AMC isn't the only egregious offender of hitting us over the head with the narrative equivalent of a slice of lemon wrapped around a large gold brick these days: the other two are As the World Turns and, shockingly and in some circles blasphemously, One Life to Live. READ MORE
By J Bernard Jones on May 22, 2009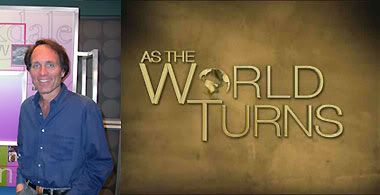 Dear Mr. Goutman,
If ever I was convinced there is a real world application of the phrase "an exercise in futility", this letter might qualify as proof of that concept. After all, you have been quoted in at least one now infamous interview that you do not listen to what fans have to say and that you follow your gut instincts about what you feel is best for As the World Turns as its executive producer. In many respects I applaud you for it. Vision, however forward thinking or flawed, indicates what might be called passion, which itself implies a belief in something. I think, in your own way, you really do believe in your show.
Savvy viewers (including those of moderate intelligence like myself) more than appreciate the fact that Procter & Gamble/TeleNext soap executive producers like yourself arguably have tougher rows to hoe than their counterparts. You have your corporate bosses at P&G to answer to, as well as another set of head honchos at CBS. Reports from the war front regarding the recent cancellation of ATWT's sister show Guiding Light exposed that often these two factions have differing agendas, which can only make your job that much harder to do in a climate of increasingly draconian budget cuts and free falling ratings amidst an ever shrinking — some openly say dying — genre with roots that can be traced back to Charles Dickens and beyond. No wonder you tune out the noise, if I may, to concentrate on one of the hardest jobs in all of television: producing 350+ hours of television every year. READ MORE