Rosie O'Donnell
By Luke Kerr on October 23, 2008
Rosie O'Donnell is producing the new Lifetime movie, America. America is the story of a foster care child by the same name. In it O'Donnell plays a psychiatrist who helps the child come to terms with his past.
By Jillian Bowe on October 02, 2008
Former
The View
host
Rosie O'Donnell
has landed a new variety show with NBC according to
Entertainment Weekly's
Michael Ausiello.
Rosie's Variety Hour
, will air this Thanksgiving and if all goes well for O'Donnell, NBC and the comedian have inked a deal that will order a full season of the show.
The Ausiello Files
reported that NBC has ordered a "backdoor pilot," of the show and it will feature celebrity guests, comedy skits, musical acts and huge giveaways for the home and in-studio audience.
In a statement, O'Donnell remarked
This is a dream come true for any performer, Old time variety, live from New York with a nod to Ed Sullivan, Carol Burnett and memories of Sonny and Cher.
By Luke Kerr on September 11, 2008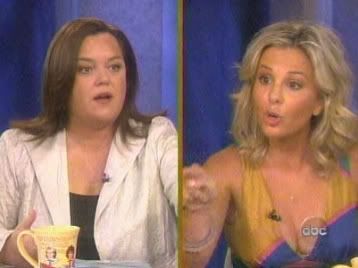 Most wouldn't be surprised that
Rosie O'Donnell
would have something to say about
Sarah Palin
. What might surprise them is how long it took for O'Donnell to weigh in. Well, wait no longer. On her blog at Rosie.com compared
The View's
Elisabeth Hasselbeck
to Palin saying...
sarah p - elisabeth h

identical cousins

women who hunt in high heels

gives one pause

RELATED: Rosie vs. Liz: Best Catfight Ever
Meanwhile John McCain and Cindy McCain are scheduled to appear on The View on September 12, though their daughter Megan McCain appeared on The View to promote her book My Dad John McCain earlier in the week. Check out a clip of Megan's visit after the jump. READ MORE
By Regan Cellura on July 31, 2008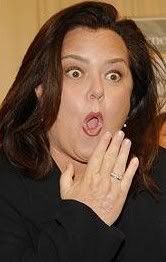 According to
People.com
, former View co-host Rosie O'Donnell is taking a break from her super popular blog at
Rosie.com
. Fans immediately took to Rosie's haiku form of blogging and that's exactly how she told her fans she was taking some time away from the computer to be with her family.
i am taking off august
in blog-ville
2 c if i can
rosie unplugged
happy summer peeps
peace in
peace out
The comedian also gave People a comment on her time off of the keyboard. Saying "I'll take the month off and then see what it feels like to come back to it."
By Jillian Bowe on June 16, 2008
By Jillian Bowe on June 04, 2008
Take cover everyone! Former The View co-host Rosie O'Donnell was on The Howard Stern Show and she wasn't letting anything keep her from dishing about the fallout from her decision to skip a second year with the ladies of ABC's hit daytime chat fest.

According to MSNBC.com, O'Donnell told Stern-who coincidently was one of her former foes-that she decided to bounce from The View because she didn't like the daytime gig anymore and that she also didn't like paying folks to look after her brood of 4 kids. O'Donnell then claims that when she told the brass at the show she was going to leave the producers decided that she'd be sued if she decided to jump ship. Ouch.
ABC's response to Rosie's allegations? READ MORE