Sarah Brown
By Luke Kerr on February 14, 2008
Wow. Nothing like the second week of sweeps for all the soaps except Days of Our Lives (which is good) to drop. As you can see the Young and Restless dropped .3 while the Bold and Beautiful and One Life to Live dropped .2 As the World Turns, General Hospital, and Guiding Light all dropped .1.
It should be noted that General Hospital's drop included the first full week of Sarah Browns' return. Like the returns of Rebecca Budig, Debbie Morgan, and Darnell Williams the ABC soaps continue to see no positive overall ratings impact from the big name returns. The question then becomes have the demos that ABC is obsessed with spiked with these returns? I haven't seen those numbers but it is possible that while the overall ratings haven't climbed, demos may have.
February 4, 2008 - February 8, 2008
1 Y&R 4.0
2 B&B 2.8
3 ATWT 2.3
3 GH 2.3
5 DOOL 2.2
6 AMC 2.1
7 OLTL 2.0
8 GL 1.9
January 28, 2008 - February 1, 2008
1 Y&R 4.3
2 B&B 3.0
3 ATWT 2.4
3 GH 2.4
5 DOOL 2.2
5 AMC 2.2
5 OLTL 2.2
8 GL 2.0
By Luke Kerr on February 07, 2008
Well its that time to discuss the weekly ratings. At first glance it looks as if Sarah Brown's arrival on Thursday January 31 didn't help General Hospital's overall weekly ratings. General Hospital actually lost .2 for the week. We'll have to see in next week's ratings whether or not General Hospital ticks up thanks to her.
Meanwhile Young and Restless, Bold & Beautiful, As the World Turns, and Days of Our Lives all moved up. The Young and Restless had the biggest jump of the week with an increase of .2. I'm extremely excited to see that Days of Our Lives is up to 2.2. Let's hope the trend continues.
The remaining three soaps All My Children, One Life to Live, and Guiding Light all held steady without losing any of their audience.
It should also be noted that January 31, 2008 was the first day of February Sweeps so it should be interesting to see in the coming weeks whether or not we see significant gains by any of the shows.
January 28, 2008 - February 1, 2008
1 Y&R 4.3
2 B&B 3.0
3 ATWT 2.4
3 GH 2.4
5 DOOL 2.2
5 AMC 2.2
5 OLTL 2.2
8 GL 2.0
January 21, 2008 - January 25, 2008
1. Y&R 4.1
2. B&B 2.9
3. GH 2.6
4. ATWT 2.4
5. AMC 2.2
5. OLTL 2.2
6. DOOL 2.1
7. GL 2.0
By Daytime Confidential on February 07, 2008
On today's show Tina from the Primetime Pulse podcast and Belinda from Eye on Soaps join Luke to discuss Sarah Brown's return to General Hospital and Shell Kepler's death. Tad sees Jesse on All My Children and Ryan loses the past four years of his memory. Antonio and Talia on One Life to Live. We are also pleased to announce the official launch of our "Save the Quartermaines, Save Port Charles" campaign to save the Quatermaine family from extinction on General Hospital.
Listen to Daytime Confidential by clicking on the Daytime Confidential Player at the top of the page or Download us for FREE via iTunes. Vote for us on Podcast Alley. Add us as a Friend on MySpace. Drop by our sister site TV Fan Online and visit with other soap fans in the TV Fan Online Forums.
By Lisa K. on January 30, 2008
Here is the ABC Hotsheet promo for General Hospital's Maurice Bernard (Sonny) and Sarah Brown (Claudia). I love the tagline: Who will end up on top? Set your VCR's for this episode...I'm sure the chemistry will be off the charts!
And if you think that picture is hot...just check out this YouTube video:
By Luke Kerr on January 27, 2008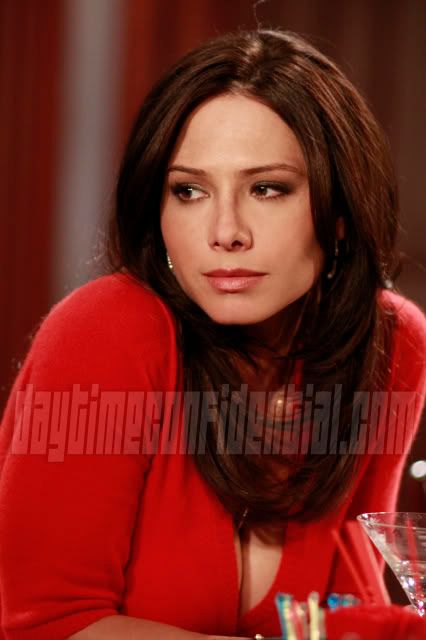 For those of you who enjoyed Part 1 of
TV Guide's Interview
with
General Hospital's
Sarah Brown be sure to check out Part 2. We've posted an excerpt but be sure to check out the entire article at TV Guide.
TVGuide.com: What's the dynamic between Claudia and Brandon Barash's Johnny?
Brown: It's going to be complicated. Johnny was little, apparently, when I left, so Brandon is playing pretty young, I guess. Johnny was young when I was banished and sent away to live with my mother, who had been banished earlier. But I grew up with my father until I was 16 and Johnny was about 8. I was very protective and loving of my "baby brother," so it's parallel to Into the Wild, though there's a little more scab-picking to be done between the two of us. The brother and sister in that movie are close because they're growing up in a loony bin of a household. There was yelling going on [at the Zaccharas'], a manic-depressive bipolar father.... I haven't spoken to him since I was banished.
TVGuide.com: So who is your first scene with?
Brown: I work with Maurice [Benard] first, as a nice little wink to the audience. We have to do those things. They've got to put us together because there is all this history coming into it. I'm glad my first scenes were with Maurice.
TVGuide.com: Are there other "winks" in the dialogue, like, "You remind me of someone I know" or...?
Brown: [Laughs] There was a line, but it doesn't end up on the show. It was very similar to what you said, like Sonny says, "This feels familiar," and I say, "Familiarity breeds contempt."
Thanks to Katie B for the tip!
By Regan Cellura on January 24, 2008
The first promos with Sarah Brown as Claudia Zacchara! These started airing on SoapNet last night.