Sarah Palin
By Luke Kerr on October 04, 2012
As the World Turns alum Julianne Moore may have won an Emmy for her portrayal of Sarah Palin in the HBO movie Game Change, but that doesn't mean Palin's daughter Bristol thinks the actress deserved it. Bristol, who returned to compete on the current season of Dancing With the Stars, told Us Weekly.
"I don't think she's a good interpreter of my mom. I think my mom's way hotter than that,"
So why does Bristol think Moore's interpretation was lackluster?
"She doesn't have that accent. It's all kind of silly,"
By Luke Kerr on May 24, 2012
Would former vice-presidential candidate Sarah Palin ever be interviewed by Katie Couric again? Couric hopes so. According to the Orlando Sentinel, Couric has extended an open invitation for the lightening rod, former Alaskan Governor to appear on her upcoming talk show Katie.
"She has an open invitation to come talk to me," Couric said during a stop Monday in Orlando. "I'm not sure she'd be interested, but she'd certainly be welcome. She's a fascinating figure not only on the political scene but in popular culture." READ MORE
By J Bernard Jones on July 20, 2010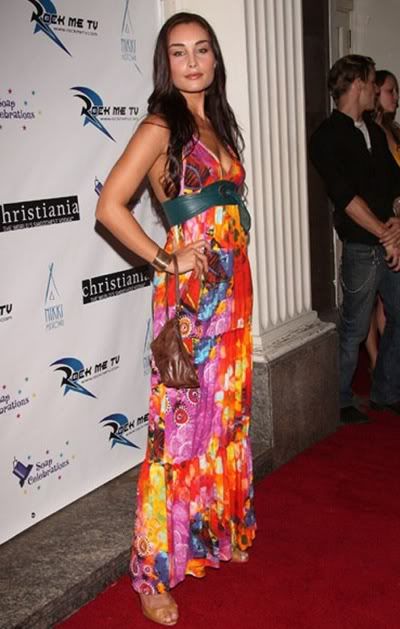 Today's episode was a typical "treading water" day in the life of a daytime drama winding up its final days. With tons of exposition and repetition, the news of Vienna's pregnancy deception and other shenanigans, Henry's relationship with and long overdue publicly admitted love for Barbara, and Katie's attempts to make right her role in the whole fiasco rocketed through Oakdale faster than tweets about
Sarah Palin's
hilariously absurd forays into neologism.
Henry confronted Vienna about Barbara's whereabouts. Katie told Margo, Will and Gwen about Vienna and Barbara and Henry. Will confronted Henry about Barbara. Alison told Casey about Vienna. Folks ran around in various combinations telling each other the same information several times throughout the episode. Perhaps the best reaction of learning of Vienna's pregnancy scam came from a genuinely shocked, appalled, and disappointed Kim, who laced into a semi-penitent/self-justifying Chris about his role in the cover-up and its consequences. Of course, one must ask if anyone in Oakdale has heard of texting, Facebook, or Twitter in this day and age, but then this kind of "shocking news spreads through town like wildfire" episode is the kind of thing that soaps used to do so well.
This brings me to a point about Henry (Trent Dawson) and Barbara's (Colleen Zenk Pinter, who has been extraordinary) love being thwarted by the "evil" machinations of Vienna (Ewa de Cruz): I like it. Correction. I love it! READ MORE
By Luke Kerr on November 12, 2009
Oprah
has released a clip teasing her highly-anticipated interview with former Vice Presidential candidate
Sarah Palin
. CBS has also released two clips of Oprah questioning Palin about
Levi Johnston
, and the now infamous
Katie Couric
interview. If that isn't enough, apparently she "talked about everything" with the former Alaska governor. The Oprah sit down airs Monday November 16, 2009. Watch the preview clips after the jump.
READ MORE
By Jillian Bowe on October 20, 2009
Talk show guru
Oprah Winfrey
has snagged an interview with former Governor of Alaska and Republican vice presidential candidate
Sarah Palin
on Nov. 16.
Harpo Productions
announced today that Winfrey will talk one-on-one with Palin about her new book,
Going Rogue: An American Life
. This will mark Palin's debut on the mighty O's couch, which happens to be a day before her book hits stores, Nov 17.
By J Bernard Jones on June 18, 2009
My absence from Daytime Confidential lately has not been due to the usual business of family and work taking up a lot of my time, but rather a certain lack energy to post about practically any of the daytime serials that clog up my DVR from day to day. This is neither a positive nor a negative thing because there are frequent periods throughout the year when shows kind of coast along and do their their thing, usually between sweeps.
At these times, there is little for the viewer — if that viewer is me — to get all worked up about this plot twist, that character's action, some couple or another or even a whole show's direction. Normally, this state of affairs hits one or two shows at a time. Every once in a while like the last couple of weeks, the stars align and all the serials get caught in the same momentum of drift. All that is required of us is to watch and see where it all goes.
In that spirit, my brain plays a little game of soap opera hopscotch, taking in odds and ends big and small. There is no great elaboration on anything here, just a quick rundown of things I like and not like so much. Your mileage may vary... READ MORE