Scott Holmes
By Mark on August 14, 2009
One family is grieving. Another family is reunited. Next week on As the World Turns.
By J Bernard Jones on August 05, 2009
Perhaps someone passed along my
Open Letter to Christopher Goutman
. Perhaps
Barbara Bloom
took a good look at the plummeting ratings and decided that everyone should not lighten up after all. Perhaps head writer
Jean Passanante
took an extended vacation to Buenos Aires. Whatever has been happening over the last few weeks, let me step out on a limb and utter the words that many fans thought might not ever be said again or even believe:
As the World Turns
is, at long last, improving.
I fully expect the comments section to be full of invective and angry fist shaking about how ATWT is still "the worst soap on the air," how the vets are misused, and how the "Vortex of Suck" continues to, well, suck. In addition, the now well-documented list of the show's biggest defects remain stubbornly in place: warp-speed storytelling and the soul sucking semi-episodic structure continue to test the rapidly waning patience of the show's dwindling audience.
Having said that, it bears repeating that fans are a stubborn breed. We will praise shows, actors and performances we like, but we are quick to make our displeasure known when we feel things are not up to speed and falling apart. Once the latter narrative has been established it is very hard to turn the tide of opinion, even when a show starts to address its critics and make changes. Therefore, though the longstanding criticisms of ATWT are still valid, I think it is time to once again give credit where credit is due. READ MORE
By Mark on July 22, 2009
As the World Turns was able to surprise the viewers today when the Hughes clan gathered at Tom (Scott Holmes) and Margo's (Ellen Dolan) for a surprise party for Casey (Billy Magnussen) who had just been reinstated at Oakdale University. In a scene Bob (Don Hastings) asked Alison (Marnie Schulenburg) out of the blue to bring in the next patient. When asked about it, Bob's excuse was that he was making a joke, but then later he called his wife Kim (Kathryn Hays) "Lisa".
Is this the beginning of an Alzheimer's disease storyline for Bob? Will it give vets like Don Hastings, Kathryn Hays and Eileen Fulton some much deserved airtime? I have to say, I'm intrigued and want to know where this is going. I just hope we won't find out that a microchip is causing Bob's strange behavior...
By Luke Kerr on June 29, 2009
Margo (
Ellen Dolan
) and Tom (
Scott Holmes
)are one of
As the World Turns'
most unappreciated assets. Ellen Dolan has been hitting it out of the park during this storyline. What do you think Tom will do when he finds out Adam is alive?
By J Bernard Jones on June 18, 2009
My absence from Daytime Confidential lately has not been due to the usual business of family and work taking up a lot of my time, but rather a certain lack energy to post about practically any of the daytime serials that clog up my DVR from day to day. This is neither a positive nor a negative thing because there are frequent periods throughout the year when shows kind of coast along and do their their thing, usually between sweeps.
At these times, there is little for the viewer — if that viewer is me — to get all worked up about this plot twist, that character's action, some couple or another or even a whole show's direction. Normally, this state of affairs hits one or two shows at a time. Every once in a while like the last couple of weeks, the stars align and all the serials get caught in the same momentum of drift. All that is required of us is to watch and see where it all goes.
In that spirit, my brain plays a little game of soap opera hopscotch, taking in odds and ends big and small. There is no great elaboration on anything here, just a quick rundown of things I like and not like so much. Your mileage may vary... READ MORE
By J Bernard Jones on February 20, 2009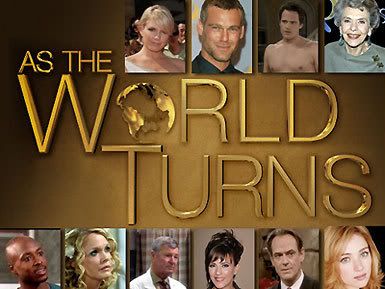 As the World Turns is something of a mystery to me these days. I haven't been blogging regularly about the show because, honestly, I am kind of flummoxed about what to actually write about from day to day.
I love ATWT. The show is blessed with some of daytime's strongest actors. In this age of massive cost cutting, ATWT found an arguably better production alternative than Procter & Gamble sister show Guiding Light. Speaking for myself, I find most days, most characters, most stories and most events to be sufficiently captivating to keep me coming back.
Nonetheless, something is badly amiss in Oakdale. The usual criticisms of ATWT are all-too-familiar: far too many recasts, underused vets, storylines that turn on a dime, compressed storytelling and ever shrinking production values to name a few. While those issues are real and important, they are only symptons of several larger problems that encapsulate the issues that I, other Daytime Confidential bloggers and commentators all over the internet have found themselves dismayed about over the last several months. After trying to put a finger on these issues while attempting to "figure out" what's going on at ATWT from a larger perspective, several things have jumped out as serious structural flaws, like a cracked foundation in a beloved old home. READ MORE