Seamus Dever
By Jamey Giddens on May 16, 2009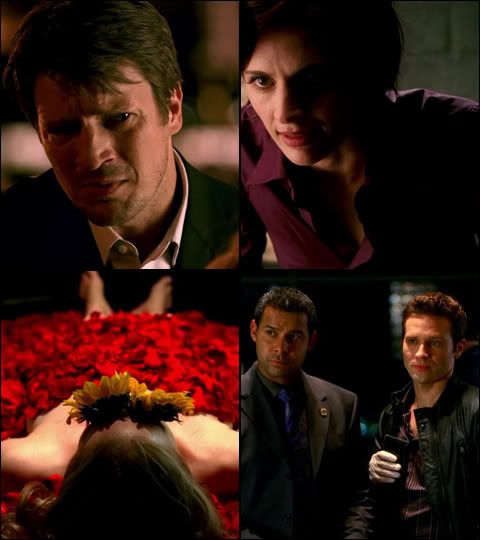 Congratulations to former ABC Daytime heartthrobs
Nathan Fillion
(ex-Joey,
One Life to Live
) and
Seamus Dever
(ex-Ian,
General Hospital
). According to
EW.com's Michael Ausiello
, The Mouse House has picked up their comic crime procedural
Caste
for a second season.
By Jamey Giddens on March 09, 2009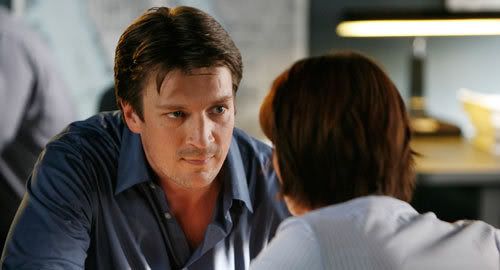 Opening visuals were tight.
Seamus Dever was right. Very film-like.
Nathan Fillion is writing on some girl's boob.
Stana Katic has a Billie Reed haircut.
Sassy black girl alert!
Okay, so girl detective with sexy haircut is familar with the muderer's style from reading Castle's books!
Seamus Dever sighting! He and his partner are providing snarky cop commentary!
Love the bitchy barbs between Castle and the ex-wife/publisher/porn star?.
Hey there's Maggie Gioberti from Falcon Crest! She plays the mom. I guess the woman from Arrested Development was too busy with 90210.
Nice. Snarky teen daughter.
Detective meets author!
Castle wants to spank her.
So pretty, so tough.
She reads his books. She's a fan. But she's too tough to show it. Such a throwback. No Ally McBeal neurosis here. Straight up 80's feminazi!
Okay, the grandma is SO borrowed form 90210!
Red is the set designer's favorite color. Or...is it SYMBOLIC? Red blood, red flowers, red hot show? Gasp! I am so clever.
The kid is smarter than the detectives so far. READ MORE
By Daytime Confidential on March 09, 2009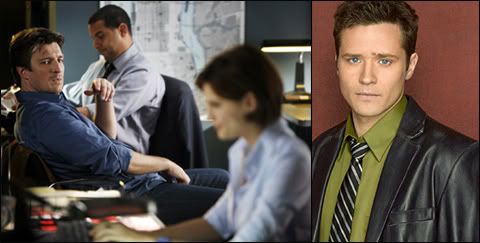 Seamus Dever
knows a thing or two about playing bad guys. After all, it was his character Dr. Ian Devlin who accidentally shot young Michael Corinthos on
General Hospital
. On ABC primetime's
Castle
, premiering tonight at 10/9C, Dever finally gets a chance to play one the good guys. He plays Irish cop Kevin Ryan, sharing screentime with Stana Katic, Jon Huerta and fellow ABC daytime grad
Nathan Fillion
(ex-Joey,
One Life to Live
), who portrays the title character, Richard Castle, a best-selling crime novelist suffering from writer's block, who decides to shadow NYPD detective Kate Beckett (Katic) for inspiration.
On this episode of the Daytime Confidential Podcast, Dever chats with Luke and Jamey about his role on the highly-anticipated midseason show, his first as a primetime series regular. Dever shares that although Castle is being likened to 80's comfort food TV programs like Moonlighting or Scarecrow and Mrs. King, he sees more of a parallel between the series and the popular screwball comedies of the 30's and 40's, which he says sets Castle apart from other primetime crime procedurals. He also reveals whether or not he believes there is more pressure for the show to suceed considering ABC's recent cancellations of such high-profile shows as Dirty Sexy Money, Eli Stone, Pushing Daisies and Life on Mars.
Then Dever looks back with Luke and Jamey about his brief, but memorable stint on General Hospital. He reveals how he felt when he learned the antihero doctor he signed on to play, was being turned into a mob assassin, and what role the 2007-08 Writers' Strike played in that plot twist. Dever talks about what it was like working with Sebastian Roche, Tyler Christopher, Jason Thompson and Sarah Brown, whom he still considers a pal, and reveals if he and Nathan Fillion swap soap stories on the set of Castle. Dever also provides a sneak peek of Ready or Not, his upcoming Direct-to-DVD buddy comedy. It's an episode you don't wanna miss.
Help support and improve the Daytime Confidential podcast: Take a few minutes to fill out the two Daytime Confidential listener surveys: Listener Survey A l
Be sure to leave your comments on all the latest goings on in the world of soaps by calling the Daytime Confidential comment line by calling 917-677-9757.
Listen to Daytime Confidential by clicking on the Daytime Confidential Player at the bottom of this post or Download us for FREE via iTunes. Vote for us on Podcast Alley. Add us as a Friend on MySpace and Facebook.

READ MORE
By Regan Cellura on December 03, 2008
ABC's legal dramedy,
Boston Legal
, is giving it's closing arguments next week.
Castle
, starring
One Life to Live
alum
Nathan Fillion
will take Legal's 10 p.m. Monday Night timeslot premiering on March 9, 2009. Joining Fillion on
Castle
, is
General Hospital
's
Seamus Dever
(ex-Ian Devlin;
Army Wives
) .
By Luke Kerr on October 24, 2008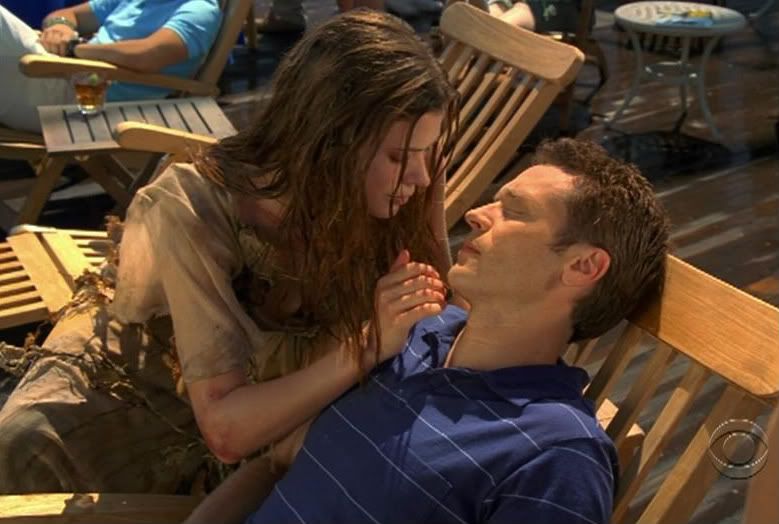 Check this out! I'm sitting here watching
Ghost Whisperer
and discovered that the Jennifer Love Hewitt show has a double whopper serving size of daytime stars.
Peyton List
(
As the World Turns
,
Mad Men
) and
Seamus Devey
(
General Hospital
) are both on tonight's show.
Related: Peyton List on Mad Men
Check out more photos after the jump. READ MORE