Shelley Hennig
By Jamey Giddens on June 26, 2010

Just got back from the Luxury Gift Suite for the 37th Annual Daytime Emmy Awards, where nominees and presenters can partake in some of the pimp swag Sway Presents (a division of Phoenix-based event planning company,
Sway Events
) has assembled for them. While I was checking out the snazzy, throw pillows on display from
LDC Furniture
, sponsors of the VIP lounge, where the stars can toss back a
Dragon Bleu
c
ocktail or three, I looked over to spy a familiar face singing along to one of the Top 40 hits being spun by Neuro Drink-sponsored DJ Green. It was none other than Days of Our Lives heartthrob Mark Hapka (Nate).
I pulled Hapka away from his pals, including a little-known-actress by the name of Crystal Chappell (Carly, DAYS), to chat for a few seconds about the recent passing of DAYS Grandma Alice Horton (the late Frances Reid), the DAYS legends Gram's onscreen passing brought back to Salem and of course the red-hot Melanie/Nathan/Stephanie triangle. Is Hapka,Team Melanie (Molly Burnett) or Team Stephanie (Shelley Hennig)? Stephanie fans might be needing a swig of that there Dragon Bleu after reading this!
Daytime Confidential: You guys are just finishing up a big storyline in Salem revolving around the death of Grandma Horton, played by the late Frances Reid. What's it been like getting to work with classic Hortons like Marie (Maree Cheatham) and Jennifer (Melissa Reeves)?
Mark Hapka: For such an unfortunate event, it was great to have so many Hortons together. It was awesome to see all of those flashbacks of the show. The cool thing about a show like DAYS having been on the air almost 45 years is that when you go back into flashbacks, they're really true flashbacks from back in the day. Meeting all of the show's legends has been amazing. I worked with a new person from the past every day! READ MORE
By Luke Kerr on November 09, 2009
Joseph Mascolo and Crystal Chappell
Days of our Lives
pulled out all the stops once again for the Day of Days event at Universal Studios Hollywood this past weekend. Fan's favorite stars, including:
Alison Sweeney
,
Arianne Zucker
,
Billy Hayes
,
Bryan Dattilo
,
Casey Deidrick
,
Crystal Chappell
,
Dylan Patton
,
Eric Martsolf
,
Galen Gering
,
James Scott
,
Jay Kenneth Johnson
,
James Reynolds
,
Joseph Mascolo
,
Lauren Koslow
,
Lindsay Hartley
,
Louise Sorel
,
Mark Hapka
,
Molly Burnett
,
Nadia Bjorlin
,
Peggy McCay
,
Peter Reckell
,
Renee Jones
,
Shelley Hennig
,
Susan Seaforth Hayes
,
Suzanne Rogers
,
Taylor Spreitler
and
Terrell Ransom Jr
. turned out for the event.
I don't know about you, but that picture of Joseph Mascolo, holding the young child, may be one of the most adorable pictures I've seen. See more photos from the event after the jump. READ MORE
By Luke Kerr on September 02, 2009
Many of daytime's popular actresses chose classic black, grey or silver on The
36th Annual Daytime Emmy
red carpet.
Nadia Bjorlin
looked amazing in black . Outstanding Supporting Actress winner
Tamara Braun
–who won for her role on
Days of Our Lives
–chose a sultry grey. See what
Days of Our Lives
'
Shelley Hennig
and
Rachel Melvin
,
Guiding Light's
Kim Zimmer
,
The Young and the Restless'
Elizabeth Hendrickson
,
Tracey Bregman
and
Brenda Dickson
,
As the World Turns'
Terri Colombino
,
Julie Pinson
,
Kelley Menighan Hensley
,
General Hospital's
Laura Wright
and
The Bold and the Beautiful's
Ashley Jones
chose to wear
HERE
.
By Jamey Giddens on July 13, 2009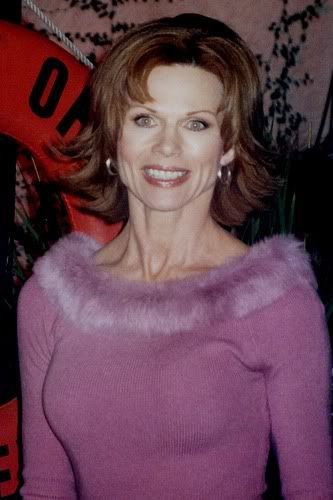 In his
premiere interview series
for
We Love Soaps
, renaissance man
Damon Jacobs
sits down with one of the most popular soap heroines of all times,
Days of Our Lives
veteran
Patsy Pease
(ex-Kim Brady), for an in depth chat about soaps, overcoming personal demons and the importance of "the work" over ratings.
We Love Soaps: When you learned in 1984 that Kimberly was going to be a survivor of childhood sexual abuse, what was that like for you?

Patsy Pease: I was glad I wasn't playing one of these Suzy Cream Cheese characters. I never felt comfortable playing that. What had gone against me all my life is that I looked like a cheerleader. But then I'd open my mouth and start talking and people would go [makes a shocked sound], and then, "Oh God, don't cast her as a cheerleader, don't cast her representing conservative right wing church people." So I was glad! I thought, "Have her abused, have her be something that makes her a torn soul." Torn souls are much more interesting to play than someone who just had their Barbie taken when they were 8-years-old and still has resentment over it.
By Jamey Giddens on July 03, 2009
Just when I thought the days of a soap opera couple stealing my heart, sucking me in and making me— for a second— look beyond all the back stage shenanigans that are generally much more interesting than anything we're seeing on our screens these days, comes a couple like
Days of Our Lives
' Philip (
Jay Kenneth Johnson
) and Stephanie (
Shelley Hennig)
.
My love for this couple certainly didn't happen over night. In fact it has rather taken me by surprise. I'm sure many Daytime Confidential readers and podcast listeners remember me uttering TV Guide Canada's Nelson Branco's trademark phrase "hair model" in the same sentence with Hennig's name on more than one occassion over the past year and a half, and are currently experiencing jolts of anticipated carpal tunnel as they rush to log in to tell, er type me so, but what can I say? Opinions change. READ MORE
By Jillian Bowe on June 30, 2009

Days of Our Lives' really letting fans know that they are still in the soap game with this promo for the summer. How cute is the little guy playing Theo? This may change my tune about the show....