Sophia Bush
By Daytime Confidential on September 19, 2012
The Bold and the Beautiful's Katherine Kelly Lang and Don Diamont kicked it with The Young and the Restless' Melody Thomas Scott and Peter Bergman at the CBS Fall Premiere Party on September 18. One Life to Live grad Brandon Routh, who appears in the upcoming comedy Partners, also popped up at the preview. The ladies from The Talk were also in attendance.
The star-studded event took place at the Greystone Manor in Los Angeles. See more photos of your favorite CBS soap, drama, comedy and reality stars at the CBS Fall Premiere Party after the jump! READ MORE
By Luke Kerr on May 25, 2012
Have you been waiting with anticipation for CBS to release the official trailers for its new 2012-2013 shows? The Tiffany network has finally premiered the trailers for Elementary, Partners, Vegas and Made in Jersey.
Elementary stars Jonny Lee Miller as Sherlock Homes and Lucy Liu as Watson in a modern take on the classic literary character. It is probably the new CBS show I am looking forward to most. Will Elementary be as good as Sherlock on PBS? We'll find out this fall.
Partners is a comedy about two childhood friends, Charlie (David Krumholtz) and Louis (Michael Urie), whose friendship as adults creates a humorous dynamic for their significant others. One Life to Live grad and former Superman Brandon Ruth stars as Louis' boyfriend Wyatt. Former One Tree Hill star Sophia Bush portrays Charlie's fiancé Ali.
Dennis Quaid and Michael Chiklis face off in the explosive drama Vegas. Quaid portrays Ralph Lamb, a rancher-turned sheriff of Las Vegas, who go toe-to-toe with mob elements trying to mold Vegas in the 1960s .
Finally, there is Made in Jersey, which reminds me a lot of USA's Fairly Legal. Janet Montgomery stars as Martina, a young Jersey lawyer who lands a job in a big law firm and quickly makes her mark.
Watch the trailers for Elementary, Partners, Vegas and Made in Jersey after the jump! READ MORE
By Regan Cellura on May 12, 2009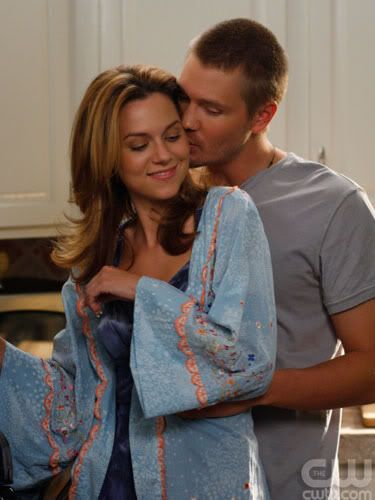 Michael Ausiello
is reporting the
exclusive news at EW.com
. Lucas Scott (
Chad Michael Murray
) and Peyton Sawyer (
Hilarie Burton
) are leaving Tree Hill behind.
One Tree Hill
was picked up for a seventh season without the show's two leads signed on. At that time, the rumor mill was buzzing that Murray was definitely not returning.
Sources confirm to me exclusively that Chad Michael Murray and Hilarie Burton, whose characters tied the knot in last night's penultimate episode, will not be returning for the show's seventh season next fall. The CW is expected to formally announce their departures next Thursday at its "upfront" presentation.

Murray and Burton have been engaged in rather high profile contract negotiations for the past several months. Ultimately, a deal couldn't be worked out and both actors will make their final appearances in next Monday's season finale. READ MORE

To fill the void next season, a Tree Hill insider tells me that two new characters will be introduced. Additionally, Austin Nichols (Julian) is being promoted to a series regular.

By Luke Kerr on September 15, 2008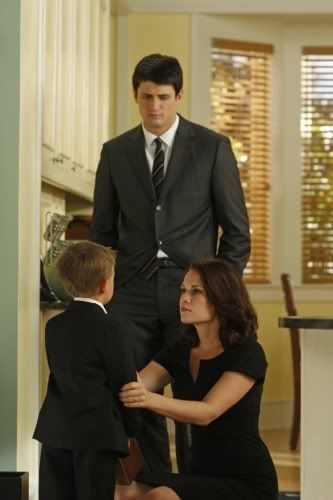 One Tree Hill airs it's third episode of the season tonight and is mourning the death of Quentin. I watched much of the first four seasons but lost interest last season. However, like most series I phase out, I tune back in for the season premiere and finale. The season six premiere had me hooked and now I'm playing catch up on a few things.
What are you thinking of One Tree Hill's sixth season so far?