Sri Rao
By Jamey Giddens on October 08, 2013
How's this for six degrees of soap-eration?
Deadline
is reporting
All My Children
alums
Kelly Ripa
and
Mark Consuelos
are producing a new "mom comedy" from
General Hospital: Night Shift
scribe
Sri Rao
. Here's a description of the project from
Deadline
:
[The project] centers on a free-spirited single mom who's raising two kids in Brooklyn and running a small design company with three of her best friends. Things take a turn when her conservative 16-year-old son starts interning at her company, intent on transforming the family business into a global empire. READ MORE
By Jillian Bowe on September 03, 2013
General Hospital: Night Shift
Season 2 showrunner
Sri Rao
is jumping back into the soap game. NBC has tapped the popular scribe to adapt
The Black Widow
, an English-language version of the Venezuelan telenovela
La Viuda Joven
.
READ MORE
By Jamey Giddens on September 10, 2012
Score one for the good guys! One of the most talented soap scribes to come down the pike in a long, long time has landed a high profile primetime project.
Sri Rao
, who penned the critically-acclaimed second season of
General Hospital: Night Shift
, has sold a political soap to NBC, with prolific producers
Craig Zadan
and
Neil Meron
, reports
Deadline
.
READ MORE
By Jamey Giddens on March 10, 2010
Here's a little pick-me-up for all the fans reeling over ABC Daytime's ridonkulous decision to phase out the Kish love story on Too Gay to Live One Life to Live. Cable channel BRAVO has announced it is adding a fifth night of programming to include a series executive produced by Beverly Hills, 90210, Melrose Place and Sex and the City creator Darren Starr.The series just so happens to have a writer by the name of SRI RAO attached to co-write it!!!
By Regan Cellura on April 02, 2009
TVGuide Canada
's
Nelson Branco
chatted up
GH
's supercouple Robin and Patrick (
Kimberly McCullogh
and
Jason Thompson
) in celebration of the sudser's 46th Anniversary. The duo talk about Robin's Post Partum Depression, their love of
Finola Hughes
(Anna Devane) and
Tristan Rogers
(Robert Scorpio) and give kudos to
NightShift
head writer
Sri Rao
.
TVG: Kimberly, we were all a little bit surprised when you returned to GH a few years ago because you had relative success in other mediums. Are you planning on staying on GH for the foreseeable future? READ MORE
By J Bernard Jones on December 29, 2008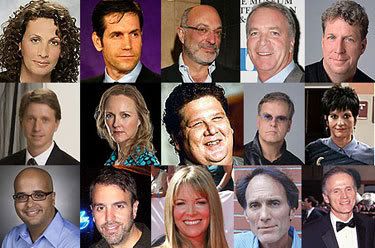 I warn you now, what follows is not strictly a bit of soap opera nostalgia. Though cloaked in fond remembrance, there are deeper issues at play here, if you will bear with me...
My late mother loved "her stories." One might say she was a one network kinda woman, too. When I came along into my parents' lives, her soap schedule was more or less as rock solid as the dawning of the sun: Love is a Many Splendored Thing, As the World Turns, Love of Life, Search for Tomorrow, The Guiding Light and The Secret Storm.
I vaguely recall a few of these shows as I was all of about 5 or 6 years old at the time, but they began to imprint themselves on my mind because by some strange coincidence or another I was always catching some memorable scenes or events that would be the equivalent to sweeps stunts today. READ MORE