Stephanie Gatschet
By Daytime Confidential on March 05, 2010
All My Children's Denise Vasi (pictured above), Susan Lucci, Cameron Mathison, Rebecca Budig and Stephanie Gatschet signed autographs and copies of L.A. Magazine featuring them in various artistic poses at the Beverly Center on March 3. Even if your local newstand doesn't have a copy of L.A. Magazine you can still watch their web extra "Drama Queens" on their website.
By J Bernard Jones on June 24, 2009
NAME THAT PLOT: An ambitious, publicly principled but morally crippled politician with aspirations for higher office has a hidden but longstanding extramarital affair while in office. His wife, moneyed or ambitious in her own right, not only knows of her husband's indiscretion but also puts up with it as long as it does not bring embarrassment to her or damage her own priorities. Is it...
A) All My Children's DA (Kieran Campion) and wife Madison (Stephanie Gatschet)
B) General Hospital's Mayor Floyd (John Bolger) and wife Andrea (Martha Bryne)
C) South Carolina Governor Mark Sanford and wife Jenny
D) All of the Above
Here's a hint: the correct answer is not A, B, or C....(continued) READ MORE
By Luke Kerr on May 14, 2009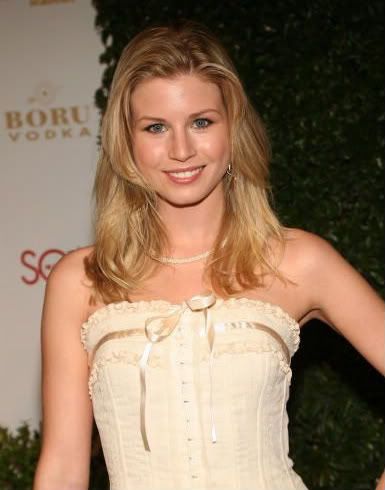 Stephanie Gatschet
is coming to Pine Valley. According to Gatschet's
official website
"She will be playing the D.A.'s wife, Madison North, and will start airing Friday, June 19. Be sure to watch and stay tuned for more info!" Gatschet portrayed one half of the popular
Guiding Light
couple "Jammy," opposite of
Tom Pelphrey
. I've included a clip from
Guiding Light,
after the jump, for any
All My Children
fans who may want to check her out.
I know this is disappointing for Guiding Light's Jammy fans, but it should be good news for fans of the actress who have wanted to see her back in daytime. My question is: why didn't All My Children use her as a recast for Amanda Dillon, since Chrishell Stause is leaving? Why didn't they recast Colby, even if they would have had to slightly SORAS the character? Stephanie as a Chandler could have been outstanding and heaven knows we need a good actress in the role. This continues All My Children's pattern of bringing on talented or popular actors such as Beth Ehlers, Jamie Luner and now Stephanie Gatschet, but not casting them in the most obvious of roles? READ MORE
By Luke Kerr on January 17, 2008


Loyal Daytime Confidential Listener and Reader Jammylove can't wait for the return of you guessed it, "Jammy". So she sent in her favorite Jammy clip. Eat your hearts out Jammy fans!
By Luke Kerr on January 16, 2008
PGP Classics
is reporting that Stephanie Gatschet is returning to "Guiding Light" for the memorial service of her long dead character Tammy Winslow Randall January 22, 23, and 25. They are also teasing the possibility of "ghost sex".
What is up with all these soaps teasing or using "ghost sex" and "ghost romances" to try so that they can squeeze one last ratings point of a popular star? It's a trend I find a bit disturbing.