Susan Haskell
By Jamey Giddens on May 06, 2013

With a commanding, virile presence, matched by the type of booming, thunderous voice you'd imagine Zeus utilizing on Mount Olympus, Thorsten Kaye could easily come off as intimidating, that is, if he wasn't so good natured. I was able to ask the All My Children star a few, quick questions on the red carpet before the premiere of the rebooted sudser and its sister soap One Life to Live.
With Kendall (Alicia Minshew) and Zach on the outs, what is in store for the casino mogul romantically? How will Minshew's upcoming guest spot as Kendall impact things? How did the actor, who went on to do NBC's Smash following AMC's cancellation on ABC Daytime, react to the news that the soap was coming back? We touched on all of those subjects. I also asked the popular star if his real-life leading lady Susan Haskell will ever reprise her historic role as OLTL's Marty Saybrooke.
Daytime Confidential: How are you feeling?
Thorsten Kaye: I'm feeling good. I think these guys [Prospect Park] did a good job. How are you feeling? What are you looking for?
DC: I'm excited. I'm really excited. I was skeptical at first, but now it's finally happening. I have to ask, what's going to be in store for Zach romantically? READ MORE
By Jamey Giddens on April 25, 2012
The man responsible for the powerful Marty Saybrooke (
Susan Haskell
) gang rape storyline, as well as the saga of gay teen Billy Douglas (
Ryan Phillippe
) on ABC Daytime's
One Life to Live,
has gone academic.
Michael Malone
will be speaking at noon, this Thursday, April 26 at Duke University.
The best-selling novelist, short story writer and TV veteran currently teaches a course at the University entitled "American Dreams, American Movies." His lecture, part of Duke's "Office Hours" program, will be on the art of storytelling. The event is being webcast via Duke's Ustream channel.
Are you excited to hear what Malone has to say about storytelling? Watch a few clips from his iconic first stint on OLTL below, then sound off in the comments!
By Daytime Confidential on October 17, 2011
Former All My Children star Thorsten Kaye (pictured with Susan Haskell above) screened his film Occupant, at the Quad Cinema in New York City, on October 14. The film, which also stars As the World Turns alum Van Hansis, will be available through your local cable provider's VOD and on the internet via Netflix, iTunes and Amazon Video on October 18. Visit OccupantMovie.com to learn more. Check out photos from the screening after the jump!
By Jillian Bowe on March 29, 2011

We Love Soaps is reporting One Life To Live's Susan Haskell was given the pink slip. No word on Haskell's last airdate or why the two-time Daytime Emmy-winning actress was let go. I'm going to miss my "Mad" Marty...
By Luke Kerr on April 13, 2010
Does Natalie (Melissa Archer) go too far this week on One Life to Live and is she suspected of pushing Marty (Susan Haskell) down the stairs? What will Starr (Kristen Alderson) do when she finds out about Cole (Brandon Buddy)? Watch this week's One Life to Live promo after the jump.
By Regan Cellura on August 31, 2009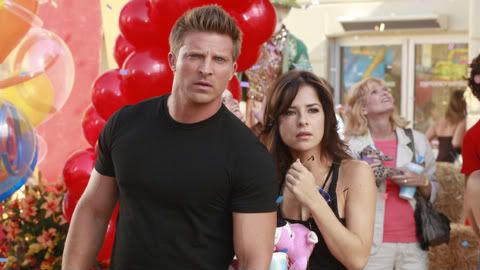 Hey DC'ers!
I've missed you all but I've also missed a ton of Daytime TV and have been playing catch up all weekend. Since I have a head start on a lot of the
General Hospital
storylines, I've been focusing on catching up with the peeps in Llanview and I am not disappointed!
One Life to Live
is on fire and I'm loving every minute of it.
The JaSam fans got their wish, that episode got the delete off my DVR. I'm happy for their fans as you all know I love you despite your pairing affiliation but I'm still recovering and I was afraid that episode would set me back. Just kidding! Even with my advanced knowledge of most of what's happening in Port Chuckles, I still may have missed something so when I start dishing a little, I may cover some things that have already hit the screen. READ MORE