Susan Haskell
By J Bernard Jones on November 19, 2008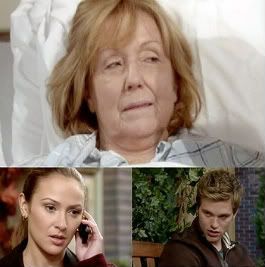 While
The Young and the Restless
and
One Life to Live
are the two must see soaps on daytime right now, our schizophrenic
As the World Turns
is firing on most of the right cylinders and can't be counted out of the fight. The last time I posted about ATWT, I had a great many concerns about the direction of the show and it's storylines given the supersonic speed by which they are told. In the last week however, the show has made me sit up and take notice with some interesting developments.
READ MORE
By Luke Kerr on November 13, 2008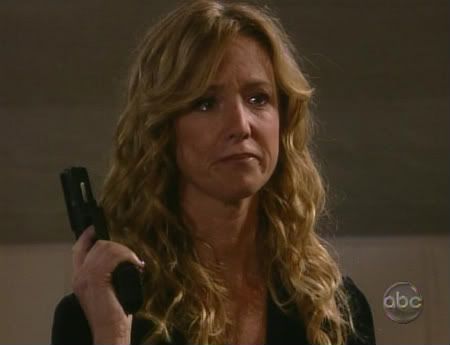 Susan Haskell
has been "shooting" it out of the park the last couple of days. Take your best shot at this Caption This. I say
One Life to Live
is arming itself to do battle with
General Hospital
for title of the show the best
Annie Oakley
impression.
By J Bernard Jones on November 13, 2008
"You have changed me."
Those desperately uttered words have perfectly and succinctly summed up the sick, twisted and ultimately riveting story line of Todd and Marty on One Life to Live.
I use the word "riveting" in its purest sense: not to imply something that is entertaining or enjoyable for entertainment's sake alone, but rather as a thing that keeps our attention for better or worse, against whatever other instincts that might ask us to look away. In other words, this story line of compounded lies and grand delusion has kept many of us as glued to the screen as a car accident might induce a chronic case of rubbernecking or a nasty lover's quarrel in a supermarket might cause us to turn and watch. Yes, this is the story we thought "they" would never tell, but there is a question lurking just beneath the surface reactions for those fans titillated by the prospect of the loathsomely nicknamed "Tarty" and those other fans filled with disgust and anger:
Exactly whose story has been told? READ MORE
By Luke Kerr on November 12, 2008
I would like to take a moment to recognize Susan Haskell and Trevor St. John's amazing performance today. For the first time since her arrival, I now understand why Susan Haskell's return was looked forward to by so many. Her portrayal of an emotionally betrayed, unstable Marty holding a gun on Todd was gripping. At the same time, Trevor St. John did an outstanding job conveying the rationalization of Todd trying to make the right decision after realizing he had done wrong.
It should be noted that my applause of these individual performances do not negate my overall disdain for this truly awful rapemance storyline. At this point, it is what it is. Hopefully, One Life to Live can salvage something out of this hurricane-like disaster.
My suggestion, don't give Marty her memory back all at once. Let Marty continue to have the occasional flash of memory, but require her to question everything and everyone. Haskell's performance today as an innocent who has had the wool pulled away from her eyes, yet not knowing what or who to believe proves there is merit in dragging out Marty's total recall.
By Luke Kerr on November 06, 2008
The story you never thought would happen, or wished would never happened, actually went down today flush with flashbacks of Todd (
Trevor St. John
) and Marty's (
Susan Haskell)
first time. Check them out at your own risk after the jump.
READ MORE
By Luke Kerr on October 28, 2008
I'm sorry, I don't care how "breathless" next week's
One Life to Live
is supposed to leave us, but the Todd (
Trevor St. John
) and Marty (
Susan Haskell
) scenes are just disturbing. I'll be fast forwarding through them. With any luck they'll have Marty create "the mood" by playing "Did I Shave My Legs For This?" in the background.