Tori Spelling
By Jenna Dorsi on January 06, 2014
Mystery Girls
, starring and produced by
Tori Spelling
and
Jennie Garth
, has been ordered to series by ABC Family. The new comedy will focus on two former '90s TV stars who made their names solving fictional mysteries.
READ MORE
By Luke Kerr on April 26, 2010
ABC Daytime PR chief Jori Petersen is reassurring One Life to Live fans that their show isn't in danger of cancellation because of news that ABC is developing a talk show for former Beverly Hills 90210 actress and reality star Tori Spelling. In a statement to TV Guide Magazine she responded to the cancellation concerns and addressed the rumors surrounding Ron Carlivati's status as head writer, now that Jean Passanante has joined the OLTL writing team.
On cancellation concerns,
"We want OLTL to succeed and are doing everything we can to facilitate that," says Petersen. "We want the show to be fantastic and robust. There are no plans for cancellation." READ MORE
By Jillian Bowe on April 20, 2010
The Los Angeles Times
is reporting that ABC is creating a daytime talk show for
Tori Spelling
. As of now, the show is in the begining phase of creation, but the article reports Spelling will be partnered up with a male co-host, who is being called Tori's BFF. This begs the question, if picked up, which time slot will Spelling's show have? ABC currently has 3 soaps running during the day and is being led in by
The View
. Speculations are swirling that the talk show may receive the plum slot, which is currently being held by chat show titan
Oprah
, once she leaves the airwaves next year.
Joe Flint
writes,
Another scenario is that one of its current daytime shows is, uh, going away. We're pretty sure The View is staying put, so that leaves one of the soaps as potentially heading to the exit. But don't panic yet, soap fans, there is no guarantee that the Spelling show will get off the ground. ABC could also try to sell it to a cable network or syndicate it to local television stations.


READ MORE
By Jamey Giddens on June 02, 2009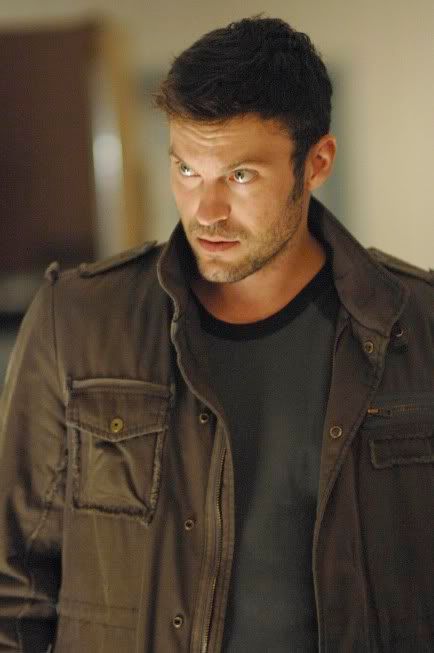 Bad news David (
Brian Austin Green
) and Donna (
Tori Spelling
) fans. It looks like you could end up waiting for your fave Pitted Peaches to reunite on
90210
as long as Silver waited to pop Donna's cherry on the original teen soap.
EW.com
's
Michael Ausiello
is reporting
Green i
s thisclose to joining the cast of another CW series,
One Tree Hill
.
Fresh from the high profile flop that was Terminator: The Sarah Connor Chronicles, Green could possibly play a "Jerry Maguire-esque sports agent" named Clayton who will rep OTH's true leading man Nathan (James Lafferty). (Sorry, I always preferred Nate's storylines to Lucas's wussy Great Gatsby Goes to Basketball Camp sagas.) Green's addition to the cast would be one of several to help fill the void of Lucas (Chad Michael Murray) and Peyton (Hilarie Burton), whose starcrossed characters tied the knot in the sixth season finale and vacated the series after real life contract squabbles reportedly didn't end amicably. READ MORE
By Luke Kerr on April 11, 2009
Waiting in rapt anticipation for Donna Martin (
Tori Spelling
) to return to the 90210 zip code? Check out this clip of Donna's return to
90210
.
By Jamey Giddens on February 13, 2009
Since it's for a good cause, I wanna play nice, but
90210
's
Tori Spelling
needs her old ass whupped for going out to the Heart Truth Red Dress Collection Fall 2009 Fashion Show looking like somebody's burlesque show kewpie doll on acid! Tori is my age, so it's high time she left that kind of foolishness to the
Mylie Cyrus's
and the
Katie Perry's
of the world. I don't know how
Jennie Garth
can stand there with a straight face, but then she did get through Kelly's gunshot induced-amnesia on the original
Beverly Hills, 90210
circa Season 8 (Or was it 9?).