Trent Dawson
By Jamey Giddens on May 18, 2012
Ex-
As The World Turns
star
Trent Dawson
was one of the many stars who turned out Wednesday night for Love Out Loud VII, sponsored by
POZ Magazine
and
We Love Soaps
. At the event, which raised money for AIDS Walk New York, WLS's
Damon Jacobs
got the former Henry Coleman to share what he's been up to since saying goodbye to Oakdale, including dish on the scenes Dawson shared with
Emma Thompson
in
Men In Black III
. Watch the video interview after the jump!
By Daytime Confidential on September 19, 2011
Former As the World Turns stars Trent Dawson and Jake Silbermann reunited in New York City's Central Park on September 18 for the Susan G. Koman Race for the Cure 2011 event, which helps raise money to fight breast cancer. See more photos after the jump! READ MORE
By Daytime Confidential on September 14, 2010
As the World Turns may have wrapped, but that hasn't stopped Trent Dawson (pictured above) from keeping busy. His new play, "The Revival", opened September 11 at the Lion Theatre and runs through September 25. Check out opening night photos after the jump!
By Mark on September 09, 2010
After 54 seasons and one unforgettable journey As the World Turns comes to an end. Watch the series finale promo after the jump.
By J Bernard Jones on September 07, 2010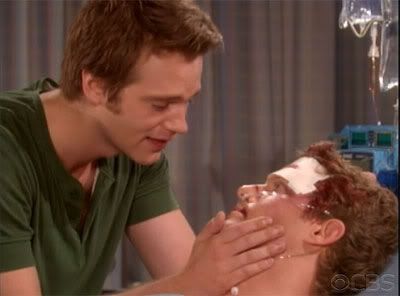 Before I get to today's stunning episode of As the World Turns, in which Dr. Reid Oliver dies and donates his heart to his professional nemesis/colleague Dr. Chris Hughes, I have a few thoughts about not only the serial's final days on the air, but also —in a broader sense—fan perceptions about what a soap's last days should be like, themes that will be carried forward as we look toward ATWT's final hours.
First, with less than two weeks to go before its final fade to black, ATWT is ending its 54 year history in perhaps better dramatic shape than almost any serial since the cancellation of NBC's Texas in 1982, a specific observation I will expand upon in a few days. Of course, there is lots to gripe and nitpick about the woulda-coulda-shoulda's of how the show might have wrapped things up. Many of those ideas are quite good and some are downright ludicrous, but in the final turn of events, all of that stuff is moot. The last scenes were shot, the sets have been struck, and the actors all went along different paths weeks ago. READ MORE
By Nekeeta Borden on August 30, 2010
It is with heavy heart that I pen this review for my beloved
As the World Turns
. I still remember that autumn day nearly six years ago, when my college roommate regaled me with tales of CarJack's (
Maura West
and
Michael Park
) magnetic pull despite Jack's amnesia, and Jennifer and Gwen's (
Jennifer Ferrin
and
Jennifer Landon
) heart-wrenching saga over baby Johnny, and I've been hopelessly hooked ever since. As time winds downs, the loose ends of Oakdale's patchwork are being sutured together, some to my delight and others to my annoyed chagrin. Just like your favorite drunken cousin at Uncle Pookie's home going, I'm going to tell it like it is, grief and tender feelings be damned!
READ MORE