Ty Treadway
By J Bernard Jones on October 03, 2008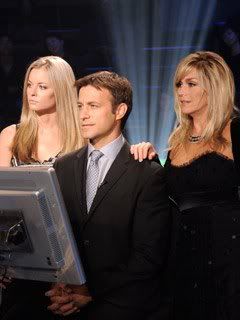 Every once in a while a soap produces a story arc that renews one's faith in the genre.
One Life to Live's "Who Wants to Be Shane Morasco's Father?" may have been a stunt but they were also episodes that managed to do right just about everything the 40th anniversary episodes got wrong.
In the bargain, they did everything the anniversary episodes did right just a few notches better. I know this kind of thing is not everyone's cup of tea, but I'll take this little detour the way Star Trek's Captain Picard likes his Earl Grey: Hot!
Borrowing the Who Wants to be a Millionaire? set, OLTL took what was rapidly becoming a hoary cliche — the near death out of body experience — and instantly breathed new life into it. While Viki's latest visit to "heaven" here and the shared Chris/Allison/Aaron Fellini-esque versions on As the World Turns were done very well, the staging and production of Rex's game show experience lent the entire sequence an air of immediacy that a cheesy in-house set would have been unable to accomplish. READ MORE
By Regan Cellura on August 27, 2008
Ty Treadway
(Colin,
One Life to Live
;
Soap Talk
) is making his way back to Llanview!
Soap Opera Digest Online
reports that Treadway makes his return in a dream sequence as a game show host.
"Ty Treadway returns to ONE LIFE TO LIVE as the villainous Colin MacIver (who died in 2001) to host a game show aptly titled SO YOU THINK YOU CAN BE SHANE MORASCO'S FATHER. The dream sequence, which airs Oct 1-2, focuses on Rex and his not-so-good life as he is on the operating table being treated for a gun wound. The sequences were filmed on ABC's WHO WANTS TO BE A MILLIONAIRE set."