Vail Bloom
By Jillian Bowe on October 16, 2008
I was always taught by my mother, "If you don't know how to listen, you feel". I guess A.D.A. Heather Stevens never got that lesson from her own mama. Heather is too stubborn,or stupid, I can't decide which, for her own good. The last time she went up against Victor all half-cocked what happened to her? She got herself demoted by the District Attorney. Hasn't she learned not to mess with Victor? The man's like Teflon, nothing sticks.
Heather keeps saying her motivation is finding out the truth, but it makes you wonder if her pursuit of truth would be so all-consuming if her bed mate Adam wouldn't have had his ass handed to him by Victor and the rest of his family. Wasn't Heather the one who told Adam and the elder Newman kids not to let emotions fuel their motives? What the hell is fueling hers? I'm just waiting for Heather's boss to say, "Are you letting your ego get to you since you weren't able to pin Ji-Min's murder on Newman or is your new man candy pulling your strings?" More after the jump! READ MORE
By Luke Kerr on April 30, 2008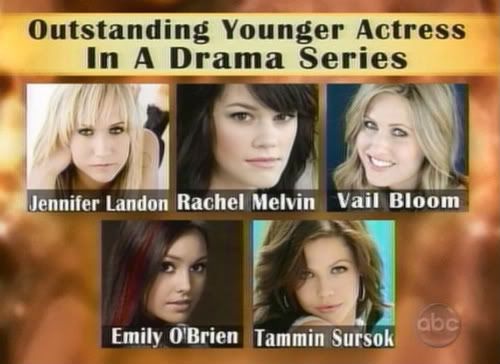 Congrats to Jennifer Landon, Rachel Melvin, Vail Bloom, Emily O'Brien and Tammin Sursok on their Outstanding Younger Actress nominations. May the best actress win.
After months of anticipation we now have our five nominees for Younger Actress. I have to say, if it wasn't for the Supporting Actress category I would call this my most shocking category. Why isn't at least one of the three talented Guiding Light actress who made the prenominations a nominee? Why didn't a single ABC actress get a nomination?
Looking at the prenominations list below and comparing it to the nominees above is there anyone who you feel is missing from this list or who should be on it instead of someone else?
Outstanding Younger Actress Pre-Nominees
AMC: Melissa Claire Egan, Chrishell Stause, and Leven Rambin
ATWT: Jennifer Landon, Alexandra Chando, and Marnie Schulenburg
B&B: MacKenzie Mauzy
DAYS: Shelley Henig, Kristen Renton, and Rachel Melvin
GH: Julie Marie Berman and Kirsten Storms
GL: Mandy Bruno, Bonnie Dennison, and Caitlin Van Zandt
OLTL: Kristen Alderson, Farah Fath, and Brittany Underwood
Passions: Danica Stewart and Hannia Guillen
Y&R: Vail Bloom, Emily O'Brien, Tammin Sursok and Christel Khalil