Vincent Irizarry
By Jillian Bowe on June 28, 2008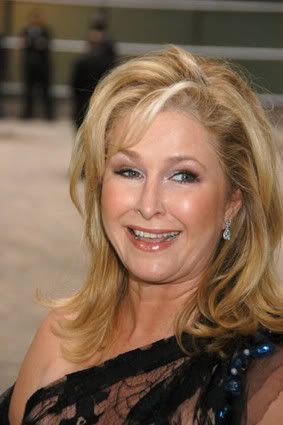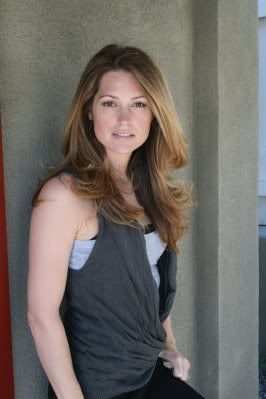 Two familiar faces will be making their returns to Genoa City. Laura Stone returns as Skye, Adam's (Chris Engen) former flame and card shark hustler will make her way back into his life July 7 and 8. Wonder what she will think about Adam's new romance and will she drop that he knew about David's (Vincent Irizarry) gambling to Nikki (Melody Thomas Scott)...
Kathy Hilton, mother imfamous socialite Paris, will reprises her role of well herself on July 8. Guess the Restless Style gang's trying to get some of that fanfare back for their magazine like they did for the first issue.
By Jillian Bowe on May 26, 2008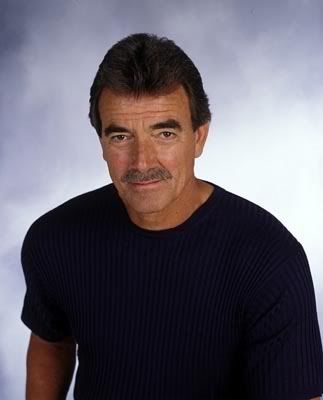 In one of the rare instances these days, Victor Newman and Nikki Newman Chow had a close moment remembering their beloved first born granddaughter, the late Cassie Newman on The Young and the Restless this past week.
There has been mostly nothing but bitterness and contempt for the past few months but every now and again flickers of their true feelings have bubbled above the surface and you can see that the feelings are still there between the two. I know most people can't stand them separate or together since they sometimes do have the tendency to bring out the worst characteristics in one another, however, some of us do care on whether or not this latest parting is permanent or just another tidal wave on the way to happiness for Victor and Nikki.

When Nikki genuinely looked concerned for Victor as she approached him at the Genoa City Athletic Club displayed to all that no matter what their relationship is and who they are with Nikki will always care for Victor.The tender moment when Victor reached for Nikki's hand to hold while they spoke about their romance of old was a true testament of how they used to be. The way that he gazed into her eyes just made viewers see that even though they are with other people they still have something that their current partners do not have.
Sure Victor seems like he wouldn't spit on Nikki if her eyebrows were on fire but the fact remains that the man can't get her out of his system and vice versa for her. Look at the way that he reacted to her getting married to David two weeks ago. It was if someone told him that Zappato died eating one of his Cuban cigars, his look when old friend and sometime business rival Katherine told him about his ex getting remarried was just priceless. As for Nikki, her reaction to Victor deciding to get married to Sabrina was a bit shocking for me because I thought for sure she'd blow a gasket but that should've been the real clue since she did act too calm.
Her hasty decision to get married to David pronto was all the proof I needed to realize that she still wanted her man back and to upstage him while she was at it. Classic Nikki, got to hand it to her she did get him back and boy did she have to hear about it in that elevator! For someone that doesn't give a damn on what his ex does, Victor sure as hell sounded like a jilted party by going off on Nikki for getting married to David out of town. It was just vintage Victor and Nikki when they started to tell the other's lover about their bad traits and what they were going to get by being saddled with. The air wasn't stifling Nikki as she said it was in the elevator; it was that all consuming passion she and the mouth stash still have for each other.
That unique occurrence at the club, Victor had his mask put away you can see the yearning that he has for the love he once shared for Nikki. Just the little things they did in just a few short moments it gave viewers a peak at what these two used to have and what makes them always come back to each other.
Other loves have come and gone from their lives, some have even left a lasting impression on them but nobody can replace what Victor and Nikki have.
I can remember when Victor married Hope and they were having problems and she moved back to Kansas, Victor turned to Nikki for help and
a confidant the same thing when she was married to Josh Landers Victor was her quasi friend to turn to even if their relationship is contentious at best.
I know "Through the Eyes of Love," is their song but while I was listening to the radio another song came on that made me think that the unofficial song for the Newmans should be replaced with Lenny Kravitz, "It Ain't Over Til' Its Over." I know Lenny's not sophisticated for these two but when you close your eyes and listen to the lyrics you can see why it suites them to a tee.
The longing, yearning of things that were left unsaid and undone when the Newmans parted ways this time around, lingered all over their faces. You can tell and almost feel that Victor had something of great meaning to tell Nikki but David showed up and like other fans, I too wanted backhand him for his ill-timed enterance. Over the years Victor and Nikki have tried to move on but they just can't seem to scratch that itch they have for each other. Here's hoping that head writer Maria Bell doesn't produce the ointment that will cure them of it.
By Jillian Bowe on May 22, 2008
And the beat goes on……
Pick up next week's copy of CBS's Soaps in Depth, in there you have some juicy tidbits on what's going down with David/Nikki/Paul straight from Young and The Restless headwriter Maria Bell's mouth! She answers the burning question that fans such as myself asked, "Why did Nikki marry David when she has inklings that he's back to gambling!"
Bell says, "I think Nikki really loves David and is committed to him....but what we have to realize is that Nikki is an addict herself so she has alot of compassion for David's struggles, more than someone else might." Uh ok.. Says Ms. Bell, "Nikki is fully committed to David, but unbeknownst to her there are definitely some clouds forming over their relationship."
Bottom line kids, there's more to Mr. Nikki Reed that meets the eye and this story's starting to heat up! Like did you know that Paul meets with David's stepdaughter, Mina.......
By Jamey Giddens on May 07, 2008
And the bride wore boredom. One of the 15 Most Boring Couples on Young and the Restless right now, Nikki and David decided to jump the broom in the near future on today's episode. Man do Melody Thomas Scott and Vincent Irizarry deserve better than this. These otherwise fabulous soap superstars have zero chemistry together and its painful to see TPTB try to force something that clearly isn't there.
It's almost as bad as when Marcy Walker's Tangie was paired with Robert Newman's Josh on Guiding Light, or when Kim Zimmer's Jodie was paired with A Martinez's Cruz on Santa Barbara. I am sure someone thought it you took one half of Cruz and Eden and paired it with one half of Josh and Reva it would create the supercouple to end all supercouples, but all it did was temporarily end my my viewership of both of those shows. The same mixed up logic is obviously being applied with Nikki and David.
It was a smart move for CBS to snap up Irizarry after he was so unceremoniously dumped by ABC's All My Children, but he has stuck out like a sore thumb on Y&R since day one. First he was in town to seek revenge on Dru for supposedly killing his beloved mistress (Is there really such a thing?) Carmen. Then that story went the way of Nick's plane crash, Summer's paternity and where in the world is Zapato?
Then all of the sudden he's a slick campaign manager putting Nikki's pole twisting days on the web for download. I guess that turned Nikki on, because she started screwing him! David served a purpose as long as he fueled Victor's wrath at Nikki, but now that the Newmans have gone their separate, boring ways, it's time for a shake up. Why not have Jill go after David? I know, I know, she's still grieving over the love of her life Ji Minh (eye roll) but something tells me Ms. Abbott can find it in her to love again, or at the very least rip off David's clothes on top of Katherine's desk!
The only couple in Genoa City more boring than Nikki and David is Victor and Sabrina. How I long for the days when Nikki was with Jack and Victor with Jack's sister Ashley, yet both couples were forever intertwined by the brilliance of the late Bill Bell. Y&R has got to figure out how to once again realize chemistry and write to it and fast. I am enjoying the show's gradual refocusing on the glitz and glamour of the cosmetics world (Even if I am still forced to sit through mentions of that dreaded reliquary book!), but with basically no couples to root for, it's like eating cotton candy, it tastes sweet at first, then your belly starts to hurt, you get a sugar headache and on top of it all you're still hungry.
By Jamey Giddens on April 22, 2008
Okay, let me first say that there is no, I repeat NO concrete talk of the fabulous Kim Zimmer leaving her legendary role as Reva Shayne on Guiding Light, but you'd have to have been living under a rock this week in Soapland not to know that Ms. Kim is a bit, shall we say cross, about the way things are going with her character at GL. So of course, you know me, my mind couldn't help but wonder where else the multiple-Emmy winner might end up should she decide to leave broadcasting's longest-running program.
Kim to Young and the Restless as Dr. Casey Reed

I was chatting with one of Daytime Confidential's faithful visitors in the comments section of the post regarding Zimmer's current state of unhappiness about how great it would be to see Zimmer go head on with Eric Braeden's Victor Newman on Young and the Restless (Feel free to remind me who you are as that post is now enormous and I couldn't sift through the comments quick enough! LOL). So following in that vein, should Zimmer opt not to re-sign with GL, I propose she join the Bell sudser as a recast of Nikki's doctor sis Casey. READ MORE
By Jamey Giddens on March 24, 2008
With Ricky Paull Goldin (ex-Gus) already out and Beth Ehlers (Harley) and Marcy Rylan (Lizzie) rumored to be following suit, it's gonna take some pretty big star power to plug the hole in the bottom of Guiding Light's sinking ship.

We applaud the heck out of actress-turned-exec producer Ellen Wheeler (ex-Vicky and Marley, AW/ex-Cindy, AMC) for managing to get the show renewed by going to a new production format, because let's be honest, GL was facing cancellation rumors LONG before the daring and innovative Wheeler took the helm. That being said, it's time GL totally restructured itself storywise, and bringing back fan favorites Vincent Irizarry (ex-Nick/Lujack) and Krista Tesreau (ex-Mindy) to rebuild the show around could be just the ticket.

Irizarry has been wasted over at Y&R. And even though that show is experiencing a renaissance, in all honesty Josh Griffith, Maria Arena Bell and crew need to focus on Y&R's legacy characters, of which Irizarry's David isn't one.
Why not have him return to the soap where he first became a daytime superstar, just in time to help save it? As for Krista Tesreau, no she wasn't playing Mindy when Nick fell madly in love with her-despite his mother Alexandra's machinations-but she is the original Mindy and a fan favorite. And unlike Tesreau she wasn't romantically linked to Irizarry in real life, so it might be easier to faciliate her return in the role.
What if Billy's little princess was secretly pregnant with Nick's child when she left town and decided to keep it from Nick to prevent the kid from growing up a dysfunctional Spaulding? Can you imagine the shock on Alex's face? Also Billy's ex Vanessa was always closer to her stepdaughter Mindy than she was her own biological daughter Dinah. Think of the possibilities of a Dinah vs. Mindy rivalry, complete with Bill-thehalf brother both women share-playing referee? This could be just what GL needs to get viewers to finally turn back on the 'Light.