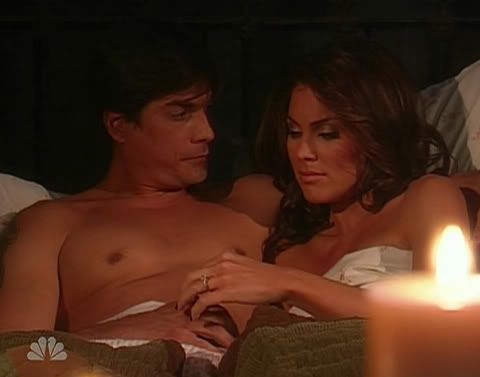 I have a feeling I'm going to get in some trouble for this post. As many of you know back in the day I was a huge Sami (
Alison Sweeney
) and Lucas (
Bryan Dattilo
) fan and then EJ (
James Scott
) came along and I fell for EJami. Now EJami seems to be on hold as Sami is paired with Rafe (
Galen Gering
) and I must admit I am enjoying that pairing as well. What this leads me to believe is that I am a Sami fan first and foremost and that I'll like most any pairing she is in.
Maybe this is why I'm not bothered by having another one of my favorite Days of Our Lives characters, Nicole (Arianne Zucker) paired with EJ or having Chloe (Nadia Bjorlin) paired with Lucas. Honestly, its the appeal of these three couples and the vast history between at least four of them that is about the only thing keeping me watching the Molly Burnett - Ken Corday's Going to Kill This Show If It's The Last Thing He Does hour.
Who is your favorite couple?