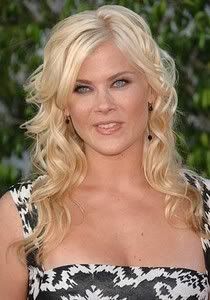 All the day players involved in the asinine "Who Killed Mayor Brian Bodine" snorey-line have been dealt with, which of course means Salem's conquering heroine Samantha Jean Brady (
Alison Sweeney
) is free to talk loudly and behave like a perennial 15-year-old once again in plain sight on
How Many Days Till Cancellation?
The question is, now that the Belle of Salem Place—no I'm not talking about Kirsten or Martha— is back, which man should she be with? There's Lucas Roberts Horton (Bryan Datillo), the boy she's loved and schemed with on and off since she was a kid, who also happens to be the father of at least two of her critters.

Then there's EJ DiMera (James Scott), who also knocked her up twice, although he doesn't know about the second one, who is currently being taken care of by his fiance Kristen Blake, er Lexie Carver, Doh! I mean, Nicole Walker (Arianne Zucker)! Sorry, this story is so revolutionary and cutting edge it causes momentary bouts of soapnesia!
Last but not least, there's Luis Lopes-Fitzgerald (Galen Gering) from Passions (I tried to remember the name of his DAYS character, I swear I did.), whom she's been acting out old Roman and Marlena scripts from the early 80's with for the past few months. Who's your pick?