GH: Night Shift Spoilers
By Luke Kerr on March 16, 2010
It's a parent's worst nightmare this week on General Hospital. Kristina's (Lexi Ainsworth) beating brings back old memories for Sonny (Maurice Benard). Watch this week's GH promo after the jump. READ MORE
By Regan Cellura on October 16, 2008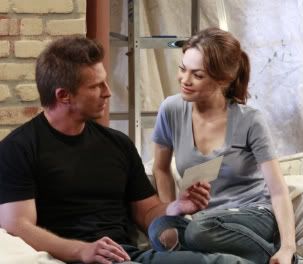 Here's the Scoop! 10.16.08
There is next to nothing out there today which is typical for a Thursday. We can do a Q&A if you guys are up to it, I have some extra time today. Leave your questions in the comments and I'll answer them to the best of my SPOILER abilities. Here's what I got...
Liason Day! Elizabeth SHOULD be calling Jason over to the Studio today. From what I understand, the scenes go into Friday as well, so enjoy my fellow Liason fans.

Jax and Nikolas at war? They're definitely engaged in a battle. Who comes out the victor?

Sonny finds out about Dante! Well... he finds out that Olivia has a son.
MOC... Anthony wants Claudia to marry Sonny. Keep your friends close make your enemy your son-in-law? Claudia isn't too happy when she first finds out but she starts thinking, marry a powerful man, gain some power yourself. IF those RUMORS are true, this is when Claudia should be going to Jason with her plan. Marry me and we have most of the power. Let Sonny run the Z empire and go after Karpov.
Sonny and Jason... Old Sonny returning? Jason teaming up with someone from his past? Lots of RUMORS swirling around. READ MORE
By Regan Cellura on October 10, 2008
Take a look at the promo for
General Hospital: Night Shift
with the return of Tiffany, Sean and Luke! Check out the SPOILER PICS after the jump!
READ MORE
By Regan Cellura on September 30, 2008

How about some Night Shift Scoop?
Tonight, Anna Devane makes the jump from Daytime to Primetime as Finola Hughes takes a turn on Night Shift. Robin calls in Mom for the assist when her Dad, Robert, is rushed in for emergency surgery.

Grey's re-do? Remember the racist EMT? Looks like Night Shift is stealing a page from the ABC Primetime hit. A group of racists take over the ER and Chief of Staff Dr. Patrick Drake must step in.

The aftermath of Claire and Leo... can Kyle forgive his brother? What about his roomie?
The Finale... with all the returning greats does the script really matter? Of course it does as everyone is singing Sri Rao's praises. Robert will be in a coma and his friends come back to see him. Now, what isn't clear to this SPOILER Guru... will Tiffany, Sean and Luke be there in real life or in Robert's dreams? I am hearing that the Finale is quite the cliffhanger.
Tonight's Episode Description:
ANNA RUSHES TO ROBIN'S SIDE WHEN ROBERT TAKES A TURN FOR THE WORSE ON "GENERAL HOSPITAL: NIGHT SHIFT" AIRING TUESDAY, SEPTEMBER 30 AT 11 PM ET/PT READ MORE
By Regan Cellura on September 26, 2008
Here's the Scoop! 09.26.08
Night Shift News: How cool is this! According to SOAPnet, In the October 14 episode, you'll notice something so exciting, it has inspired us to set alarms so we don't miss it: Instead of the regular "Night Shift" opening theme, the show will use the 1980s title sequence from "General Hospital."
Wedding Day! Today's the day and it continues into Monday.
Pickle in the middle? Ric is caught in the middle of a brewing mob war between Sonny and Anthony. What about Anthony making it look like Karpov pulled the trigger?
Lulu and Johnny break up. I can't remember where I dropped it yesterday, it may have been in the comment, birthday blur. Johnny thinks ending things with Lulu is what's best for her. Lulu is heartbroken and done with love. A RUMOR hit a few days back that Lulu would be the one to first meet Sonny's bad boy son Dante. It didn't make sense until the break up SPOILERS popped up.

Luke's back! Tracy fills him in on what he's missed while globe trotting. It'll be Scotty vs. Luke once again. TPTB have been teasing a HUGE TWIST in Laura's story. READ MORE
By Regan Cellura on September 25, 2008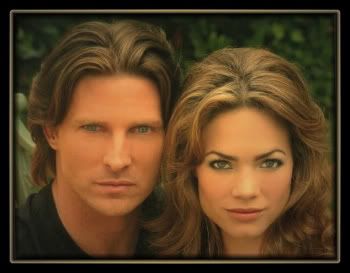 Here's the Scoop! 09.25.08
It's a Liason Day! Today is when Jason lays it all out on the table for Elizabeth. I love that he picked her over the biz! If I didn't already love Spinelli, I want to marry him now! There SHOULD be more nods to their history then just Italy. Pay close attention to their dialogue.

Carly meet your new best friend...Olivia! She'll be spilling Kate's secret today to a very pleased Carly.
More Secrets... well more on Patrick learning that Sonny has a secret son. What's he to do with that information? He has his own family drama to deal with. It looks like Kate thinks she's dying and tells Patrick that she's been keeping this HUGE secret from the man she loves. RUMORS broke that the son MAY NOT be Olivia's child. Who's is it? It APPEARS that he does have a name though. RUMOR has it, Sonny's son is named Dante.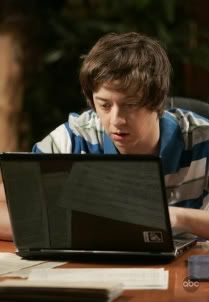 CRAZY CRAZY RUMOR ALERT... and it very well COULD BE fanfic. There is a RUMOR that Bradford Anderson will be in a dual role. These RUMORS say he'll be Dante. Get a salt boulder and check your blood pressure.
We haven't seen the last of him. Olivia's brother SHOULD be coming to Port Chuck. READ MORE