Mags
By Jillian Bowe on January 03, 2009
In the latest edition of
New York magazine
,
Days of Our Lives
character Steve Johnson (
Stephen Nichols
) is among those in the glossy's "Great Moments in Eye Patches." The list focuses on some of pop culture's iconic figures that sport the accessory and the impact of it. For Patch's return to Salem, the magazine states,
The eye patch is the least ridiculous thing about him. We say "is" because he returned from the grave and was reunited with Kayla in 2006.
Ouch! DAYS has finally gotten some press in mainstream media outside of the firing of the iconic duo of Drake Hogestyn (John) and Deidre Hall (Marlena), but Ken Corday and co still can't get any love. Guess it's true about the nasty little vixen known as Karma.
See what the magazine has to say about other characters sporting a patch: READ MORE
By Regan Cellura on September 11, 2008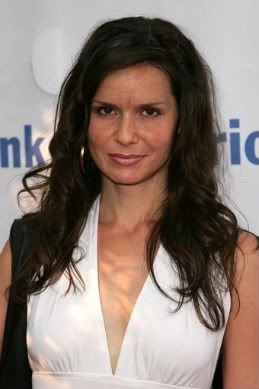 Soap Opera Weekly
is reporting that Tea Delgado, played by
Florencia Lozano
, is Llanview bound. According to the mag, Tea pops back up on
One Life to Live
in December.
By Regan Cellura on September 08, 2008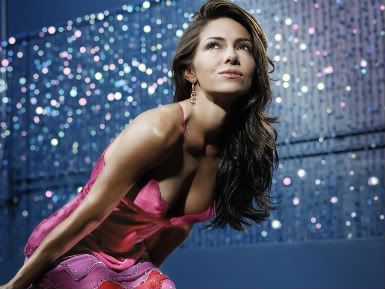 Bob Guza
is
still talking
and I once again ask, should we listen? The
General Hospital
head writer gave a few comments to
Soap Opera Digest
about two lovely ladies that
all

General Hospital
fans love.
Once again, the Vanessa Marcil (Brenda Barrett) RUMORS are teased by Guza. He says Vanessa "wants to make it happen." The head scribe also talks Finola Hughes (Anna Devane) promising that there is more to come from the super spy. Here's hoping that it's true, as most fans agree her "big summer storyline" needed a microscope for better viewing.
What else is Guza talking about? Apparently he tells the mag why Logan Hayes (played by Josh Duhon) had to die. Look for Bob Guza's comments in the September 11, 2008 issue.
By Regan Cellura on September 05, 2008
General Hospital
head writer,
Bob Guza Jr
.
, sat down with
Soap Opera Weekly
for a chat. In the
first part
of the two part interview, Guza dishes on
Genie Francis
' return and confirms reports that she will be back in October. He also addresses the other BIG question... will
Tony Geary
and Genie get some screentime together? Francis' last return wasn't handled as well as the fans would have hoped but Guza says those same mistakes will not be made again. Should we listen? Take a look and weigh in!
Weekly: It's suspicious that Laura doesn't want Lulu telling anyone else that she is awake.

Guza: That's very true. Lulu is like, "Oh, my God, this is good — let me get the boys," and Laura is like, "No, no, you can't tell them yet. I don't want to get their hopes up in case this doesn't take." We are thinking, "Yeah, that makes sense." Also, what happens is, a doctor shows up from Switzerland, where Laura was part of the time. If a doctor is there, how can it not be real? By the end of the fall/early winter, you will know the answer. You will also know about Laura's future.

Weekly: It would be too convenient if she just faded away again.

Guza: We are not going to resolve this in the same way that we did before. Not at all.
By Jillian Bowe on September 04, 2008
It looks like the guest list for the Abbott Family Reunion appears to be growing on
The Young and the Restless,
as
Jerry Douglas
will be back onscreen Sept. 11. No word yet on if Douglas will portray the ghost of Abbott patriarch John or John's lookalike Alistair. As previously reported, ex-
All My Children
star
Billy Miller
has been cast as the youngest Abbott son Billy,
Beth Maitland
has been tapped to reappear as novelist daughter Traci and
Eileen Davidson
is returning as Ashley.
Last week Soap Opera Digest reported Davidson, whose character has been on Y&R's sister soap The Bold and the Beautiful, would be returning to Genoa City for good however, Digest's sister publication Soap Opera Weekly is now reporting Davidson will only be back in a recurring capacity. Both magazines confirm Davidson will be part of the upcoming Paris location shoot this October.
By Regan Cellura on August 06, 2008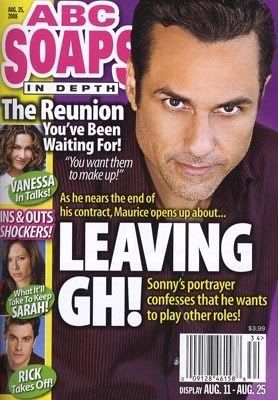 Could this really be true or is it just another check out line attention grabber? Will
Maurice Benard
really vacate his role as mob man Sonny Corinthos? Maurice Benard celebrates his 15th anniversary with
General Hospital
this month.
My thoughts: Most likely the mag did an interview with Benard regarding the end of his current contract and his feelings about things beyond General Hospital. I wouldn't take this as his exit interview but wonders never cease.