Mags
By Regan Cellura on July 31, 2008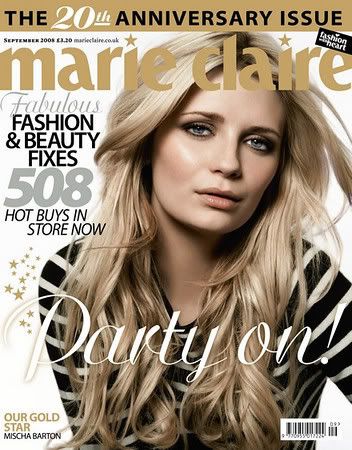 Mischa Barton graces the cover of the September issue of
Marie Claire
magazine and I must say for a lady with questionable fashion taste, Mischa looks absolutely gorgeous on this cover.
All My Children
fans remember Mischa from her days playing Lily Montgomery and of course her break out role as Marissa Cooper on
The O.C.
Inside the mag, the actress dishes on her recent troubles, the press and her love life.
"I'm lucky to know you can have more than one soulmate in life," she says. "But, like a true actress, I'm always changing the way I feel about who I want to be. Nowadays, I feel I'm settling more into a woman and I'm understanding who I am."
By Melodie on July 10, 2008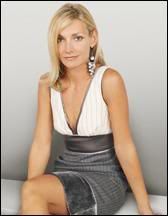 Beth Ehlers' first airdate on All My Children appears in this weeks Soap Opera Digest. She is set to grace our screens on Thursday, July 24th as ex-soldier Taylor McBride. Earlier this year, Ehlers vacated her role as Harley Cooper on Guiding Light after 20 years. Hopefully, her presence in Pine Valley will make for some great drama.
By Melodie on July 08, 2008
Soap Opera Digest
online
is reporting that
The Young and the Restless
will go on its first big location shoot to Paris in October. The storyline and the actors who will accompany the show to Paris have yet to be announced. However, this
Y&R
viewer believes that it has to do with Sabrina, Victor, and that whole crew. If that does happen, I'm unfortunately sure we would all be susceptible to more French talk. Then again, I could be completely wrong. Nevertheless, I think the show going on location has potential.
By Melodie on July 01, 2008
Soap Opera Digest online has released the cast list for General Hospital: Night Shift. The list is as follows below, but be sure to check out the shows season premiere on Tuesday, July 22 at 11 p.m. ET/PT on SoapNet.
Antonio Sabato Jr. as Jagger Cates
Tristan Rogers as Robert Scorpio
Kimberly McCullough as Dr. Robin Scorpio
Jason Thompson as Dr. Patrick Drake
Sonya Eddy as Epiphany Johnson
Billy Dee Williams as Touissant Dubois
Adam Grimes as Dr. Kyle Julian
Carrie Southworth as Dr. Claire Simpson
Ethan Rains as Dr. Leo Julian
Azita Ghanizada as Dr. Saira Batra
By Melodie on June 26, 2008
Young and the Restless star Christian LeBlanc recently sat down with Soap Opera Digest online to discuss his character Michael Baldwin's crazy family. In the interview, Christian speaks about how the Baldwin-Fisher clan came about and the special relationship Michael and Gloria share. Here is a little snippet of what he had to say about that, but be sure to check out the entire interview.
Weekly: Your scenes with Judith are wonderful, and so is the dynamic between Gloria and Michael. Do you realize how special it is?
LeBlanc: Judith is brilliant, and Gloria and Michael's relationship is special. They never say they love each other. He never calls her Mother. It's always Gloria. When you're on a daytime show, it's like doing a play on Broadway. How do you keep yourself from being bored and make it fresh and new every day? I tell you, when I have scenes opposite those characters, Gloria and Kevin, I just don't know what to expect. I can't tell you what reading Judith or Greg will give, because they're that good. It keeps me interested, and that's such a joy.
By Regan Cellura on June 26, 2008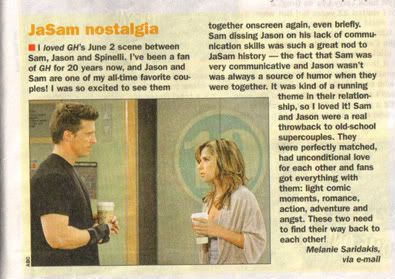 Daisyclover1938 sent us the heads up and we'd like to give her a BIG OLD SHOUT OUT for making it into Soap Opera Weekly! Daisy sent in her thoughts to the mag about the recent JaSam scenes. Way to go Daisy and thanks for the scan!