Passions
By Luke Kerr on April 30, 2008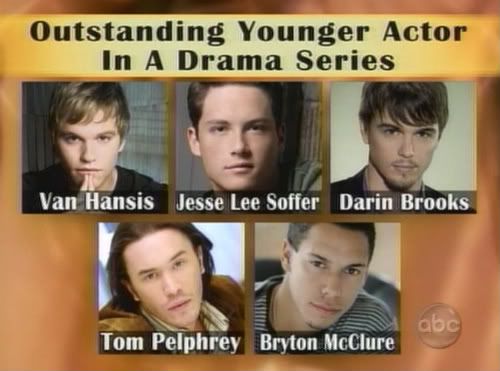 Congrats to the Oustanding Younger Actor Nominees Van Hansis, Jesse Lee Soffer, Darin Brooks, Tom Pelphrey and Bryton McClure! May the best man win.
Now that we finally have our five nominees for the Younger Actor category lets discuss who didn't make it. This category sort of played out as I expected it with the exception of Darin Brooks and that like all the other Days of Our Lives nominations has nothing to do with Days of Our Lives' talent as much as the fact I didn't expect anyone from the show to get nominations. So much for me being able to predict nominations.
Looking at the Pre-Nominations list below and comparing it to the nominees above is there anyone who you feel is missing from this list or who should be on it instead of someone else?
Outstanding Younger Actor Pre-Nominees
ATWT: Van Hansis, Jake Siberman, and Jesse Lee Sofer
DAYS: Blake Berris, Darin Brooks, and Matthew Florida
GH: Dylan Cash and Josh Duhon
GL: Lawrence Saint-Victor, Tom Pelphrey, and John Driscoll
OLTL: Brandon Buddy, Edward Alderson, and Jason Tam
Passions: Adrian Bellani and Blair Redford
Y&R: Hunter Allen and Bryton McClure
Be sure to tune in for our Daytime Emmy Nominations podcast episode with should air on Thursday or Friday.
By Luke Kerr on April 30, 2008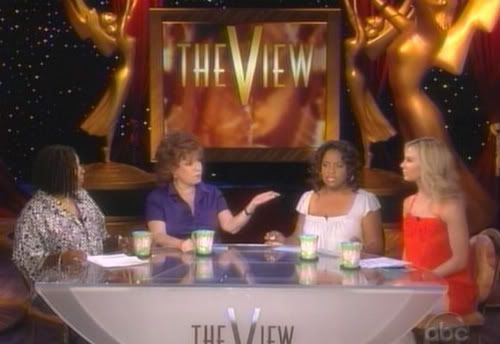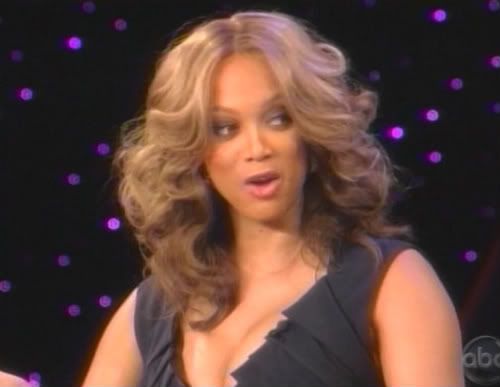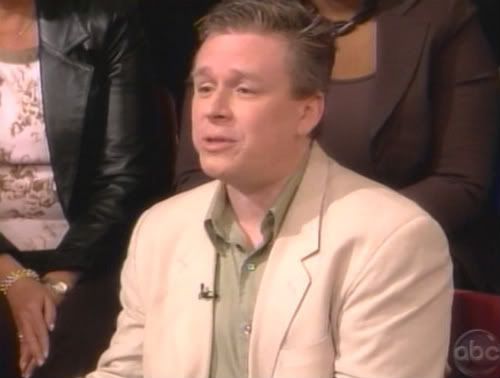 I should know better by now. I don't know why I get my hopes up that daytime's best and brightest actors will get the kudos and coverage they deserve. ABC, the network known for cross promotion spent almost half the show with the ladies of The View arguing, Tyra Banks as a guest and a commentator handicapping the nominations who was from People Magazine. Love People Magazine but even I think that someone like Soap Opera Weekly's Carolyn Hinsey would have been better known to soap audiences.
So here is my question. How would you rate today's Emmy Nominations show? Was it above or below your expectations or was it what you expected? I'd love to hear your thoughts.
I give it a C+. It had a great selection of presenters but the show, which could have been used to highlight soaps, was wasted on American Idol, Dancing With the Stars, and the presidential race. What score do you give it?
By Luke Kerr on April 30, 2008
Hey all! It's Emmy Nomination morning and I'm coming to you as "live" as I can with up to the minute updates from today's Emmy Nominations. If you are watching the Emmy's as they are announced on The View you can comment on this thread to share your thoughts.
We'll see how this goes so thanks in advance for being patient with me!
Luke
9am: It's 9am central and we only have 60 minutes more to wait before the 35th Annual Emmy Nominations are announced LIVE on The View.
9:15am: While you're waiting enjoy this great clip of All My Children's Susan Lucci finally winning her Emmy.

9:20am:
New to Daytime Confidential or haven't been following the Daytime Emmy Nominations? Check out our
Emmy
page and our full list of
Emmy Prenominations
.
By Daytime Confidential on April 30, 2008
Emmy winning actress Eden Riegel drops by Daytime Confidential to dish with Luke and Jamey about her new webisodic series Imaginary Bitches premiering on You Tube on May 2nd.
Imaginary Bitches is the story of a single girl named Eden who is struggling to figure out how to keep going when all her friends are in serious relationships and have no time for her. What might you ask is Eden's solution to the loss of her friends? Make up her own. Only these friends turn out to be real bitches. Tune in to hear Riegel talk about her new role and...
Discuss her upcoming movie with Jack Black called "Year One" and her Emmy winning role as All My Children's Bianca Montgomery, the first Lesbian character from a core soap family. We discuss her pairing with Elizabeth Hendrickson in the popular couple "BAM" and why, with her mother Erica Kane in jail, Bianca hasn't returned to Pine Valley. READ MORE
By Luke Kerr on April 29, 2008
On today's Top 5 edition of Daytime Confidential we're counting down the "Top 5 Supporting Characters" in daytime. These are the talented actors and actresses who excel in supporting or more back burner roles but who may not be getting enough kudos for the work they do.
We have a lot of great picks and honorable mentions to be sure to tune in and enjoy.
What are your "Top 5 Supporting Characters" in daytime?
Listen to Daytime Confidential by clicking on the Daytime Confidential Player at the bottom of this post or Download us for FREE via iTunes. Vote for us on Podcast Alley. Add us as a Friend on MySpace. Drop by our sister site TV Fan Online and visit with other soap fans in the TV Fan Online Forums.

By Jamey Giddens on April 29, 2008

For those of you who can't wait to see if The CW's upcoming remake of 90210 will prove a hit or a miss next season, a special edition box set of the first three seasons (1990-93) and Season 4 of the original Fox teen soap goes on sale today!
Beverly Hills, 90210's late executive producer Aaron Spelling was a notoriously HUGE fan of daytime soap operas and didn't look down his nose on the genre like many primetime and movie producers do. In fact he even produced his own daytime sudser, Sunset Beach.
Spelling realized daytime soaps are the best training ground ever for an actor and to his credit employed many a daytime grad during his stellar career, not to mention daytime writers like Bob Guza and Charles Pratt. In the first three seasons of Beverly Hills, 90210 alone there was Luke Perry (Loving, Another World), Ian Ziering (The Doctors, Guiding Light) and Gabrielle Carteris (Another World) all in contract roles, along with Jed Allan (Days of Our Lives, General Hospital, Santa Barbara) and Josh Taylor (Days of Our Lives) playing recurring dads to the Peach Pit gang. To purchase the special DVD box set, click on the Amazon banner at the bottom of the page and you can help the gang at Daytime Confidential keep bringing you the hottest soap news around!