Passions
By Luke Kerr on May 01, 2008
For all those fans whose favorite actors didn't get an Emmy nomination yesterday you might want to check out what just popped into my email inbox. In recent years the producers of the Daytime Emmy Awards have tried to get the fans involved in the award ceremony and this year is no different.


VIEWERS HAVE A CHANCE TO TELL THEIR DAYTIME EXPERIENCE ON THE 35TH ANNUAL DAYTIME EMMY AWARDS

Calling all fans: We want to hear your stories!

New York, NY – May 1, 2008- Daytime stars and industry professionals
won't be the only ones in the spotlight at "The 35th Annual Daytime Emmy
Awards," broadcast live on ABC from the Kodak Theatre in Los Angeles, on
June 20, 2008. "The Daytime Experience" is a new feature in the broadcast
giving daytime fans the chance to share stories about how a television
show, soap star, talk show host or character has touched their lives. Fans
can visit www.ABC.com/daytime or www.SoapNet.com to fill out a simple form,
and submit their stories about the life-changing effects of daytime
television. Select viewers will get the chance to tell how these programs
influence and inspire them, and have their stories aired during the live
broadcast.

The producers are looking for stories that involve all daytime
programming, stars, subjects, or hosts. Daytime programming includes
children's shows, soap operas, talk shows, judge shows, and lifestyle
shows, from cable and the broadcast networks, that reach millions of
households each day. Submit your story before May 29th and you may be
hearing from one of our producers!

Do you have a story you want to share with the producers of the 35th Annual Emmy Awards? If so submit it to them and then copy and paste your story as a comment on this post. I'm sure there will be many submissions but only a few will make it to the air. Your fellow soap fans would love to read your story here even if it doesn't make it to air.
By Luke Kerr on May 01, 2008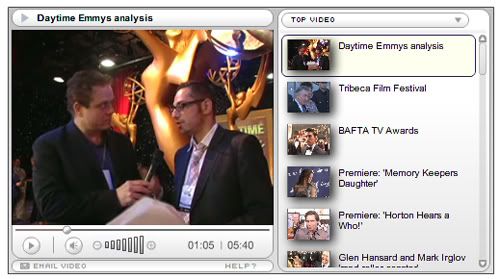 The Gold Derby's Tom O'Neil and TV Guide Canada's Nelson Branco have a video analysis at
The Gold Derby
straight from the set of
The View
. Branco has also published his "Worst in Show" Daytime Emmy Nominations column at
TV Guide Canada
.
By Jamey Giddens on April 30, 2008
Boy, boy, boy. never have I been so disappointed by a batch of Emmy nominations in all my 30 odd years of watching soaps. I don't know what the Academy was smoking, but can I get some for my glaucoma (No I don't have glaucoma so you don't have to pray for me.)?
Who in their right mind thought Vail Bloom (Heather, Young and the Restless) and Tammin Sursok (Faux-lleen, Young and the Restless) should have made a Best Younger Actress list that excluded Julie Marie Berman (Lulu, General Hospital), Farah Fath (Gigi, One Life to Live) and Kirsten Storms (Maxie, General Hospital)?
On what planet should Nicole Forester (Cassie, Guiding Light) be on a Best Actress list that glaringly excludes Katherine Kelly Lang (Brooke, Bold and the Beautiful)? What more did they want Kathy Brier (Marcie, One Life to Live) to do in order to get her due? And HOW did Guiding Light and Y&R get nominations for writing and/or Best Soap? Where is the logic in basically the only two people Lynn Marie Latham wrote great stuff for-Eric Braeden and Melody Thomas Scott (Victor and Nikki)-being snubbed?
The people who picked these nominees, for the most part, need to be taken out back and horse whipped up and down a corn field by an angry farmer. Okay. Nuff said. Our pal Nelson Branco called in right after the nominations from NYC to give us all the behind-the-scenes dish, so check back later this week to hear Luke, Tina, Nelson and I discuss these atrocities in depth. Until then, check out Nelson's Emmy Wrap Up here.
By Luke Kerr on April 30, 2008
By Luke Kerr on April 30, 2008
While trying to keep up with our LIVE Blogging coverage of the 35th Annual Emmy Nominations announced on The View I hadn't really had a chance to take a look at the nominations that weren't announced on TV. However, thanks to Tina from the ABC edition of the Daytime Confidential podcast we discovered that there is at least one category that an ABC show is guaranteed to win. Oustanding Original Song. That's right folks. Oustanding Original Song. How sad is it that?
All My Children
Song Title: The Me Inside
All My Children
Song Title: Treasure Of Love
One Life to Live
Song Title: Chemistry
One Life to Live
Song Title: Little Starr
One Life to Live
Song Title: You're the Freak
By Luke Kerr on April 30, 2008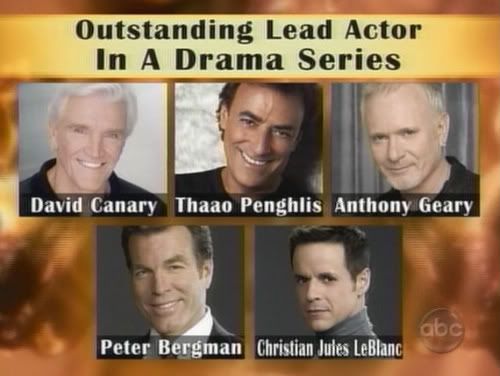 Congrats to David Canary, Thaao Penghlis, Anthony Geary, Peter Bergman and Chistian Jules LeBlanc. May the best actor out of this talented category win.
I'm not sure if there's to much to say about these nominees other than how great it is for Days of Our Lives to have a lead actor nomination for Thaao Penghlis. I am a bit surprised that As the World Turns' Michael Park didn't receive a nomination this year. He's had some great work. Many had said that this was As the World Turns' Jon Hensley's best year in years so it wouldn't have surprised me if he got a nomination. Unfortunately for him he didn't.
What is there to say about General Hospital's Tyler Christopher. He had the best work of his career last year and after having spent years in the Supporting Actor category it is understandable that he would want to try and break into the Lead Actor category with his best work. Unfortunately for Christopher breaking into the Lead Actor category isn't easy. The last actor to successfully make the transition from Supporting Actor to Lead Actor was the Young & Restless' Christian LeBlanc who won his first Lead Actor award in 2005 and then again last year. LeBlanc is nominated this year.
After the death of Asa on One Life to Live I fully expected Robert S. Woods to get a nomination. His scenes with that cowboy hat in the barn were heart wrenching and should have made him a shoe in for a nomination.
Looking at the prenominations list below and comparing it to the nominees above is there anyone who you feel is missing from this list or who should be on it instead of someone else?
Outstanding Lead Actor Pre-Nominees
AMC: David Canary, Thorsten Kaye, and Michael E. Knight
ATWT: Scott Bryce , Jon Hensley , and Michael Park
B&B: John McCook, Ronn Moss, and Jack Wagner
DAYS; Stephen Nichols, James Scott , Thaao Penghlis, and Peter Reckell
GH: Steve Burton, Tyler Christopher,and Anthony Geary
GL: Ricky Paull Goldin, Robert Newman, and Ron Raines
OLTL: Michael Easton, Robert S. Woods, and Jerry verDorn
Y&R: Peter Bergman, Eric Braeden, and Christian LeBlanc