Soap Opera Weekly
By Luke Kerr on August 08, 2008
Nelson Branco confirmed yesterday's report by Jossip that Carolyn Hinsey is leaving Soap Opera Weekly in this week's Suds Report at TV Guide Canada and sheds a bit more light on the topic. According to Branco "It's a mutual decision," confirms a staffer, who adds budget cuts were also to blame. "Carolyn's not upset. She has other irons in the fire," explains an insider at Interlink Media.
Check out the Suds Report for more details on this story and other industry news.

By Daytime Confidential on August 07, 2008
Carolyn Hinsey fired from Soap Opera Weekly? That is what Jossip is reporting. According to "the gossip's gossip sheet's" source the alleged firing is due to budgetary reasons. If true, this comes less than a month after Hinsey was ranked No. 14 on TV Guide Canada's 2008 Influencial List.
By Jillian Bowe on July 15, 2008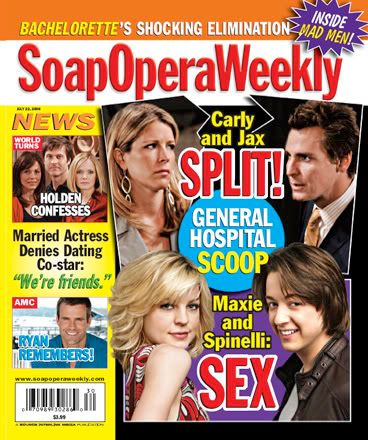 For those of you that are dying to have some questions answered by CBS daytime honchos the wait is over. Senior VP of CBS Daytime Barbara Bloom, speaks with
Soap Opera Weekly
that's currently on newstands, about the goings on with her network's soaps.
As a treat for fans, I'll give you a taste of what she had to say about The Young and The Restless.
When asked if the CBS daytime giant was going to ever bring up how Victor (Eric Braeden) could have possibly gotten Sabrina (Raya Meddine) knocked up even though he's had a gone, "under the knife," so to speak she says that the writers "are working on it."
Hmm... Keep in mind this is the same person that brought some of the things we saw onscreen when the now defunct Port Charles was on air.
By Regan Cellura on June 26, 2008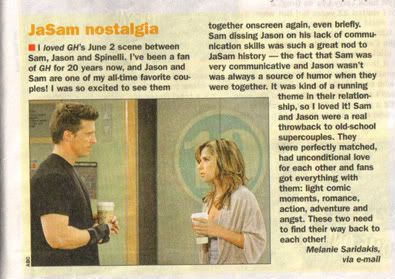 Daisyclover1938 sent us the heads up and we'd like to give her a BIG OLD SHOUT OUT for making it into Soap Opera Weekly! Daisy sent in her thoughts to the mag about the recent JaSam scenes. Way to go Daisy and thanks for the scan!
By Daytime Confidential on May 23, 2008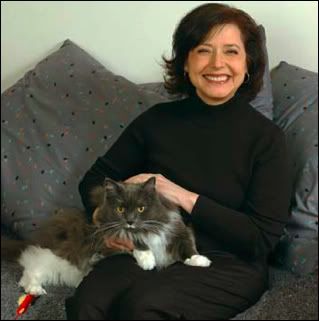 On today's episode of the Daytime Confidential podcast Mimi Torchin, the founding editor of Soap Opera Weekly visits with Luke and Jamey about her trailblazing career. READ MORE
By Jillian Bowe on May 21, 2008
Talk about a double whammy, Kent Masters King (Lainey) has been bumped to recurring on General Hospital and according to reports by Soap Opera Weekly wasn't asked back on the mothership's show Night Shift 2 when they set up shop again this year with returning actors Kimberly McCullough (Robin), Jason Thompson (Patrick) and, my girl Sonya Eddy (Epiphany) toting a brand new ensemble cast. So for those of you that were interested in the storyline with Cody and Lainey, kiss that bad boy goodbye for now.
It's a shame GH didn't find something for this talented actress to do besides be a lush listener for Robin whenever she's having problems. With all the craziness going on in Port Chuckie you'd think Lainey's office would be overflowing with patients by now!