Soap Opera Weekly
By Luke Kerr on March 07, 2008
LMAO!!! I said it on the podcast and I
predicted
it here on the blog on February 20th. Vanessa Marcil would be on the cover of a soap magazine within 8 weeks of word that Las Vegas was canceled broke! 16 days later Soap Opera Weekly has her on the cover with a headline about a contract offer she can't refuse. To be fair I expected the picture to be bigger and the headline larger but never the less, there she is on the cover!
Gloria haters must be rejoicing. One would assume from the cover that she get's the boot out of the Abbot mansion.
It's a sad, sad day when Martha Bryne chooses to leave As the World Turns. I know the network and show have said they made a generous offer but why do I doubt that it was really that generous?
Josh and Reva in bed? I hope this is the tipping point and Cassie goes over the edge. As Mike points out, on the podcast crazy Cassie is awesome to watch.
By Luke Kerr on February 27, 2008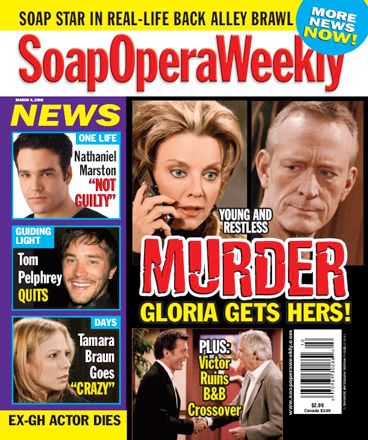 Anyone who has listened to the CBS/Days edition of Daytime Confidential knows that I am a Gloria fan while my co-hosts are often not. However, I also know that a large percentage and the Young and Restless fanbase have a burning, passionate hate for the character of Gloria so if one is to assume the cover of this week's Soap Opera Weekly would make them extremely happy. However, for some reason I highly doubt that Gloria is going to bite it. I wouldn't put it past Jeff to make an attempt on her Gloria Abbot Bardwell Bardwell's life but I don't believe for one minute she actually dies.
On a different topic. What do the Days of Our Live's fans think of Tamara Braun on the show? I know that she's extremely popular amongst a large segment of General Hospital fans but how are our Days of Our Lives fans enjoying her?
By Luke Kerr on February 21, 2008
Soap Opera Weekly is reporting that Josh Griffith has officially been named Head Writer/Executive Producer of the Young and Restless. According to Wikipedia Griffith was one of the writers who took Fi-Core during the recent Writers Strike. Also promoted to Co-Head Writer is Maria Arena Bell, the daughter-in-law of Young and Restless creator William J. Bell.
I would love to know what long time Young and Restless fans think of this. As a newer fan I don't understand all the behind the scenes workings of the CBS soaps quite as well as the ABC soaps. Is this a good thing or a bad thing, in your opinion, for The Young and Restless?
By Luke Kerr on February 12, 2008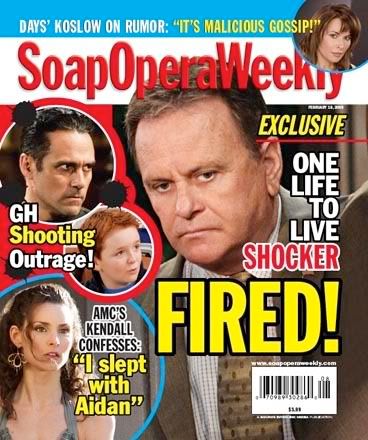 I can't say that I'm that excited about the cover of Soap Opera Weekly this week. This may have something to do with the fact I'm so disenchanted with this whole Ryan/Kendall/Aiden/Greenlee/Zach fiasco. Of course then we have the One Live to Live shocker with the glaring headline FIRED! Fortunately, most people know from online spoilers that all this means is that Bo is fired from being Chief of Police.
Soap Opera Digest has quite the cover this for long time Young and Restless fans. Everyone where I read online fans seems to be upset the Young and Restless is bringing back Signy Coleman as Hope to introduce Victor Jr. and then kill her off. As a "newer" viewer I don't have any context about this but I'd love to know what you all think about it.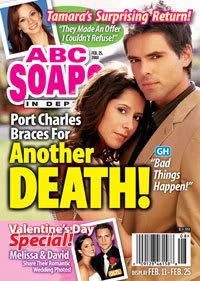 ABC Soaps in Depth wants us all to brace for another death in Port Charles. If you read Regan's General Hospital spoilers here at Daytime Confidential you probably have a good idea at who the mag is alluding to. The major thing is Tamara's return to soaps, which I have to say I'm more than a bit happy about. Her version of Carly wasn't my favorite but I've always thought she's a great actress. Here's to hoping she sticks around Salem for a while.
By Luke Kerr on February 04, 2008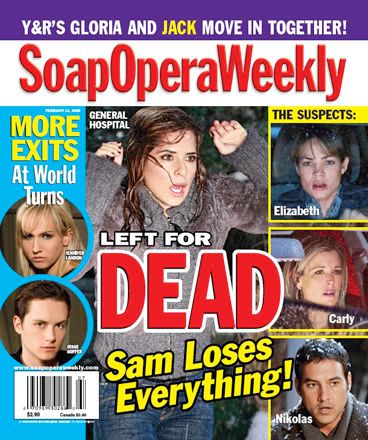 Well its time to take a look at this week's magazine covers. I'll probably end up regretting saying this but the moment I saw the cover of Soap Opera Weekly I inadvertently started humming "Grandma got ran over by a reindeer" except it was more along the lines of "Sam got ran over by 4x4". I know, I know, such fantasies are futile but I'm just being honest.
Moving on to more somber topics. 2007 may not have been Jesse Soffer or Jennifer Landon's most stellar year in terms of storylines but they will be missed if they do leave As the World Turns.
Of course I can just imagine how many emergency rooms filled up when Young and Restless fans had coronaries from the thought of Gloria moving back into the Abbot mansion. Let's hope that they and she has medical insurance because for some reason I have a feeling she's going to be in for a bumpy ride (no puns intended) living with Jack.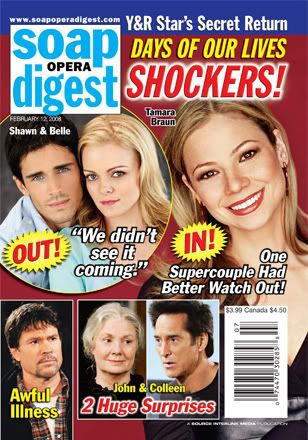 Soap Opera Digest may quite possibly have the understatement of the year on their cover in the form of the quote from Martha Madison and Brandon Beemer. "We didn't see it coming." No shitaki mushrooms Sherlock. No one saw that coming. In fact I'm not sure that anyone could have predicted last November when Martha Madison put in her best work to date that she'd be fired the following January. Days of Our Lives is getting an ugly reputation for renewing actor contracts and then firing those same actors a short time later.
So what is everyone thinking of Shirley Jones so far? Personally, I'm impressed but John's fingering the knife in every other scene is a bit much if you ask me.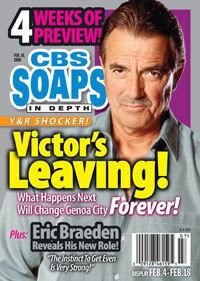 "Victor's Leaving!" Sure he is. Probably because Eric Braden is going on vacation or has a side role in the works. Not really so shocking when you think of it that way is it? Personally, I'd be more interested to see a cover with Jeane Cooper on it to help clear up these rumors about whether or not Katherine Chancellor is going to be killed off we're hearing. Now that would be a headline.
By Luke Kerr on January 28, 2008
What in the world is going on at Young and Restless? I don't care one hoot about the rest of the cover of Soap Opera Weekly but Katherine isn't Jill's mother? This makes absolutely no sense to me though it may to older viewers. Personally, I'd rather have a picture of Cane and Jill with the headline "Plus: Jill IS NOT Cane's Mother?!" That would make way more sense to a lot of people I think.
Payback is a bitch this week on the cover of Soap Opera Digest only this time it also comes in the form of Donna and Eric on Bold and Beautiful. Then again hasn't Eric been Stephanie's "bitch" for years? Of course the big "news" is what we've already discussed here on the blog for the past week and that is the return of Sarah Brown as Claudia to General Hospital. On the other hand, I must admit. I'm sort of looking forward to the scene where Robin tells Patrick she's pregnant. That should be good.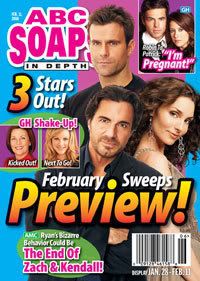 Don't you just love misadvertising? We all know good and well that it isn't Thorsten Kaye, Alicia Minshew, or Cameron Mathison that are leaving All My Children and yet there they are on the cover with the giant headline "Three Stars Out". Obviously the magazine is referring to the bloodbath over at All My Children and the firing of Jeff Branson (Jonathon Lavery), Brent Weber (Sean Montgomery), and Alec Musser (Del Henry) but they don't sell mags now do they? I don't get ABC Soaps In Depth so if I'm wrong someone please reply to this but I seriously doubt that inside the magazine its talking about Thorsten Kaye, Alicia Minshew, or Cameron Mathison.