SOAPNET
By Regan Cellura on August 26, 2008
Lulu's confession! Spinelli's on the operating table! Here's what's coming up on
General Hospital
.
By Regan Cellura on August 26, 2008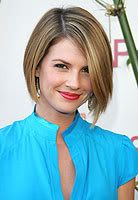 Here's the Scoop! 08.26.08
How does Kate find out about Limo Sex? She's got a good assistant with excellent hearing. I'm guessing it's Clarice that overhears the convo between Sonny and Carly. Maxie wouldn't blow that secret, she'd use it to her advantage somehow.
Besides, Maxie is busy. She's got Spinelli to worry about and RUMORS have Matt telling her his secret. What's Matt's secret? RUMORS say a patient of Dr. Hunter's at his previous hospital died due to fake meds. He's there to uncover the mystery.
Will Skate marry? As I mentioned, Kate's secret that she is Connie SHOULD be out before the big day, the marriage looks to be happening and we MAY learn more about Kate's past thanks to Carly's digging. Anyone remember that I mentioned someone from Kate/Connie's past showing up at the wedding? RUMORS say Olivia comes to town. What else? Remember the bloodshed RUMORED at the Skate wedding? RUMORS say it's still happening and that the death is what has Sonny being pulled back into the mob.
Has Laura come out of her catatonia before Lu's last visit? SPOILERS say we'll learn that Laura has been drifting in and out. READ MORE
By Melodie on August 14, 2008
He's back!
SoapNet.com
is reporting that Vincent Irizarry is returning to
All My Children
as the villian we all love to hate Dr. David Hayward. David was last seen in Pine Valley in 2006. He is set to return in early to mid-fall. It looks like
All My Children
is going back to the dark side.
By Regan Cellura on August 08, 2008

No SOAPnet? No Problem... well if you're a DIRECTV subscriber, no problem.
DIRECTV
will now air episodes of
Night Shift
on channel 101.
General Hospital: Night Shift
Coming to The 101 Mondays at 2 pm ET beginning August 11.
By Regan Cellura on July 31, 2008
On my morning hop, I found a few updates regarding
General Hospital: Night Shift
's ratings and news of a possible third season in the works. There has been no official announcement of the third season pick up, however, the ratings look good enough to warrant one.
Solid Returns for General Hospital: Night Shift:
Two episodes two-date, season two of SOAPnet's General Hospital: Night Shift is averaging a healthy 466,000 total viewers, with a 170,000 key women 18-49. Comparably, this is an increase over the prior four-week time period average by a significant 81 percent in households and 68 percent among adults 18-49.
Congrats!
Marc Berman

Night Shift is back exactly where they left off last season! The surprise hit for SOAPnet last year is still pulling in the best numbers the network has ever had. With an 11pm viewing time SOAPnet is exceeding their numbers for that time slot by over 70%.
Look for the network to start production on a third season of Night Shift, that will most likely air in the beginning of the new year.
Also, fans of the Canadian produced MVP can look forward to more new episodes as the show is continuing with production.
Stay tuned....
K. Sagin
Assistant Executive Producer, SOAPnet
READ MORE
By Regan Cellura on July 22, 2008

Just a friendly reminder that Season Two of
General Hospital: Night Shift
premieres tonight at 11pm on SOAPnet! Be sure to tune in and tell us what you think!