Sweeps
By Jillian Bowe on January 30, 2012
Austin/Abby: Mr. Reed turns to Ms. Devereaux after his showdown with Rafe and Carrie. Later, Abby uses an opportunity to her advantage for Austin.
Jen: She lies to help Abe win the election.
Will: Young Mr. Horton rips Sami for her treatment of Rafe. READ MORE
By Jillian Bowe on April 02, 2009
Hey kids, big developments are headed to The Young and the Restless.
Kevin/Amber: Amber is finally able to have Kevin get a grip on things. Unfortunately for him, Jeff comes in with with the bounty hunter and Kevin thinks that Jeff's his dear ole' departed dad Tom and attacks him. Just when this occurs, Michael, Jana and Daniel are on the scene where Michael thinks that Jeff pretending to be Tom can be helpful for Kevin. Jeff agrees to play the part and Kevin explodes on him thinking he's Tom. It starts to work when the police show up and arrest Kevin and Amber.

Katherine/Jill: The women lash out at each other. Later, Jill says she's moving out of the Chancellor estate. Kay propositions Jack with a job.
Jack: He informs Sharon that he doesn't want to sign off on the divorce.
Sharon: She gets arrested! Once she's sprang from jail she confides in Nick. READ MORE
By Regan Cellura on February 09, 2009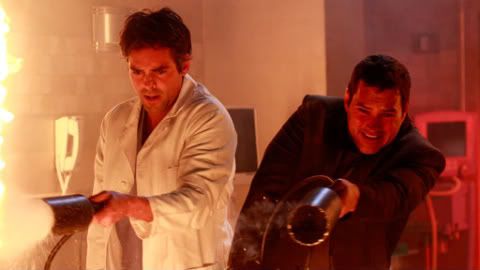 Here's the Scoop! 02.09.09
The Usual Suspects become the Unusual Team? It looks like Jason, Sonny, Spinelli, Winnie, Claudia and Sam team up to get everyone out of the hospital. What about Carly? She SHOULD be around there somewhere as well. Remember, Sonny and Carly are trapped together yet again. If Guza has them have sex, I may just break my beautiful TV… well not really but you all get the picture. Will Carly and Sonny be the last people evacuated?
Trevor has the missing ball, Carly knows and she SHOULD be telling Sonny. As Sonny is about to take Trevor out (really should he be shooting a man in possession of a deadly toxin?), another explosion hits. Where's Anthony? Tied up thanks to Jason.
The evacuation starts. Jax tries to land the helicopter and goes down in front of Carly. Lulu won't leave Tracy's side. Carly tries to get out to find her husband, Sonny is worried that she'll do something stupid and goes looking for her. Jason goes back for Anthony and asks Sam to help with evacuation. Lucky and Elizabeth share a kiss as he gets Elizabeth to the roof to be evacuated. Rebecca needs saving, good thing Super Jase is there and he'll tell Nikolas he just saved someone who looks just like Emily. Jason puts the cape on once again and rescues Claudia from Trevor. Sam chases Trevor up to the roof where he threatens to drop the toxic sphere off of the hospital roof. READ MORE
By Regan Cellura on December 30, 2008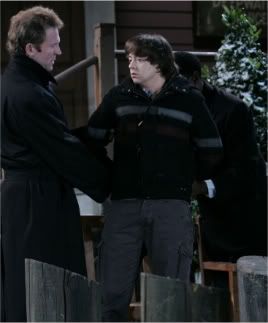 Miss Me? Here's the Scoop! 12.30.08
The Jackal gets busted! Spinelli finds himself the subject of a federal investigation and Agent Rayner has Jason's sidekick put behind bars. Is this all just part of Rayner's plan to bring down Sonny Corinthos? Seems to be the case as SPOILERS say Jason must choose, Spinelli or Sonny. Pick Spinelli Jason! And Stone Cold just MAY be choosing to turn against his former friend to save Spin's butt. The Feds want dirt on Sonny and Jason SHOULD be willing to talk to get Spinelli released.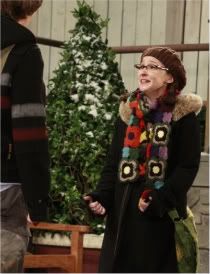 Meet Winnie... the Jackal's should be nemesis and Maxie's reason for getting jealous. Winnie and Spinelli have a lot in common but will he learn she's working for the feds? Will Maxie get a feeling that there is more to this female version of the Jackal? That Maxie is one smart cookie!
Will Maxie finally admit her feelings for Spinelli? That's a RUMOR out there. Is it because of the above mentioned jealousy or the real deal? Maxie and Spinelli kiss!
Robin's Post Partum Depression storyline has not been dropped. It SHOULD be picked back up when the newlyweds return to work. Patrick will be worried about his wife as the newly married docs must learn to balance work and family. Remember that new house they were supposed to be getting? Well it MAY be happening in the new year. Look for Robin to have problems, one where she'll leave Emma with Elizabeth and when patients start kicking the bucket, Patrick is surely going to have his hands full. READ MORE
By Regan Cellura on November 25, 2008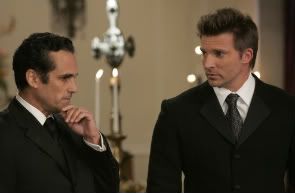 Here's the Scoop! 11.26.08
Sweeps... It's winding down. Was anyone impressed? FYI... Sweeps is over as of today.
More drama for Sonny and Jason... Jason does not want Sonny's help finding Jake.
Patrick and Robin... They'll be good friends to Elizabeth. RUMORS have Patrick stopping by to check on her and staying to watch Cameron while Elizabeth takes care of some things. Lucky gets there and Patrick tells him Elizabeth went to her studio. According to these RUMORS this will be after Elizabeth confronts Sasha at the PCPD. She's RUMORED to leave there and head to her studio where she trashes the place in frustration. Scoop on the new parents... it looks like there will be more of Patrick as super dad and Robin as a mom who can't seem to get a handle on her newborn. I dropped possible post partum for Robin yesterday.
Liason & LuSam... I've been losing my faith that Liason comes out the other side of all this in one piece. Some more angst, some good scenes and most likely an ending. LuSam SHOULD be better off for the immediate future BUT there is still that pesky JaSam reunion we keep hearing about.
JaSam in the cave... It's an explosion that has them trapped. Sam MAY be talking about Jake's Kidnapping 1.0 while in the cave, Jason MAY not want to hear it. READ MORE
By Regan Cellura on November 18, 2008
Here's the Scoop! 11.18.08 Plus SPOILER pics at the end!
We talked about Elizabeth and Olivia having more in common than they realized and if you noticed the ladies have been sharing more screen time together. The LATEST for these two MAY be happening after Jake is grabbed by the Russians. RUMORS suggest that Elizabeth pushes people away taking all the blame on herself. Olivia confides in Elizabeth that Dante's Dad is a mobster also and she's protected him from that his whole life to avoid exactly what Elizabeth is going through now.
Will Elizabeth really push Jason away? According to RUMORS that COULD be happening. Don't forget there were RUMORS about Elizabeth offering herself for Jake. There have been plenty of RUMBLINGS about this one that I've held off reporting simply because it seemed like Fanfic to me. Will Elizabeth offer herself in a trade? Will the OLD RUMORS of Sonny helping come true?
Elizabeth is going to have a rough end of Sweeps. She kills a man and then her child is kidnapped, again. Her faith in the man she loves is shaken and everything she did to protect Jake from Jason's life was all for nothing. Jason will blame himself. He sent them out of town for their safety but left them unguarded. Such a Sonny thing to do... no guards. READ MORE